Wearable Ultrasound Patch Marks Breakthrough in Deep Tissue Monitoring
By MedImaging International staff writers
Posted on 04 May 2023
Ultrasound examination of tissues' biomechanical properties can assist in detecting and managing pathophysiological conditions, tracking lesion development, and evaluating rehabilitation progress. Engineers have now developed a stretchable ultrasonic array that enables non-invasive, serial, three-dimensional imaging of tissues up to four centimeters beneath the human skin's surface, with a spatial resolution of 0.5 millimeters. This novel method offers a non-invasive, long-term alternative to current approaches, boasting improved penetration depth.
The elastography monitoring system developed by engineers at the University of California San Diego (La Jolla, CA, USA) enables serial, non-invasive, and three-dimensional mapping of deep tissue mechanical properties, with several crucial applications. In medical research, serial data on pathological tissues can offer vital information on disease progression, such as cancer, which typically causes cells to stiffen. Wearable ultrasound patches not only perform the detection function of conventional ultrasound but also overcome its limitations, such as one-time testing, hospital-based testing, and the need for staff operation. This could help decrease misdiagnoses and fatalities while significantly reducing costs by offering a non-invasive and affordable alternative to traditional diagnostic procedures.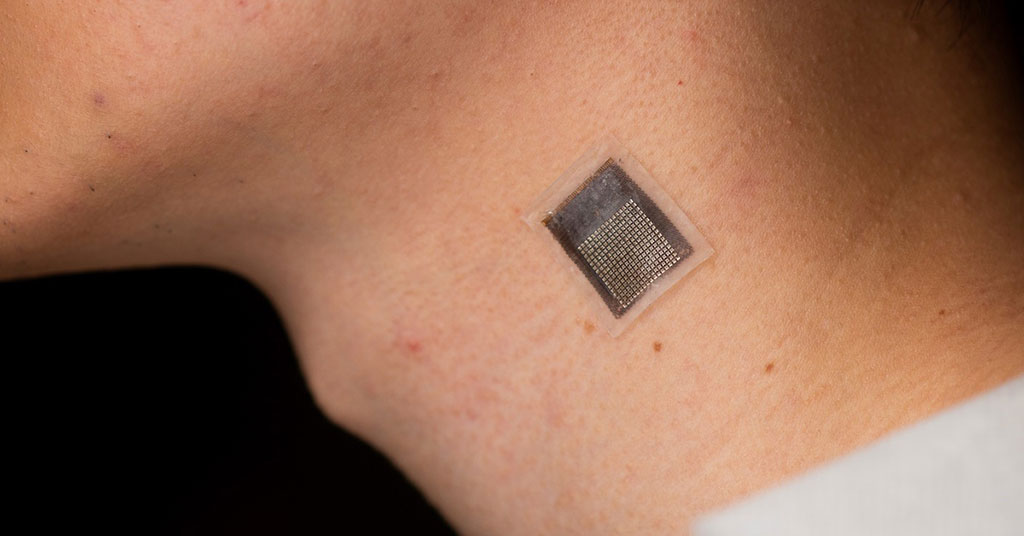 The device features a 16 by 16 array, with each element consisting of a 1-3 composite element and a silver-epoxy composite backing layer designed to absorb excessive vibration, thereby expanding the bandwidth and enhancing axial resolution. The array conforms to human skin and acoustically couples with it, allowing for accurate elastographic imaging validated through magnetic resonance elastography. The researchers aim to further improve the device by incorporating an elastomer layer with a known modulus, a so-called calibration layer, to obtain quantitative, absolute values of tissues' moduli. This enhancement would provide more comprehensive information about tissues' mechanical properties, thereby further refining the ultrasonic devices' diagnostic capabilities.
Besides monitoring cancerous tissues, this technology can help medical professionals accurately track liver fibrosis and cirrhosis progression and determine the most suitable treatment course. Moreover, by monitoring changes in tissue stiffness, the technology can offer valuable insights into musculoskeletal disorders' progression, such as tendonitis, tennis elbow, and carpal tunnel syndrome, allowing doctors to develop personalized treatment plans. Additionally, by monitoring arterial wall elasticity, doctors can detect early signs of myocardial ischemia and make timely interventions to prevent further damage.
"This new wave of wearable ultrasound technology is driving a transformation in the healthcare monitoring field, improving patient outcomes, reducing healthcare costs and promoting the widespread adoption of point-of-care diagnosis," said Yuxiang Ma, a visiting student in the Xu group and study coauthor. "As this technology continues to develop, it is likely that we will see even more significant advances in the field of medical imaging and healthcare monitoring."
Related Links:
University of California San Diego 
Other channels