Wireless Handheld Scanner Extends Ultrasound's Reach
By MedImaging International staff writers
Posted on 01 Apr 2021
A cutting-edge, wireless, pocket-sized ultrasound scanner provides crystal clear image quality, whole-body scanning capabilities, and intuitive software.
The GE Healthcare (GE; Little Chalfont, United Kingdom) Vscan Air is an ultra-compact device that delivers high-intensity ultrasound signals, allowing both shallow and deep exams to be completed effortlessly with a simple flip of the two-sided probe, one side with a high frequency linear probe, and the other with a convex transducer probe, without the need to switch probes in-between or during clinical exams. Proprietary SignalMax technology offer crystal clear imaging capabilities, including for whole-body scanning.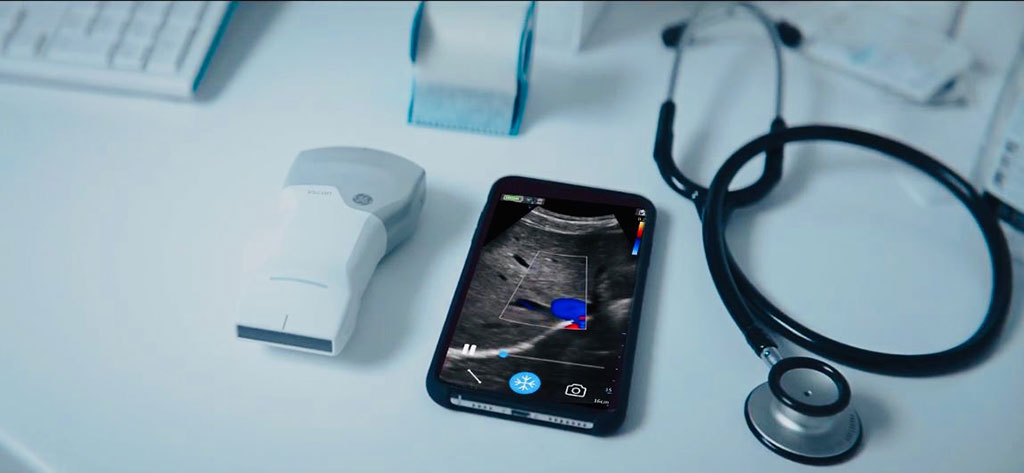 Additional benefits include an intuitive user interface, with software presets for fast scanning, a single-button for easy image capture and freezing, and intuitive set-up and scan start-up so users can pair the probe and start scanning immediately. DICOM protocols connect the scanner to the hospital's picture archiving and communication system (PACS) and upload images seamlessly; auto-anonymized images can be seamlessly shared with patients post-scan. The probe also meets a high, military-grade durability standard, withstanding droplets, water exposure, extreme temperatures, and high-level disinfection techniques.
"We pioneered handheld ultrasound when we brought the first pocket-sized ultrasound with color Doppler to market, and now we see Vscan Air as delivering on the future of healthcare at a time when ultrasound has proven to be an essential tool at the point of care," said Anders Wold, President and CEO of Global Ultrasound at GE Healthcare. "Now, more than ever, clinicians need smaller and smarter tools that increase access and efficiency both in and outside of the four walls of the hospital. The Vscan Air exemplifies customer-driven innovation that enables more personalized care for patients worldwide."
The exponential growth of point of care ultrasound in the intensive care unit (ICU) and hospital clinical wards has been driven by mounting clinical evidence showing heightened patient safety and less risk of complication when key interventions are performed with ultrasound guidance at the point of care, such as imaging the abdomen, heart, and lungs, and when guiding interventional procedures, such as nerve blocks and targeted injections.