Adaptable Ultrasound System Facilitates Bedside Exams
By MedImaging International staff writers
Posted on 25 Mar 2021
A new point-of-care ultrasound system (POCUS) offers advanced image clarity, a suite of workflow efficiency features, and an adaptable form factor.
The Fujifilm SonoSite (Bothell, WA, USA) Sonosite PX boasts adaptable work surface positioning for optimal ergonomics, which together with the small footprint and adjustable height allow closer bedside access for the clinician. A simplified, intuitive user interface displays most-used controls, calculations, and annotations. A library of over 140 onboard scan-along three dimensional animation educational videos aid new users to execute a quality POCUS exam, supported by a new range of linear, curved, and phased array transducers.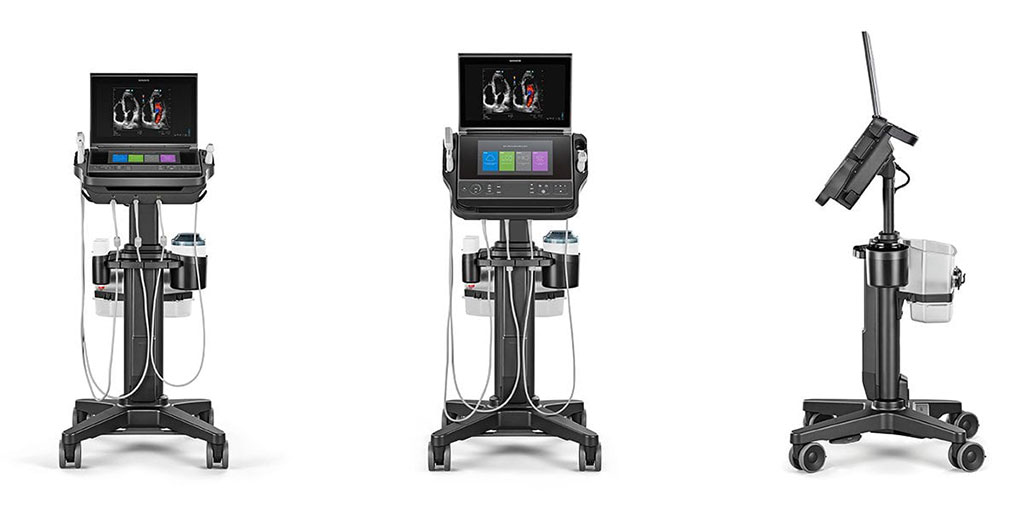 Information essential to completing an exam and storing it in the electronic health record (EHR), such as patient information, reports, worksheets, and other documentation are all placed in one location, saving time and effort and allowing intuitive navigation of the Sonosite PX user interface. Ultrasound findings annotated at the point-of-care are also integrating seamlessly by the Sonosite Synchronicity solution, a POCUS workflow manager that supports unbroken credentialing, quality assurance, and billing across departments and institutions.
"Every aspect of Sonosite PX was designed specifically for the clinicians on the front lines of medicine. To optimize clinician ergonomics and improve efficiency, the system has an innovative and adaptable work surface that can be used in a horizontal or vertical position based on the situational needs of the exam," said Rich Fabian, President and COO of FujiFilm Sonosite. "The exceptional image clarity is the result of a new proprietary imaging technology; seeing anatomy more clearly with Sonosite PX provides an unparalleled level of confidence for diagnostic and procedural applications."
The exponential growth of POCUS in the intensive care unit (ICU) and hospital clinical wards has been driven by mounting clinical evidence showing heightened patient safety and less risk of complication when key interventions are performed with ultrasound guidance at the point of care, such as imaging the abdomen, heart, and lungs, and when guiding interventional procedures, such as nerve blocks and targeted injections.