Tele-Ultrasound Device Allows Pregnant Women to Scan at Home
By MedImaging International staff writers
Posted on 19 Aug 2020
A handheld device enables pregnant women to perform ultrasound scans on themselves and receive feedback from a physician or sonographer.
The PulseNmore (Omer, Israel) device docks with a smartphone and utilizes advanced navigation and artificial intelligence (AI) tools, as well as an app, to guide users through the scanning process. The high-quality images can be shared with physicians or sonographers, who can review the scans remotely in real-time or off-line using telemedicine platforms. The device provides peace of mind, and can help reduce the number of prenatal office visits, especially useful during the COVID-19 pandemic.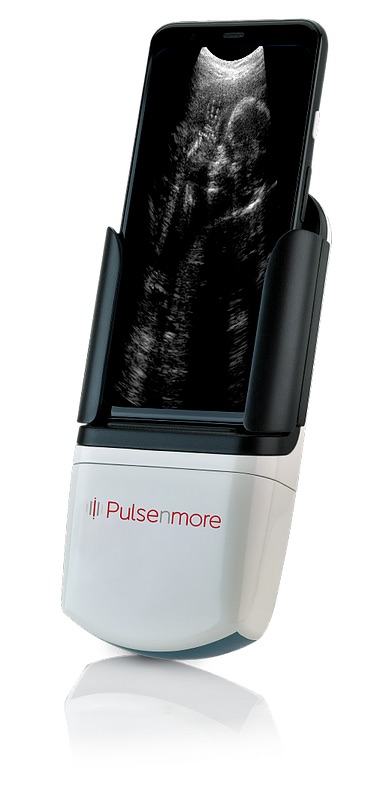 The user's smartphone provides the initial computational power, screen, and connectivity; the images are analyzed in the cloud. Clalit Health Services (Tel Aviv, Israel), Israel's largest health maintenance organization (HMO) and the one of the largest public HMOs in the world, with 4.6 million insured members, is the first healthcare provider to purchase the device, signing a multi-year agreement to provide tens of thousands of its pregnant members with the device, which is designed for a cycle of 25-50 scans.
"We have successfully miniaturized the traditional ultrasound system to create a solution that is both affordable and accessible for expectant families," said Elazar Sonnenschein, MD, founder and CEO of PulseNmore. "According to Clalit, pregnant women pay 'false' visits to the emergency room more than twice on average with concerns about their baby's well-being. Our solution provides vital information to healthcare providers to determine if a baby is healthy, helping expectant mothers have peace of mind at home and avoid unnecessary visits to the ER."
"Clalit's physicians reviewed more than 1,300 self-scans in our initial study with PulseNmore and clearly saw fetal heart activity, movement, and amniotic fluid in 95% of the scans," said Leor Wolff, head of translational innovation and eHealth at Clalit Health Services. "We are confident that PulseNmore's device will support our healthcare professionals during COVID-19 and beyond, while enhancing the pregnancy experience and satisfaction for our members."
Related Links:

PulseNmore
Clalit Health Services
Other channels