New Ultrasound System Offers Advanced Image Clarity
By MedImaging International staff writers
Posted on 06 Aug 2020
A novel point-of-care ultrasound (POCUS) device offers a suite of workflow efficiency features and an adaptable form factor.
The Fujifilm SonoSite (Bothell, WA, USA) PX ultrasound system supports a wide range of POCUS skillsets and exam types that are optimized for specific workflows. The user interface is simplified to show most-used controls, calculations, and annotations, and a new proprietary imaging algorithm provides advanced visualization capabilities and improved color performance. Combined with a new family of linear, curved, and phased array transducers, clinicians can see anatomy more clearly with the Sonosite PX.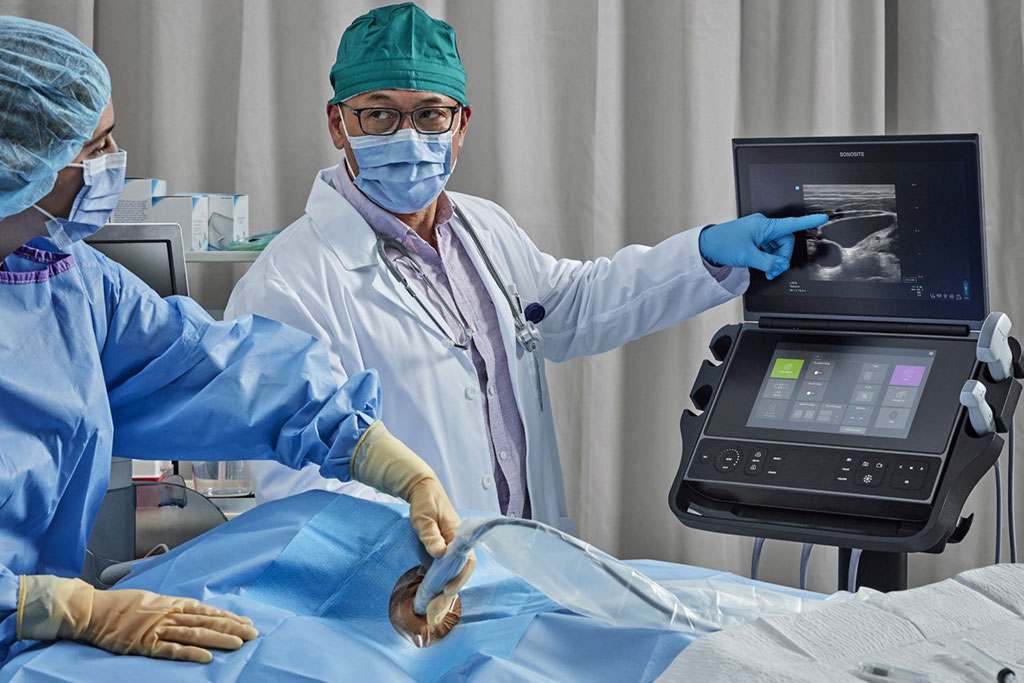 The system has two types of cardiac exams; focused cardiac with the most-used calculations for patient monitoring, and a cardiac exam with a suite of additional calculations for clinicians who want advanced functionality. This allows operators to choose the cardiac exam type that fits individual workflow needs. Information essential for the exam includes patient information, reports, and worksheets, all placed in one location in order to save clinicians time and effort when navigating the ultrasound system user interface.
When mounted on the specialized stand, the Sonosite PX system adapts from a horizontal to vertical work surface position for optimal clinician ergonomics. A small footprint and vertical height adjustment provide closer bedside access, especially in constrained spaces. The Sonosite PX is built for durability, reliability, and ease of use. Both the ultrasound system and transducers are drop-tested to one meter and the work surface is sealed to the edge for simplified cleaning and disinfection.
"We designed Sonosite PX as a tool to help clinicians in all fields of medicine to treat patients more effectively where it matters most, at the point of care," said Rich Fabian, president and chief operating officer of FUJIFILM Sonosite. "The exceptional image clarity is the result of a new proprietary imaging technology; seeing anatomy more clearly with Sonosite PX provides an unparalleled level of confidence for diagnostic and procedural applications."
Due to the increased importance of efficient documentation to the electronic health record (EHR), the Sonosite PX has also been designed for onboard documentation of ultrasound findings at the POC, integrating seamlessly with the company's Sonosite Synchronicity solution, a workflow manager for POCUS that supports seamless credentialing, quality assurance, and billing across departments and institutions.
Other channels