Lung Ultrasound Reveals Distinct Findings in COVID-19 Patients
By MedImaging International staff writers
Posted on 27 Jul 2020
Typical lung ultrasound findings in patients with COVID-19 included B-lines, pulmonary consolidation, and a thickened pleural line, according to a new study.
Researchers at Beijing Ditan Hospital (BJDTH; China) and Peking University (Beijing, China) conducted a study involving 28 consecutive COVID-19 patients (50% men; mean age 60 years), as determined by a positive reverse transcriptase polymerase chain reaction (PCR) test during March 2020, in order to investigate lung ultrasound imaging findings and features, and their relationship with the duration of symptoms and disease severity.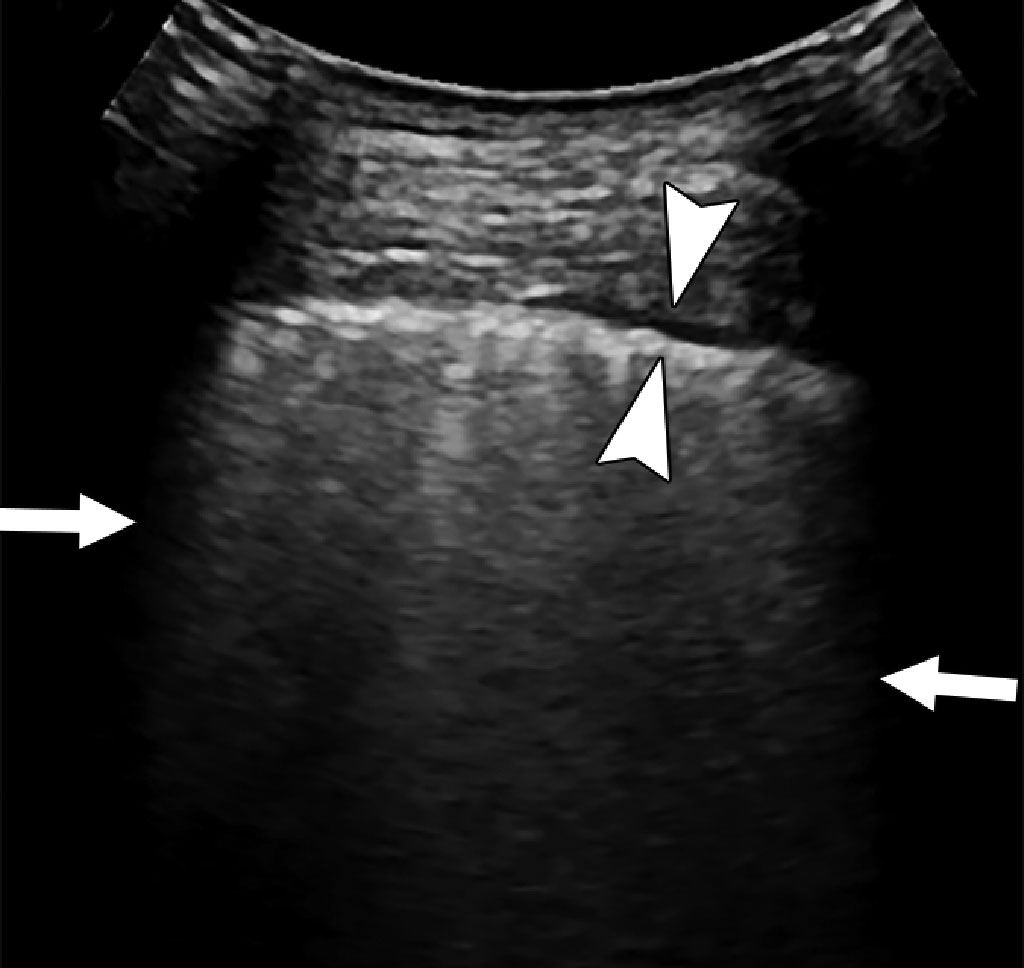 The results revealed that all 28 patients had positive lung ultrasound findings, with the most common findings being B-lines (100%), consolidation (67.9%), and a thickened pleural line (60.7%). The thickened pleural line was observed in a higher percentage of patients with a longer duration of the disease than in those with a shorter duration, and pulmonary consolidations were more common in severe and critical cases than in moderate cases. The study was published on July 23, 2020, in the
American Journal of Radiology.
"Lung ultrasound can provide an objective evaluation to identify which patients with COVID-19 have the severe and critical forms of the disease. This capability is particularly important in situations in which chest CT is not available, such as in isolation wards and ICUs," concluded lead author Yao Zhang, MD, of BJDTH, and colleagues. "Although portable radiography could be just as useful as ultrasound in terms of evaluation of consolidation, a portable, handheld ultrasound system further minimizes the number of health care workers and medical devices exposed to COVID-19, compared with radiography."
B-lines are caused by the reverberation of the ultrasound beam between slightly decreased alveolar air and increased interstitial fluids. They are visualized as multiple vertical echogenic reverberation artifacts extending from the lung surface, but cannot be used to differentiate among different causes, such as cardiogenic edema, acute respiratory distress syndrome (ARDS), pulmonary fibrosis, or viral pneumonia. Pulmonary consolidation is visualized as tissue-like hypoechoic regions, which reflect highly reduced air flow and increased quantity of inflammatory cellular exudate. A thickened pleural line on ultrasound is thought to reflect pulmonary fibrosis.
Related Links:

Beijing Ditan Hospital
Peking University
Other channels