Implantable Ultrasound Biosensor Monitors pH Fluctuations
By MedImaging International staff writers
Posted on 05 May 2020
A new study reveals how a small insertable biosensor emits diagnostic signals that can be detected by common ultrasound scanners.
Developed at Monash University (Melbourne, Australia) and the Baker IDI Heart and Diabetes Institute (Melbourne, Australia), the solid nanoparticle sensors are designed to alter their stiffness in response to pH changes. The biosensor transmits the measured data by then modifying ultrasound contrast scanning signals. The sensors are made of a Silica (SiO2) core coated with pH-responsive polymethacrylic acid (PMASH) in a layer-by-layer approach, supervised via transmission electron and confocal laser scanning microscopy. The sensor is then covered in a porous organosilica shell.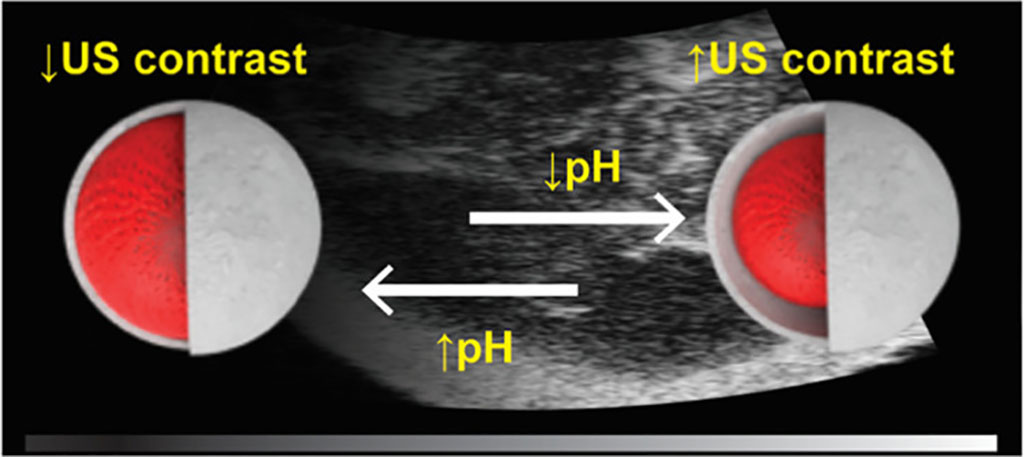 The researchers subsequently confirmed the pH-dependent shrinkage and swelling of the PMASH layer, successfully demonstrating that reduction in pH below healthy physiological levels resulted in significant increases in ultrasound contrast, as measured in gel phantoms, mouse cadaver tissue, and in live mice. According to the researchers, more complex markers, such as oxygen (as an indicator of stroke injury) or disease-related proteins might also be detected in the future using similar ultrasound biomarkers. The study was published on March 23, 2020, in
ACS Sensors.
"Our goal is to give clinicians the power of being able to have a patient sit in a chair and, as they are infusing the drugs, use commonly available ultrasound to monitor drug levels or organ response in real-time, adjusting dosages as a function of the patient's needs," said senior author Simon Corrie, PhD, of the department of chemical engineering at Monash University. "The technology has been tested in an animal model to detect changes in pH levels. We hope to now continue testing in animal models to determine whether it can accurately monitor rapidly changing pH levels, initially focusing on cancer and stroke."
While a range of biosensors have been designed for optical, photoacoustic, and magnetic resonance imaging (MRI) modalities, various technical challenges have hindered the development of ultrasound biosensors, even though ultrasound is widely available, portable, safe, and capable of both surface and deep tissue imaging.
Related Links:

Monash University
Baker IDI Heart and Diabetes Institute
Other channels