New Platform Transforms a Tablet into an Ultrasound Scanner
By MedImaging International staff writers
Posted on 04 Mar 2020
A self-contained, portable system turns mobile devices into a B-Mode ultrasound scanner that supports a wide variety of applications.
The Emagine Solutions Technology (Tucson, AZ, USA) VistaScan USB ultrasound imaging system is a single-mode and multiple-application ultrasound platform comprised of a series of handheld probes, each containing an ultrasound generator/receiver, an analog to digital converter, a microcontroller, a USB 2.0 interface, and software-based controls offering B operating mode, parameter controls, and recording functions. The selection of transducers offered with the system permit a wide range of clinical applications including obstetric, abdominal, fetal and pediatric, urology, gynecology, pelvic floor, neuromuscular, and peripheral vessel.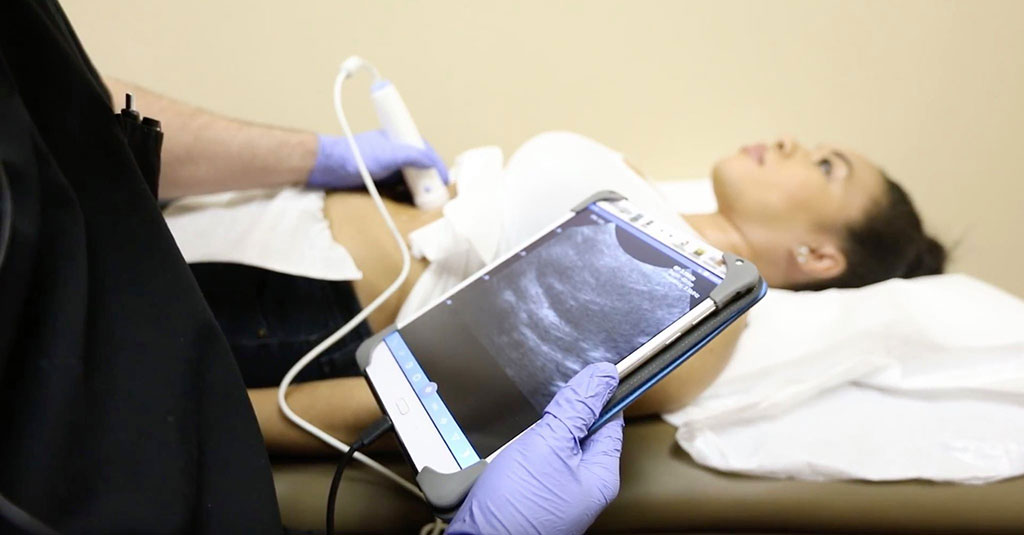 The ultrasound scanner provides both high resolution and high penetration performance, with initial operational settings for each transducer preprogrammed in the system. Customized parameter settings for each transducer can be set by the operator within a specific range, controlled by the transducer hardware and stored for recall as needed via the system control panel. Customizations includes transmit power, image control selections, and time gain compensation (TGC). Controls are also provided to select display format and to utilize the Cine function.
The product probes are non-array, curved, and flat linear array transducers, and include two general purpose (GP) probes and a small parts (SP) probe. The probes can be connected to an Android based Samsung Galaxy S4 Tablet device operating the VistaScan application. The VistaScan USB ultrasound imaging system includes several automated safety/performance checks to verify that the ultrasound probe is functioning properly, including system initialization, hardware initialization, probe ID code reads, and setup control.
"Our proprietary software platform transforms your cell phone or tablet into an ultrasound machine. Unlike other portable ultrasound technology, you can learn our user-friendly platform in minutes," said Courtney Williams, co-founder and CEO of Emagine Solutions Technology. "With VistaScan, we're on a mission to provide affordable, quality ultrasound to clinicians. You'll have hours of scan time without the need to recharge, and you'll experience superior imaging quality, all at a price more than 10x cheaper than a regular cart ultrasound machine."
Related Links:

Emagine Solutions Technology
Other channels