Interventional Bronchoscope Offers Precise Visualization and Acquisition
By MedImaging International staff writers
Posted on 02 Jan 2020
A new ultrasound video bronchoscope (UVB) provides clear ultrasound imaging of the airway wall, surrounding lymph nodes, and adjacent structures.
The Pentax Medical (Tokyo, Japan) EB19-J10U UVB is designed to provide optical visualization of, ultrasonic visualization of, and therapeutic access to the pulmonary track, including the nasal passage, the pharynx, larynx, trachea, and bronchial tree, and to the underlying areas. The endoscope includes a flexible insertion tube, a control body, a PVE connector that attaches to the video processor, an ultrasound umbilical connector that attaches to the ultrasound scanner unit, and additional connections for illumination and video signals. The EB19-J10U UVB also contains a large, 2.2 mm working channel that accommodates 19-Gauge needles, which can be smoothly deployed for reliable tissue sampling.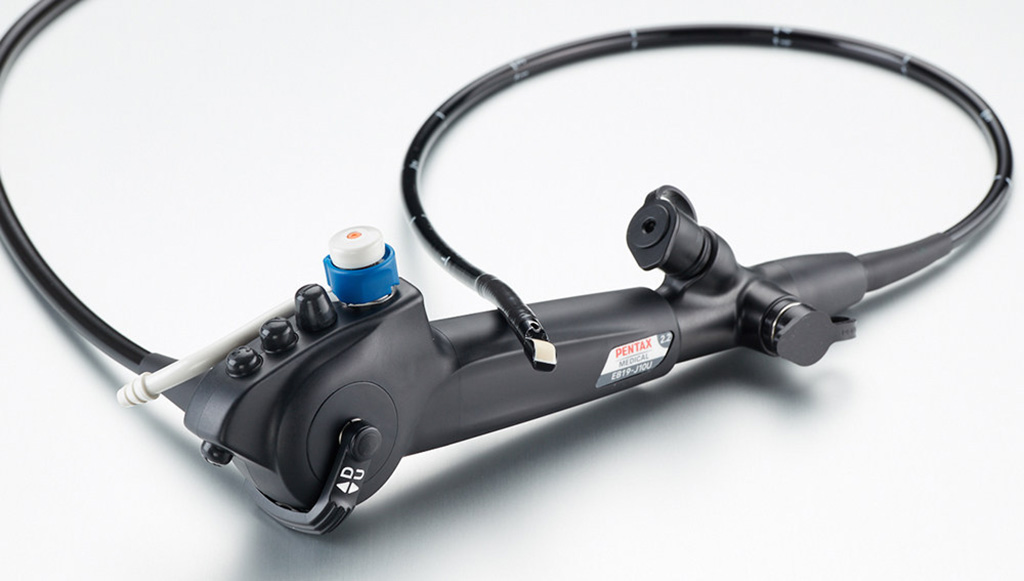 The control body includes remote buttons that control functions assigned from the video processor. It also includes controls for up/down angulation or neutral position, suction control, and ports for manual balloon insufflation and evacuation, and an accessory inlet. The endoscope also contains fiberoptic bundles to illuminate the body cavity, a change couple device (CCD) sensor to collect endoscopic image data, and a convex array ultrasound transducer to collect the ultrasonic image data. The EB19-J10U is compatible with Hitachi (Tokyo, Japan) ultrasound scanners, offering greater therapeutic flexibility.
"Pentax is globally focused on innovations that not only help improve clinical outcomes and reduce the cost of care delivery, but also enhance our customers' satisfaction. Combined with the state-of-the-art Hitachi ultrasound scanners, the EB19-J10U reaffirms our commitment to cutting-edge diagnostic and Interventional pulmonology," said David Woods, president and CEO of Pentax Medical Americas. "Endobronchial ultrasound is recognized as the gold standard for minimally invasive tissue acquisition in pulmonology. We think that the EB19-J10U is a significant building block for this strategy."
"The new EB19-J10U offers a much larger field of vision, which, combined with high-quality ultrasound technology and PENTAX video processors, allows for precise and excellent visualization and orientation in the airways," said Rocco Trisolini, MD, of Policlinico S. Orsola (Bologna, Italy). "The ergonomic design with improved grip and wide operational channel are also impressive and greatly contribute to the ease of use and high level of maneuverability."
Within interventional pulmonology, one of the main challenges is the visualization of the airway wall and the structures adjacent to it. Minimally invasive endobronchial ultrasound (EBUS) and EBUS-guided transbronchial needle aspiration (EBUS-TBNA) procedures have thus emerged as the gold standard procedures for staging lung cancer and evaluation other pulmonary diseases.
Related Links:

Pentax Medical
Hitachi
Other channels