Zero-Click Automation Speeds Ultrasound Examinations
By MedImaging International staff writers
Posted on 02 May 2019
A new compact console ultrasound system provides high-quality ultrasound technology to hospitals, clinics, and private practices.
The Esaote (Genova, Italy) MyLab X5 system is designed to function as a complete system for any clinical need, including cardiovascular, endocrinology, abdominal, and women's health applications. Features such as a friendly user interface, zero-click automations, enhanced image quality, customizable measurements, a booting time of less than 15 seconds from stand-by mode, and a gamut of extended connectivity and reporting solutions assist rapid diagnosis, therapy, and follow-up.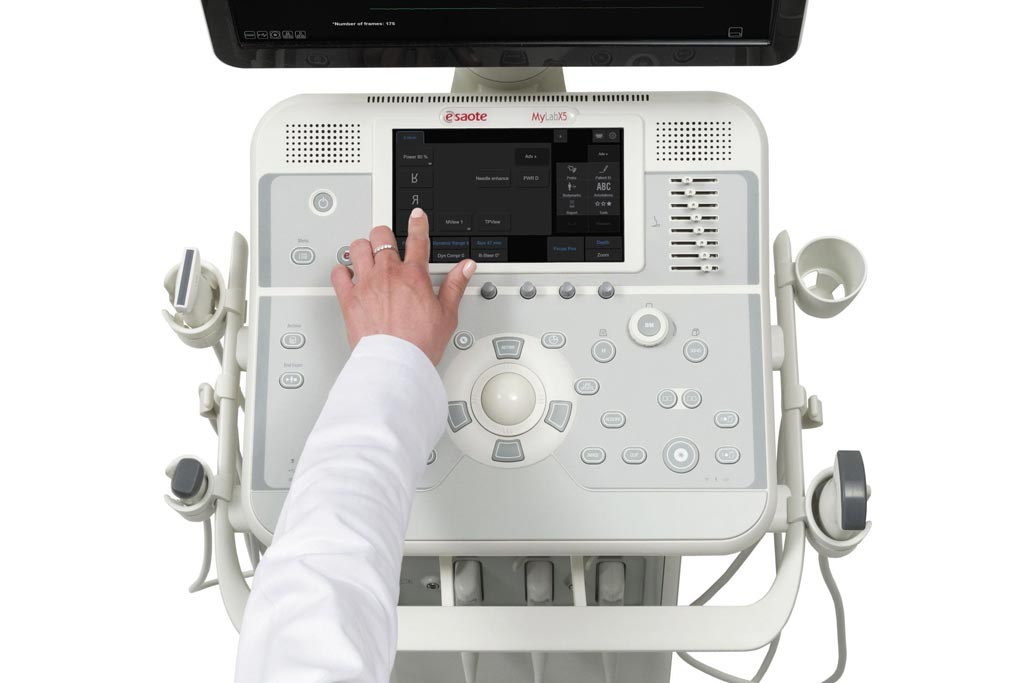 A large portfolio of iQProbe single crystal ultrasound transducers feature an appleprobe design, active matrix composite materials, multiple adaptive layers, and bi-con geometric lens, all designed to support extended wideband convex, linear, phased array, volumetric, intraoperative, and other transducer shapes for a range of clinical applications. A selection of dedicated printers and digital video recorders (DVRs) can be connected to the ultrasound scanner to provide optimal printing image quality and cover any specific need for diagnostic archiving.
"The MyLab X5 system is the first of the completely renovated Ultrasound family designed to meet the needs of a modern busy clinical practice," said Robert Lewis, general manager and president at Esaote North America. "Our goal is to provide the right solutions to our valued customers by making ultrasound examinations faster and easier. We are committed to the continuous development of new products and enhancements that will allow our customers to provide the best possible care to their patients."
Latest Ultrasound News
Other channels