Transthoracic Vector Flow Imaging Visualizes Pediatric Hearts
By Medimaging International staff writers
Posted on 17 Apr 2019
Vector flow imaging (VFI) technology could improve the detection and diagnosis of congenital heart disease (CHD) in infants and children, according to a new study.
Researchers at Arkansas Children's Research Institute (ACRI; Little Rock, AR, USA), the University of Arkansas (UARK; Fayetteville, USA), and other institutions conducted a study to examine if contrast-agent VFI can be used for angle-independent visualization of blood-flow fields. First, two piglets, one with CHD valvular pulmonary stenosis, a dilated main pulmonary artery, and an incomplete atrioventricular canal defect, and the other with normal cardiac anatomy were imaged transthoracically and epicardially using a ultrasound device with built-in VFI and a 5 MHz linear probe.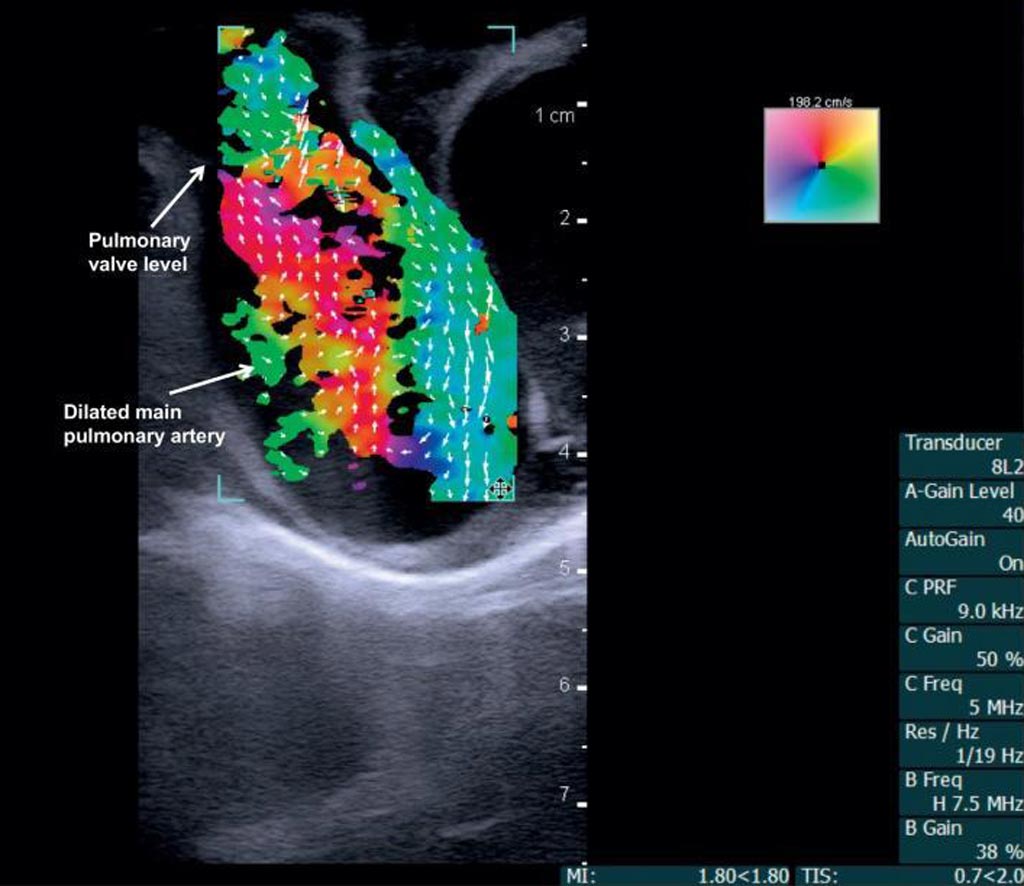 Subsequently, two children, one with normal cardiac anatomy and one with CHD aortic valve stenosis and coarctation of the aorta were imaged transthoracically. The results showed that transthoracic VFI and echocardiography were readily performed in the piglets. In addition, transthoracic VFI of blood flow patterns within the cardiac chambers, across valves, and in the great arteries was successful in both children, with abnormal flow secondary to cardiac anomalies also visible, with a penetration depth of 6.5 cm. The study was published on March 5, 2019, in Progress in Pediatric Cardiology.
"In children with CHD, Doppler ultrasound is the standard, bedside imaging modality. However, precise characterization of blood flow is challenging due to angle-dependent and one-dimensional velocity estimation," concluded senior author biomedical engineer Morten Jensen, PhD, of UARK, and colleagues. "Transthoracic vector flow imaging echocardiography is feasible and practicable in pediatric-sized patients, and this paper describes examples of these concepts and in-depth comparisons with traditional imaging modalities."
VFI is an ultrasound-based imaging method that provides real-time, angle-independent visualization of blood flow using transverse oscillation and dual-peaked receiver apodization, an optical filtering technique that creates a double-oscillating field sensitive to full vector motion in the imaging plane. However, the penetration depth of commercially available VFI transducers is only about 5 cm, limiting it to epicardial use in adults.
Related Links:
Arkansas Children's Research Institute
University of Arkansas

Latest Ultrasound News
Other channels