Thermographic Imaging Gauges Rheumatoid Arthritis Activity
By MedImaging International staff writers
Posted on 04 Dec 2019
Thermal imaging could be used as an adjunct assessment method of disease activity in patients with rheumatoid arthritis (RA), according to a new study.
Researchers at the University of Malta (Msida) and Staffordshire University (United Kingdom) conducted a study involving 82 patients in order to determine whether RA patients without active synovitis exhibit different baseline thermographic patterns of the fingers and palms than healthy individuals. To do so, data from 31 RA patients were compared to that of 51 healthy controls. All study participants underwent infrared (IR) imaging of the regions of interest (ROIs) using a Flir (Wilsonville, OR, USA) T630 thermal camera.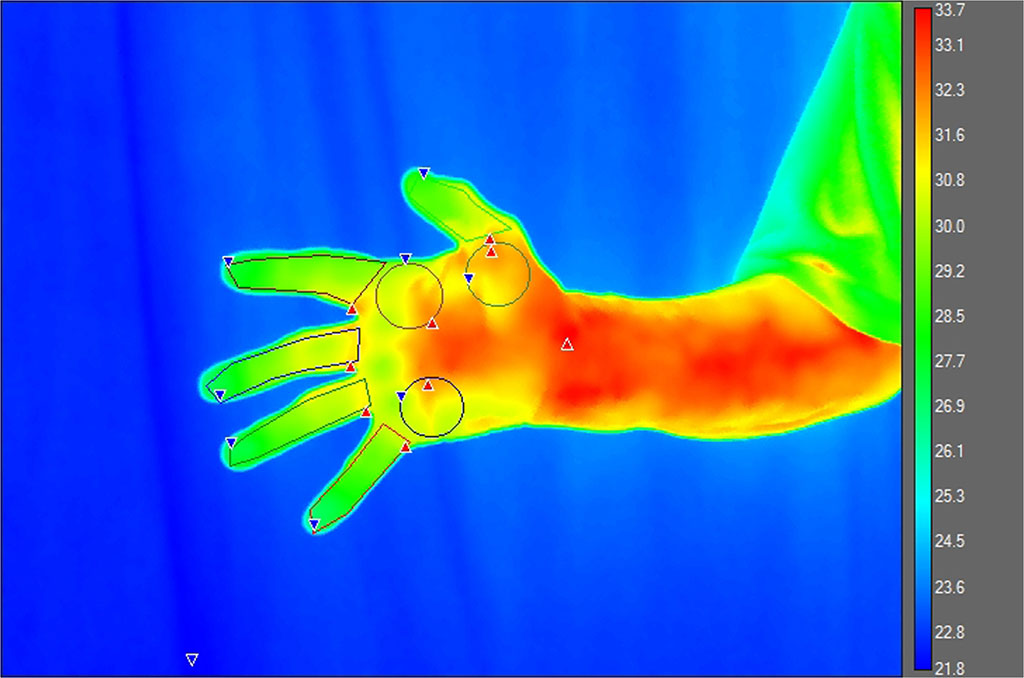 The results showed significant differences between the mean temperatures of the palm (29.37 °C) and fingers (27.16 °C) of the healthy participants, when compared to those of their RA counterparts (31.4 °C and 30.22 °C , respectively). Analysis confirmed that both palm and finger temperatures are significantly increased in RA without active inflammation. The study was published on November 25, 2019, in
Scientific Reports.
"Thermal imaging is an emerging technology within medicine and has the potential to become an important clinical tool as disease processes can vary the magnitude and pattern of emitted heat in a person with Rheumatoid Arthritis," said lead author Alfred Gatt, MD, of the University of Malta. "We hypothesize that this temperature difference may be attributed to underlying subclinical disease activity, or else that the original inflammatory process may cause irreversible thermal changes that persist after the disease activity has resolved."
"RA affects more than 400,000 adults in the United Kingdom, which can lead to deformity, disability and cardio-vascular problems. Timely detection of ongoing synovitis in RA is of paramount important to help enable tight disease control," said senior author Professor Nachi Chockalingam, PhD, of Staffordshire University. "This work showcases our successful collaboration with colleagues in Malta and the potential thermal imaging has in helping practitioners to assess the disease."
Thermography refers to digital infrared thermal imaging (DITI), a test that detects temperature changes on the surface of the skin using an IR thermal camera to record different temperature levels. The camera displays these patterns as a heat map.
Related Links:

University of Malta
Staffordshire University
Flir
Other channels