Integrated Imaging Technologies Empower Interventional Vascular Surgery
By MedImaging International staff writers
Posted on 13 Nov 2019
New collaborative imaging tools integrate imaging modalities for office based labs (OBLs) and ambulatory surgery centers (ASCs).
The Canon Medical Systems (Ōtawara, Japan) Alphenix family of interventional systems includes both a conventional and 5-axis C-arm, providing flexible anatomical coverage of the patient from any angle, without the need to reposition the patient. Acquisition protocols and C-arm positions are easily selected using the tableside Alphenix tablet. A redesigned imaging platform, next-generation advanced image processing (AIP), noise reduction technology, and dose management protocols provide benefits for everyone, from patients to clinical staff and management.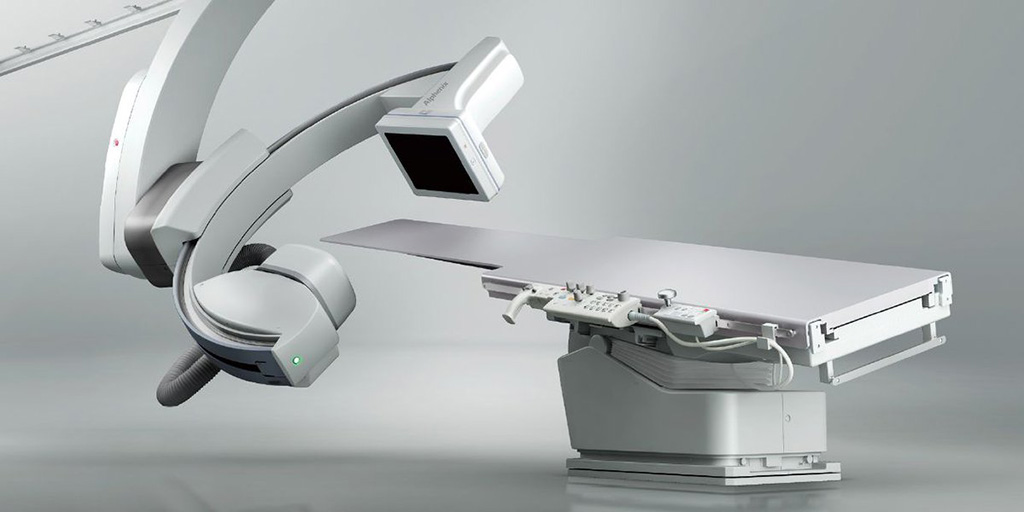 3D fusion technology enables superimposition of 3D volume data onto a live fluoroscopy display, via a C-arm acquired 3D dataset or by importing a pre-procedural CT/MR study. Additional features include QCA, with automatic contour detection, analysis of the area of interest, and various calibration options, such as Catheter, Sphere, and Distance calibration methods. 3D-QCA offers reconstructions of stenotic coronary arteries and allows quantitative cross-sectional information to be displayed, with automatic contour detection, single segment analysis, and bifurcation analysis. A stent enhancer visualizes stents by suppressing anatomical structures and background noise.
"While hospitals get busier and reimbursement rates continue to change, the Alphenix Aero Package fits an unmet need in the healthcare space, enabling OBLs to grow their businesses and ensuring all physicians have access to the latest technology to deliver clinical excellence at a feasible budget," said Kristin Jones, acting managing director of the vascular business unit at Canon Medical Systems USA. "Canon Medical's flexible solutions open doors for customers, and encourage innovation by providing access to clinical opportunity and expansion they wouldn't otherwise have access to."
The systems are available in the Alphenix Core (+ Aero Edition) and Alphenix Sky (Alphenix Sky Aero Edition) configurations, with an option for a 12x12 or 12x16 flat panel detectors (FPD). Additionally, the platform is scalable, allowing clinicians to apply certain future upgrades as their practice evolves.
Related Links:

Canon Medical Systems
Other channels