PaxeraHealth Demonstrates the Latest in Artificial Intelligence Technology for Imaging at RSNA 2022
By MedImaging International staff writers
Posted on 27 Nov 2022
PaxeraHealth (Newton, MA, USA) is demonstrating the latest in artificial intelligence (AI) technology for imaging at the Radiological Society of North America (RSNA) 108th Scientific Assembly and Annual Meeting from November 27 to December 1. At RSNA 2022, PaxeraHealth is showcasing its industry-first, zero-coding authoring platform "ARK" that expedites the production of clinically validated imaging AI algorithms for healthcare systems and academic research centers.
PaxeraHealth's Ark platform (a patent pending technology) is impacting healthcare systems and academic research centers around the globe with its zero-coding AI algorithm technology. The Ark platform was developed to democratize AI and reduce medical errors and overall healthcare costs. PaxeraHealth's high definition labeling technology reduces the amount of data required for training and increases the efficiency of the created AI algorithms.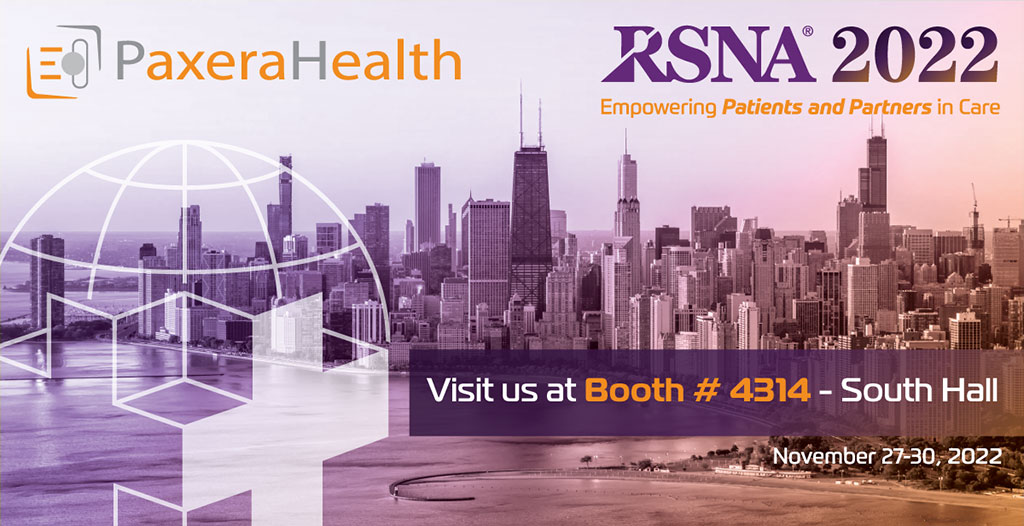 Additionally, the Ark delivers a streamlined research PACS platform to help researchers collect, curate, manage, and share data for clinical trials and collaboration on other research opportunities, leading to improved research productivity and less time wasted directly managing data.
Related Links:
PaxeraHealth