Carestream Demonstrates AI Solutions to Help Improve Clinical Outcomes and Patient Care at RSNA 2022
By MedImaging International staff writers
Posted on 25 Nov 2022
Carestream Health (Rochester, N.Y., USA) is demonstrating the value and impact of artificial intelligence (AI) in radiology at the Radiological Society of North America (RSNA) 2022 conference. Carestream is also showcasing the latest enhancements to its DRX-Evolution Plus medical imaging system at RSNA 2022.
In advance of RSNA 2022, Carestream has unveiled several enhancements to its DRX-Excel Plus platform, with improvements to the system's console, detector and mainframe that augment workflow and radiographer experience. Designed specifically for large and mid-size hospitals and medical centers, the CARESTREAM DRX-Excel Plus System combines radiography and fluoroscopy (R/F) into one compact unit. It delivers accelerated workflow, high-resolution images and a wide range of exams. Its new Adam console fully integrates the system with long-length imaging auto-stitching capability, allowing for multiple images to be stitched into one image for easier reading of spine and lower-limb exams. The console provides a redesigned graphic user interface, as simple as a smartphone, that has ergonomic features for a better user experience.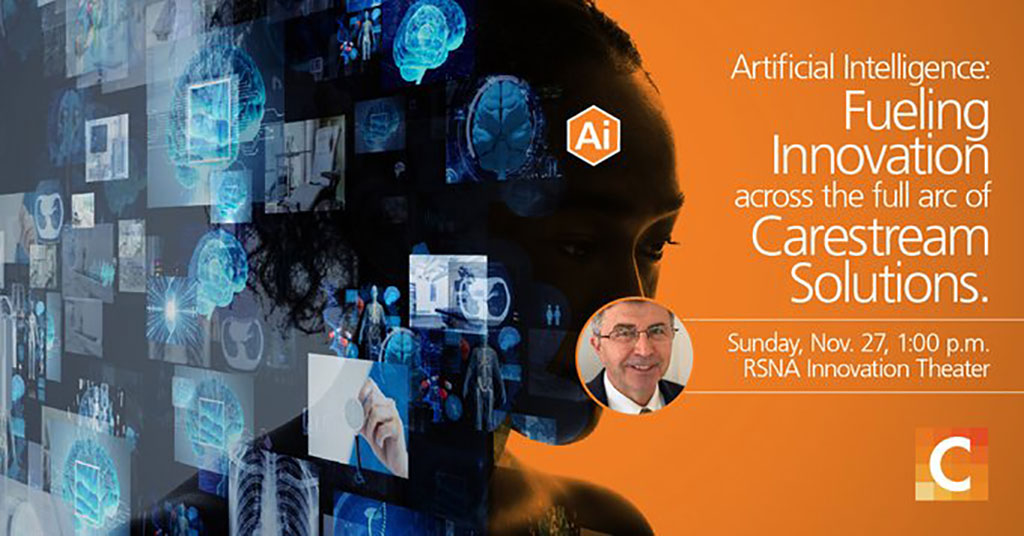 At RSNA 2022, Carestream is also showcasing the latest enhancements to its DRX-Evolution Plus medical imaging system. Carestream's premium X-ray room, the DRX-Evolution Plus System, boasts new features that demonstrate continued focus on augmenting workflow and improving patient comfort. The first new feature is a flat tabletop - tabletop rails that can cause strain and discomfort for both radiographer and patient are gone. This allows patients to be moved more smoothly and with less effort to an X-ray table. The second new feature is the addition of a rotation tray to provide more flexibility for imaging facilities that utilize only a 35 x 43 detector. The capability to change the orientation within the table bucky eliminates the need to place the detector directly underneath a patient's body for exams requiring this orientation.
In addition Carestream is exhibiting its DRX-Compass X-ray System at RSNA. An upgrade-friendly X-ray room, the DRX-Compass—available in a floor-mount or overhead tube crane configuration—has a broad array of advanced features and options to meet changing needs. Developed for easy positioning, this system was designed to decrease set-up time and increase throughput for every facility. With the ability to select components for specific locations, the system can easily adapt to space requirements. The DRX-Compass is ideal for community, rural and private hospitals. It is also well suited for urgent care centers, orthopedic and large radiology practices.
To enable a confident diagnosis, Carestream solutions utilize a variety of AI algorithms to improve workflow both in rooms and at the bedside. For example, Eclipse Imaging Intelligence capabilities deliver superb image quality and unrivaled diagnostic confidence with AI, proprietary algorithms and advanced image-processing capabilities. The company's Imaging and Workflow Intelligence solutions help improve image clarity, optimize dose and increase workflow efficiency. AI-based Smart DR Workflow helps captures anatomy precisely, saving time and reducing the number of X-ray retakes. By using AI to positively impact each step of a patient's clinical journey from image acquisition to diagnosis, Carestream empowers partners with powerful clinical solutions for effective patient management.
"Often, imaging is the first step in making an informed diagnosis," said Luca Bogoni, Ph.D., Head of Advanced Research and Innovation at Carestream who is giving a presentation entitled "Artificial Intelligence: Fueling Innovation Across the Full Arc of Carestream Solutions" in the RSNA Innovation Theater. "Carestream has been a leader in applying AI across our solutions, from image capture to processing and workflow efficiency. As we innovate, we work to support diagnostic confidence by using the power of intelligent tools."
"Artificial intelligence is much more than technological advances. It allows radiographers to spend more time on patient care," Dr. Bogoni added. "These tools create more time and space for patient interaction."
Related Links:
Carestream Health