RSNA 2022 Showcases Breakthrough Products and Solutions Empowering Radiology
By MedImaging International staff writers
Posted on 25 Nov 2022
The 108th Scientific Assembly and Annual Meeting of the Radiological Society of North America (RSNA, Oak Brook, IL, USA) being held in Chicago at McCormick Place, Nov. 27–Dec. 1 offers attendees the opportunity to experience the latest in medical imaging technology and immerse themselves in the science, education and innovations that keep radiology at the center of patient care. As the world's largest annual medical imaging forum, RSNA 2022: Empowering Patients and Partners in Care provides attendees with a standout exhibition floor, featuring the latest medical imaging technologies in CT, MRI, AI, 3D printing and more. RSNA 2022 provides attendees, both in-person and virtual, with innovative research and educational opportunities in every subspecialty.
This year's annual meeting schedule includes 400+ educational courses, 2,500 scientific papers, education exhibits and posters and a highly anticipated line-up of plenary speakers, all delivering the very latest in medical imaging innovation and advancements focused on improving patient care. Sessions include everything from traditional lectures to interactive, hands-on activities that take learning to the next level. RSNA 2022 also includes more networking opportunities and more than 600 exhibitors in the Technical Exhibits halls that are bringing the latest innovations in medical imaging including solutions for teleradiology, cybersecurity, 3D printing and AI. Virtual Access is ideal for those who cannot attend, as well as for attendees who wish to maximize their onsite experience. RSNA 2022 Virtual Access features nearly 100% of annual meeting programming. All attendees registered for Virtual Access can watch the virtual content until May 1, 2023.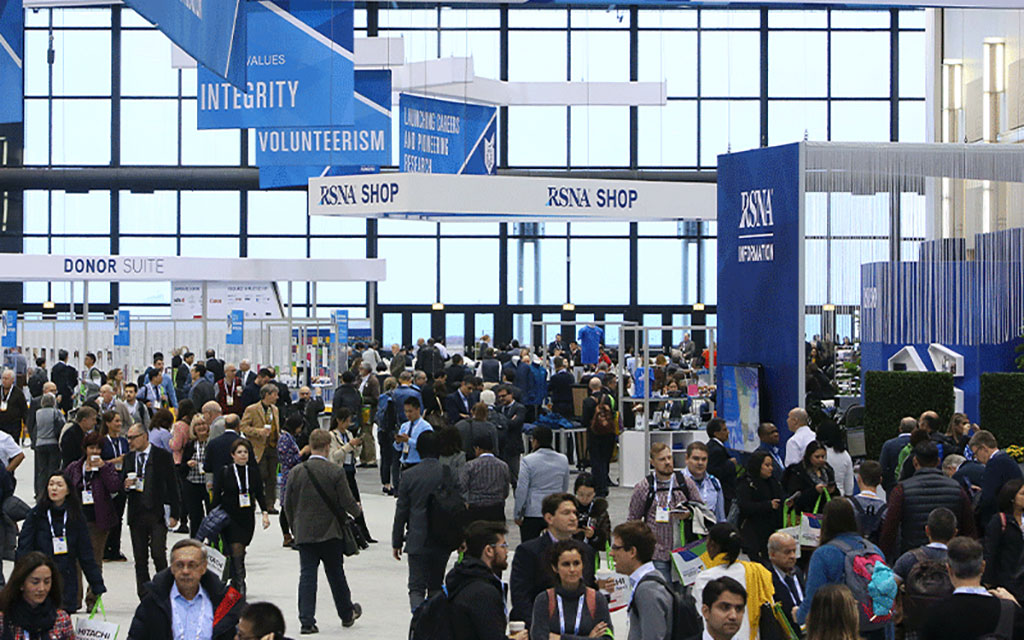 The RSNA 2022 Technical Exhibits halls are the ideal setting to engage with industry experts and explore a wide array of medical imaging industry product demonstrations, presentations, workshops and symposiums. With exhibits from over 600 leading manufacturers, suppliers and medical information and technology developers, attendees will be immersed in medical imaging innovation. Visitors can also discover the latest AI solutions and connect with industry experts in the AI Showcase located in the South Hall. The AI Showcase features over 100 companies and provides opportunities for attendees to see the newest AI software and product demonstrations and solutions. Visitors can dive into the hottest topics in AI, machine learning and deep learning in the RSNA AI Theater, and get the training and networking opportunities needed to better understand the role of AI in medical imaging. At the RSNAI Resource Center, located near the AI Theater, visitors can learn about the AI-related resources and educational opportunities provided by RSNA. Attendees can visit the Imaging AI in Practice booth to see demonstrations of new tools and practice enhancements enabled by AI in real-world clinical scenarios. These 30-minute, multi-vendor interoperability demonstrations are showcases new technologies and communication standards needed to integrate AI into the diagnostic radiology workflow.
The 3D Printing & Mixed Reality Showcase located in the North Hall is the place to network with colleagues and industry experts engaged in 3D medical printing research and development. This showcase offers attendees the opportunity to see and interact with the latest products in 3D printing, 3D software and augmented and virtual reality. New this year, the RSNA 3D Special Interest Group (SIG) Showcase offers an opportunity for attendees to share their experiences, innovations and challenges in creating 3D printed anatomical models and guides. This new booth includes a display of 3D models and case studies submitted by institutions that practice 3D printing. This booth offers the opportunity to network with colleagues who are involved in the practice of 3D printing in medicine. This year, RSNA is welcoming 80+ new companies to the First-Time Exhibitor Pavilion. Attendees can connect with these annual meeting newcomers and see their products and services in a showcase area inside the South Hall.
At RSNA 2022, attendees can meet with representatives from educational institutions and leading medical associations from around the world in Educators Row, located in the South Hall. They can also get first-hand experience on an exhibiting company's proprietary systems by attending user training and product instruction in classroom spaces at Vendor Workshops located within the Technical Exhibits Halls. Industry presentations at RSNA 2022 allow attendees to explore leading-edge products, services and solutions to enhance patient care, streamline operations and learn how to navigate today's health care landscape. Corporate Symposiums allows attendees to participate in focused one-hour education sessions presented by RSNA exhibitors and sponsors throughout the week. At Innovation Theater, 15-minute live presentations feature the latest imaging innovations from exhibiting companies.
"The RSNA annual meeting provides one of the best opportunities all year to learn about the latest developments in medical imaging research, education and technology from around the world," said Jorge Soto, MD, chair of the RSNA Annual Meeting Program Planning Committee. "If you're coming to the meeting, planning to attend virtually or registering for both access options, take time to look at the programming early to get the most out of your experience. Whether you are looking to improve knowledge in your own subspecialty or learn about something new, there is a good chance you will find what you're looking for at RSNA 2022."
Related Links:
RSNA