Lunit Unveils AI-Based Mammography Solution at RSNA 2018
By MedImaging International staff writers
Posted on 26 Nov 2018
Lunit (Seoul, South Korea), a medical artificial intelligence (AI) software company, showcased its newest AI solution for breast cancer—Lunit INSIGHT for Mammography— at this year's gathering of Radiological Society North America (RSNA), which was held on November 25-30 at McCormick Place in Chicago, Ill., USA.
Lunit, abbreviated from "learning unit," is focused on developing advanced medical image analytics and data-driven imaging biomarkers via cutting-edge deep learning technology. The company's mission is to empower physicians with clinically actionable insights that foster accurate and cost-efficient diagnosis and treatment through unprecedented AI-powered imaging biomarkers with cutting-edge, world-leading accuracy.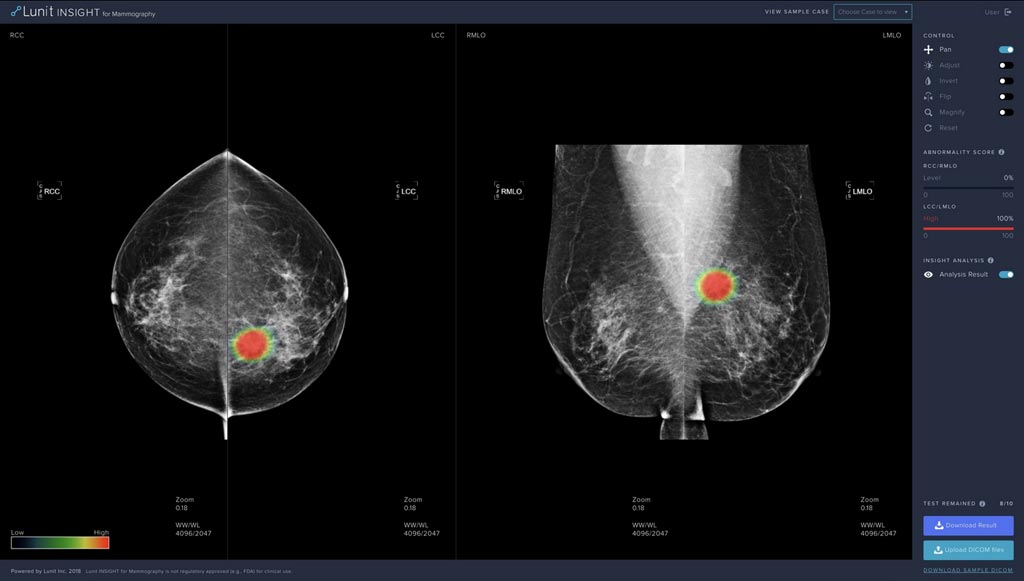 Lunit's newest AI software, Lunit INSIGHT for Mammography delivers an accuracy of 97% in detecting malignant lesions, which is expected to increase the cancer detection rate of radiologists by 10% when used as a second reader. The company also claims that its AI solution can enable general radiologists to perform at a specialist level, providing solutions to health facilities that experience strains with lack of specialists. It also aims to decrease recall rate and as a result, save medical costs that are being wasted every year.
At RSNA 2018, the company also showcased Lunit INSIGHT for Chest Radiography, which has been tested in more than 1.5 million cases from more than 70 countries since being launched during last year's RSNA. With an accuracy level of 97-99%, it detects major chest abnormalities including nodules, consolidation, pneumothorax, etc. The CAD-based solution is also being integrated into the worklist for prioritization, in which positive cases may be read first in order to decrease turnaround time and increase overall reading productivity.
Lunit's proprietary AI technology has been trained with vast quality medical data to ensure high accuracy levels. The company's AI has been trained with over 200,000 chest X-ray cases and 200,000 mammogram cases, out of which 50,000 cases were biopsy-proven malignant cases.
Lunit also presented six abstracts during RSNA 2018, consisting mainly of its latest findings and studies based on its AI technology in medical imaging such as mammography and chest radiography. Lunit's new CEO Brandon Suh was on stage at Machine Learning Theater to give a presentation titled, "From AI-powered Diagnostic Support Tools to Imaging Biomarkers: Aiming Beyond Human-Level Accuracy," which provided an overview of the company's recent achievements and future developments.
Related Links:
Lunit
Latest RSNA 2018 News