Portable, Low-Dose Medical Imaging System Delivers Fast 3D X-Ray Imaging at POC
By MedImaging International staff writers
Posted on 31 Jan 2023
Digital Tomosynthesis (DT) using conventional X-ray systems has already proved its clinical potential beyond breast imaging and has been shown to give better diagnostic information than 2D X-ray. For instance, DT helps to better characterize equivocal lesions in planar chest X-ray and can optimize the use of CT resources. However, DT's limited depth resolution can create difficulties in localizing some structures as well as to artefacts. Additionally, no existing DT systems are mobile and cannot be used for point-of-care diagnostics. They are also too large and expensive to be deployed in primary care or out of a hospital setting. Now, an innovative miniaturized flat panel source (FPS) enables the design of compact, affordable DT systems that would allow more patients timely and easy access to low-dose 3D imaging at the point-of-care.
Adaptix Limited (Oxford, UK) has received U.S. FDA 510(k) clearance for its first medical imaging product - a DT orthopedic imaging system. The portable, low-dose imaging system is capable of delivering fast, lower-cost, X-ray imaging at the point of patient care. Developed specifically to offer 3D X-ray imaging of hands, elbows and feet at a fraction of the radiation dose and per-study price of traditional CT systems, the system provides clinicians with clearer images than 2D X-ray systems, offering benefits such as fewer acquisitions, accelerated patient workflow and better diagnostic accuracy.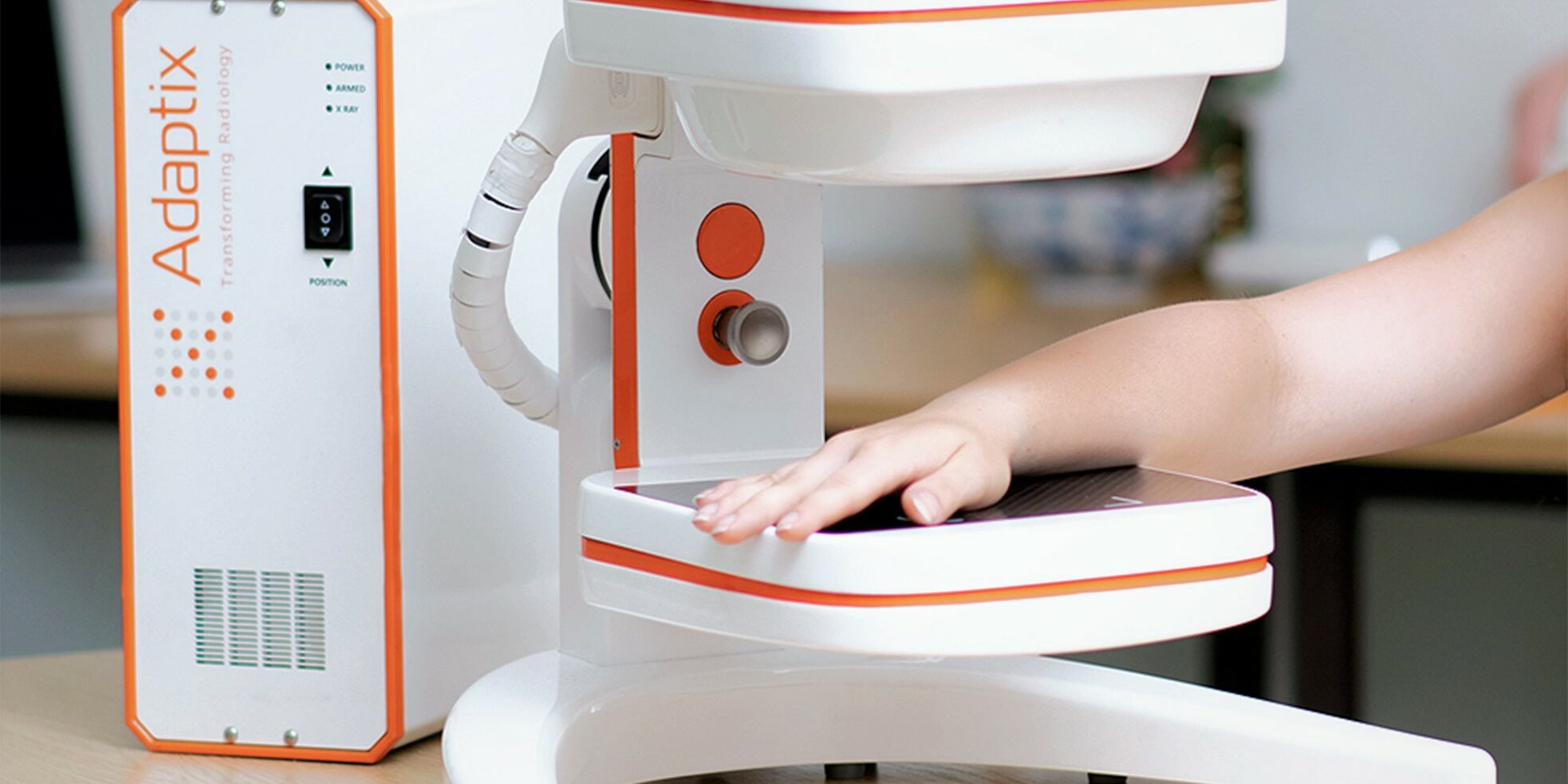 The Adaptix system 'sweeps' in two dimensions, enabling enhanced 'z' resolution relative to conventional DT. Adaptix's FPS uses a rectangular array of emitters instead of just a line, thus creating the potential for enabling lower-cost, smaller footprint, higher performance DT devices that are compact enough to be employed at the patient's bedside. The Adaptix technology is designed to enable low-cost systems to allow widespread deployment beyond the hospital, into primary care and ultimately the ambulance and developing world.
"We are delighted to receive the 510(k) clearance which allows this innovative technology, and our first medical product, to be marketed in the world's largest healthcare market," said Mark Evans, CEO of Adaptix. "The team are energized by achieving this milestone, and we look forward to delivering enhanced orthopedic DT imaging systems; a dental DT imaging system; and a chest DT imaging system for Intensive Care and Emergency Department use. We see a future where 3D travels to the patient at the point-of-care throughout hospitals, clinics and primary care transforming patient pathways, improving patient experience, and reducing the cost of care delivery."
Related Links:
Adaptix Limited 
Other channels