Chest CT Helps Evaluate COPD Mortality Risk
By MedImaging International staff writers
Posted on 20 Apr 2021
Chest computerized tomography (CT) scans to identify body fat composition can aid chronic obstructive pulmonary disease (COPD) evaluation, claims a new study.
Researchers at the University of California San Diego (UCSD; USA), Johns Hopkins University School of Medicine (JHU-SOM; Baltimore, MD, USA), and other institutions conducted a secondary analysis of data from 2,994 participants (mean age 69 years; 1,551 women) from the Multi-Ethnic Study of Atherosclerosis, who had chest CT available from 2010–2012. The participants were analyzed to determine subcutaneous adipose tissue (SAT), intermuscular adipose tissue (IMAT), and pectoralis muscle (PM) areas.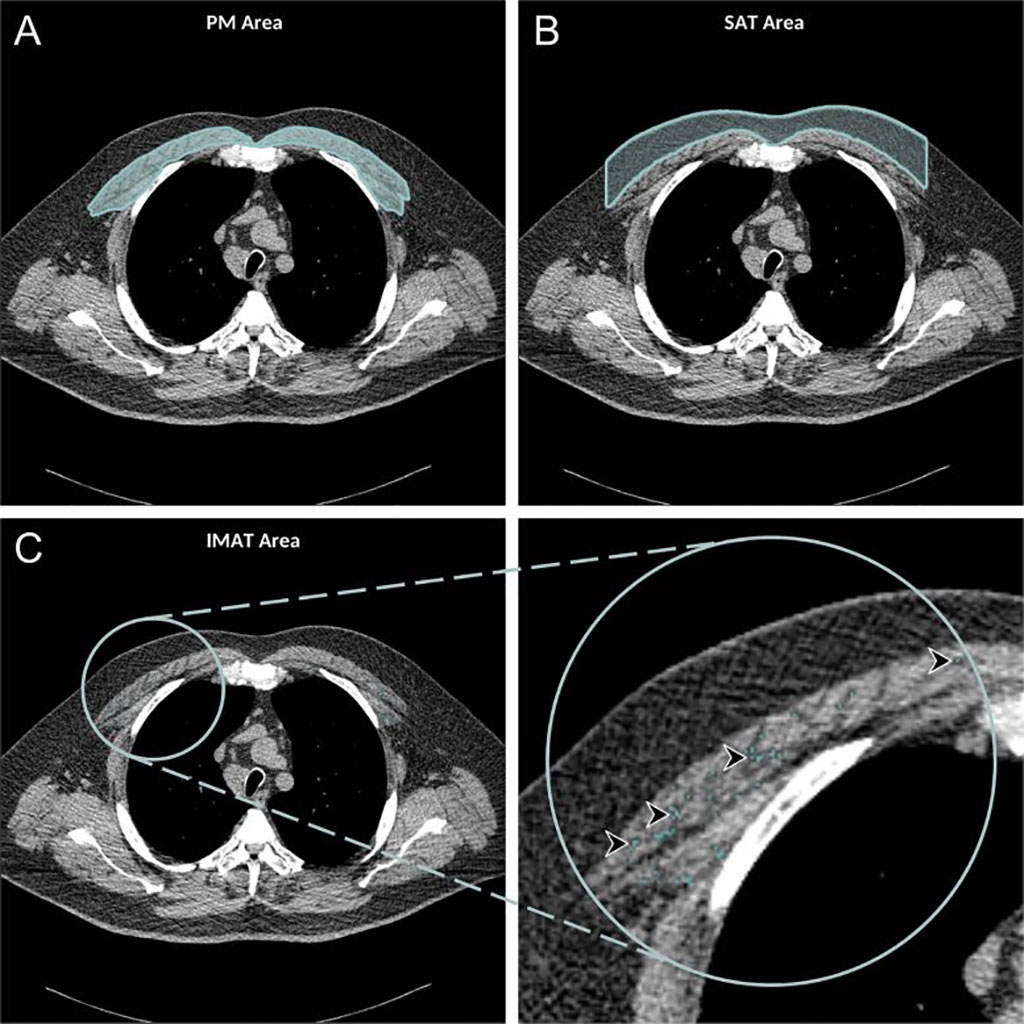 Spirometry evaluations of the patients were used to establish COPD diagnosis, and mortality data were extracted from the U.S. National Death Index (April 2010 to December 2017). Of the study participants, 265 suffered from COPD (9%), of whom 49 (18%) died during follow-up. The researchers then searched for correlations of the soft-tissue markers and COPD risk of mortality. The results revealed that higher subcutaneous adipose tissue was associated with lower risks of all-cause mortality in the COPD patients, whereas higher intermuscular adipose tissue was associated with higher mortality rates. The study was published on April 6, 2012, in
Radiology
.
"Compared with subcutaneous adipose tissue quantification, intermuscular adipose tissue may be a better marker for predicting all-cause mortality in patients with COPD, as it is an indicator of other underlying comorbidities, such as diabetes and hypertension," concluded lead author Farhad Pishgar, MD, of JHU, and colleagues. "In theory, CT-derived body composition assessments would provide an opportunity for earlier interventions in patients who face a higher risk of adverse health events."
COPD is a debilitating lung disease that limits the flow of air to and from the lungs, causing shortness of breath. In contrast to asthma, the characteristically low airflow on lung function tests is poorly reversible and is characterized by occasional sudden worsening of symptoms called acute exacerbations, most of which are caused by infections or air pollution. COPD is usually caused by noxious particles or gas, most commonly from tobacco smoking, which trigger an abnormal inflammatory response in the lung.
Related Links:

University of California San Diego
Johns Hopkins University School of Medicine
Other channels