Glass-Free Cesium Detector Benefits Medical Imaging
By MedImaging International staff writers
Posted on 22 Mar 2021
A new cesium flat panel detector (FPD) offers superb resolution, better detail, and a reduced exposure dose as compared to gadolinium detectors.
The Carestream (Rochester, NY, USA) Lux 35 Detector is a lightweight, glass-free ergonomically designed FPD that enables easier handling and minimizes accidental drops and slips, allowing for easier positioning. Its light weight (just 2.3 kg), small size (only 35 cm x 43 cm), and beveled edges provide more patient comfort, especially with bedridden patients. Specially designed strategically placed finger grips help position the detector effortlessly, and a graphical user interface (GUI) on the back displays status and error information notifications.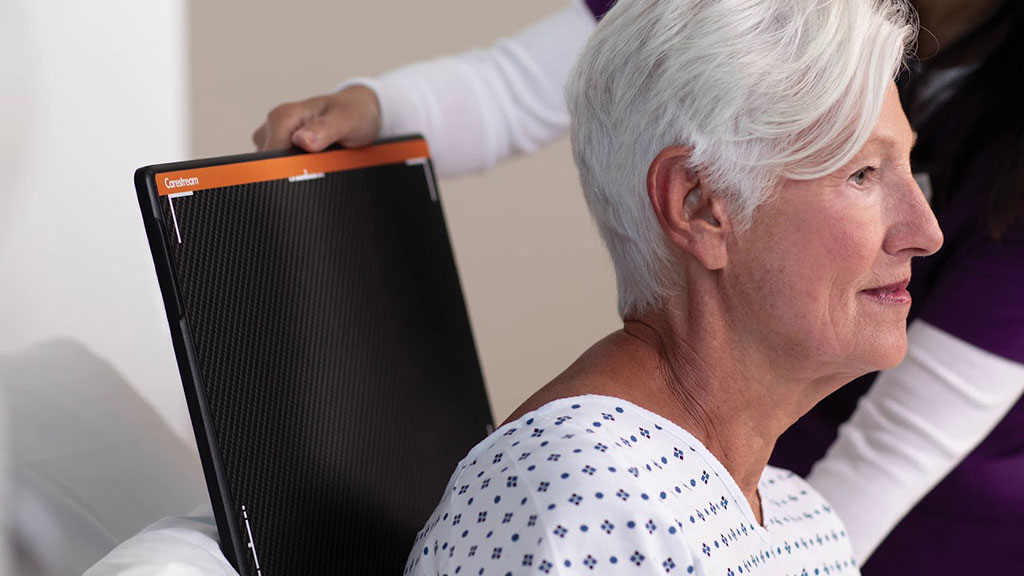 The Lux 35 uses Carestream's ImageView Software – powered by Eclipse – for high image quality and consistent presentation. The wireless detector also features proprietary X-Factor for sharing with other compatible Carestream DRX equipment. LED lights on the detector provide immediate information on its status, informing the radiographer that the detector is connected and in ready status, and alerting them when the battery is low and needs to be swapped out. The Lux 35 supports a variety of image-processing options, including Tube and Line Visualization, Pneumothorax Visualization, EVP Plus, Bone Suppression, and many more.
"The lightweight Lux 35 Detector helps ease stress on radiographers, especially when doing mobile imaging, as they are constantly moving the detector from machine to patient," said Jill Hamman, worldwide marketing manager of Global X-ray Solutions at Carestream. "The lighter weight and ergonomic finger grips result in less stress and fatigue on radiographers. Easier positioning of the detector can help speed up the time it takes to conduct mobile imaging rounds as well."
FPDs in various cassette formats for general radiographic examinations are equipped either with a Cesium Iodide (CsI) or GOS (Gadolinium oxysulfide) scintillator. CsI typically yield more detailed, higher resolution images, with a better light output. And since CsI panels are more sensitive to dose levels, the radiation dose is about 10% lower than on in a GOS FPD. GOS FPDs, however, usually come with a lower price tag.
Other channels