DCR Identifies Pleural Invasion of Lung Tumors
By MedImaging International staff writers
Posted on 15 Feb 2021
Dynamic chest radiography (DCR) holds promise for assessment of tumor invasion and adhesion in the parietal pleura, according to a new study.
Researchers at Kanazawa University (Japan), Duke University (Durham NC, USA), and Yokohama City University (Japan) conducted a proof-of-concept study to investigate the feasibility of preoperative evaluation of pleural invasion/adhesion of lung tumors with DCR, using a four‐dimensional (4D) extended cardiac‐torso (XCAT) computational phantom with simulated respiratory and cardiac motions; to simulate lung tumors, a 30‐mm diameter sphere was inserted into each lobe of the phantom.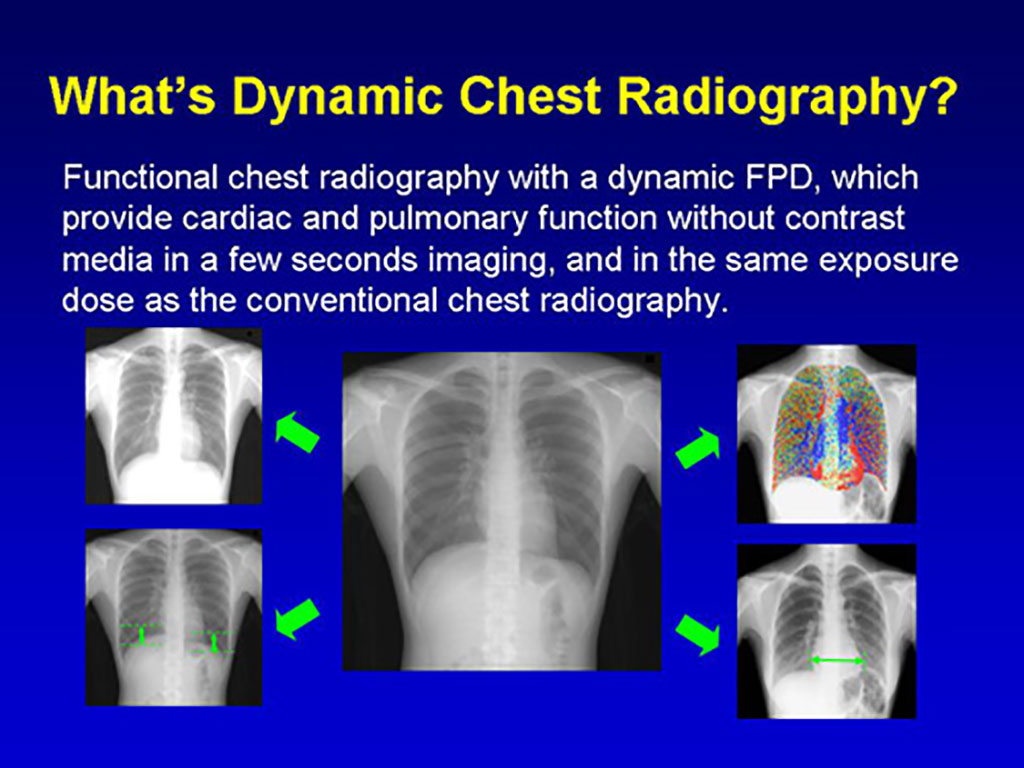 The virtual patient during respiration was virtually projected using an X‐ray simulator in posteroanterior (PA) and oblique directions, and sequential bone suppression (BS) images were created. Measurement points (tumor, rib, and diaphragm) were automatically tracked on the simulated images by a template matching technique. The researchers then calculated five quantitative metrics related to the movement distance and directions of the targeted tumor, and evaluated whether DCR could distinguish between tumors with and without pleural invasion/adhesion.
The results showed precise tracking of the targeted tumor, without undue influence of rib shadows. There was a significant difference in all five quantitative metrics between the lung tumors with and without pleural invasion. Metrics related to movement distance were effective for tumors in the middle and lower lobes, while those related to movement directions were effective for tumors close to the frontal chest wall on the oblique projection view. The oblique views were useful for the evaluation of the space between the chest wall and a moving tumor. The study was published on February 3, 2021, in
Medical Physics.
"Imaging modalities like cine MRI or breathing chest CT can be used to assess tumor invasion and adhesion, but both are more costly than x-ray; MRI often isn't available, while CT carries a higher radiation burden than radiography," said lead author Rie Tanaka, PhD, of Kanazawa University. "With DCR, a series of sequential chest radiographs are obtained of a standing patient through a 10-second respiratory cycle. Except for the breathing pattern, images are acquired in the same manner as a conventional radiograph."
Preoperative assessment of tumor invasion and adhesion is imperative when planning surgical excision of lung tumors. If the tumor moves independent of parietal or mediastinal pleura, it means that it is not invasive or strongly adheres to lung tissue, and therefore may be easier to remove surgically.
Related Links:

Kanazawa University
Duke University
Yokohama City University
Other channels