Integrated Blood Collector Estimates Radiation Exposure
By Medimaging International staff writers
Posted on 30 Oct 2019
A new study describes how a compact blood self-collection device can quickly estimate exposure to radiation in the event of a nuclear accident or attack.
Developed at Columbia University (New York, NY, USA), the University of Arizona College of Medicine (Phoenix, USA), and Georgetown University (Washington, DC, USA), the device is comprised of miniaturized vacuum tube coupled with integrated capillaries and a lancet that together form a self-collection device that can process blood specimens of 100 μl for analysis of the cytogenetic and gene expression biodosimetry responses of circulating lymphocytes. The analysis itself is undertaken in a centralized bioanalytical laboratory, with results returned after one day in the gene expression tests, and three days with the cytogenic tests.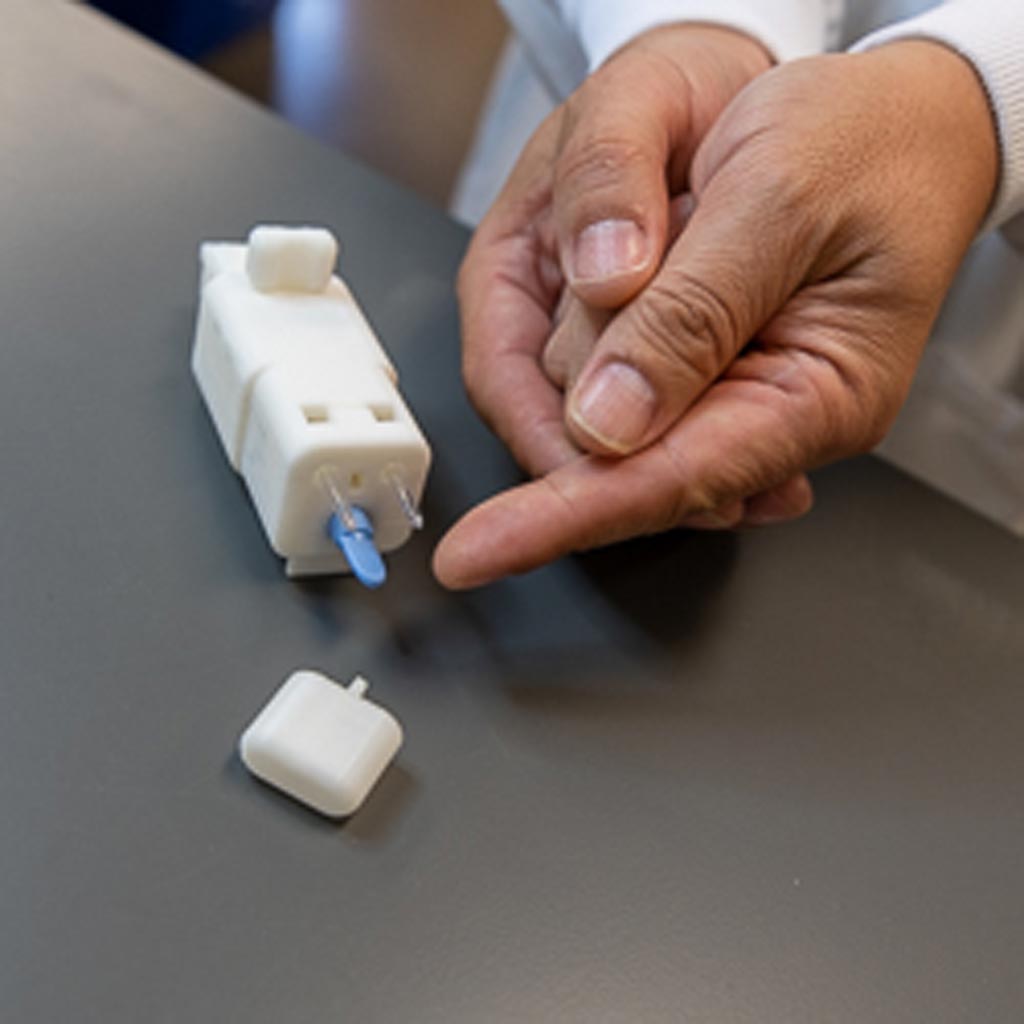 The miniaturized vacuum tube system facilitates liquid reagent storage, simple operation, and reduced sample contamination. The shelf life has been extended beyond one year by including low temperature storage, a Parylene barrier coating, and container vacuum bag sealing. Collected blood samples showed similar behavior in terms of gene expression and cytogenetic biodosimetry assays when compared to traditionally collected samples. According to the researchers, the new device could alleviate the sample collection bottleneck for radiation countermeasures following a large-scale nuclear event. The study was published on October 16, 2019, in PLOS One.
"Biological dosimetry determines the extent of damage to DNA caused by ionizing radiation associated with an acute exposure of a dirty bomb or nuclear accident. In ionizing radiation, electrons are knocked out of atoms and form charged particles," said lead author Jian Gu, PhD, of the University of Arizona. "In a nuclear event, hundreds of thousands of people would need to be screened in a very short time, and traditional medical infrastructure for blood collection may not be available."
There are two basic types of biodosimetry, with different, often complementary characteristics. The first is based on changes in biological parameters, such as gene activation or chromosomal abnormalities, while the second is based on physical tissue changes. Biodosimetry methods include chromosome aberration frequencies, as identified from fluorescence in situ hybridization (FISH) of peripheral blood lymphocytes, and electron paramagnetic resonance (EPR) measurements made on tooth enamel.
Related Links:
Columbia University
University of Arizona College of Medicine
Georgetown University

Other channels