Beam Technology Enables Less Harmful, More Accurate, and Cost-Effective Radiotherapy
By MedImaging International staff writers
Posted on 21 Apr 2014
Newly developed technology will enable more effective, less harmful, and drastically less costly radiotherapy and radiosurgery treatment using low-energy X-ray tubes instead of high-energy sources typically used today.
Convergent R.N.R., Ltd. (CRnR; Tirat Carmel, Israel) has completed a very effective and promising proof-of-concept session of the Mercy Beam technology.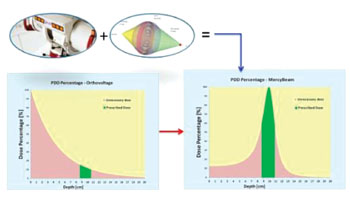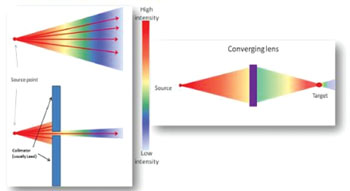 The Mercy Beam introduces an advanced lens that gathers most of the X-rays emanating divergently out of any traditional X-ray tube (currently used for X-ray imaging) and converges it towards the tumor site. The lens simultaneously removes low-energy photons that would be absorbed by the patient's skin. The convergence increases the therapeutic dose delivered at the tumor target, while the organs in the vicinity of the tumor receive a very low dose or no dose at all. The converging technology enables the use of photon-energy X-rays 100 times lower than those used by current systems that are based on linear accelerators (LINACs). This technology, because of its low energy requirement, enables a small, light and inexpensive solution in which the cancer is treated accurately with a concentrated radiation at a fraction of the cost of all other methods.
"Today's radiation treatment and surgery uses very high energy X-ray radiation that not only penetrates the body to reach the tumor, but also scatters towards the surrounding environment including healthy tissue, causing unwanted damage," said Zeev Harel, CEO of CRnR. "To deal with such high energy X-rays, the protocol requires the machine installation inside a room of several feet of concrete walls, and heavy lead doors, which make those solutions even more expensive. Mercy Beam would revolutionize cancer treatment as we know it today, allowing many patients to receive a merciful, efficient and affordable treatment. The use of low energy X-rays will enable operating the system in standard X-ray rooms [no need for 'special bunkers'] and in the future even in vans/lorries/trailers that may travel to remote areas. The technology is targeted for treating many types of cancerous tumors with an emphasis on treating of small children."
Convergent R.N.R. (CRnR) is a medical start-up company developing a new X-ray focusing technology called MercyBeam to perform cancer radiotherapy and radiosurgery. CRnR developed and patented the said break-through technology utilizing a standard imaging X-ray source to form a converging beam into a volume of treatment instead of the conventional diverging or collimated technologies existing today.

Related Links:
Convergent R.N.R.
Mercy Beam
Other channels