Advanced Radiation System Customizes Oncology Treatment
By MedImaging International staff writers
Posted on 22 Jun 2021
A novel adaptive radiation therapy (ART) system uses artificial intelligence (AI) to provide more precise treatment to reduce damage to healthy tissue.
The Varian Medical Systems (Varian; Palo Alto, CA, USA) Ethos system is designed to provide an adjusted, up-to-date view of the patient's anatomy during RT that takes into account changes to the size or position of a tumor, weight gain or loss, or a filled bladder. Ethos uses multimodal imaging, including magnetic resonance imaging (MRI), positron emission tomography (PET), and computerized tomography (CT) and cone beam computerized tomography (CBCT).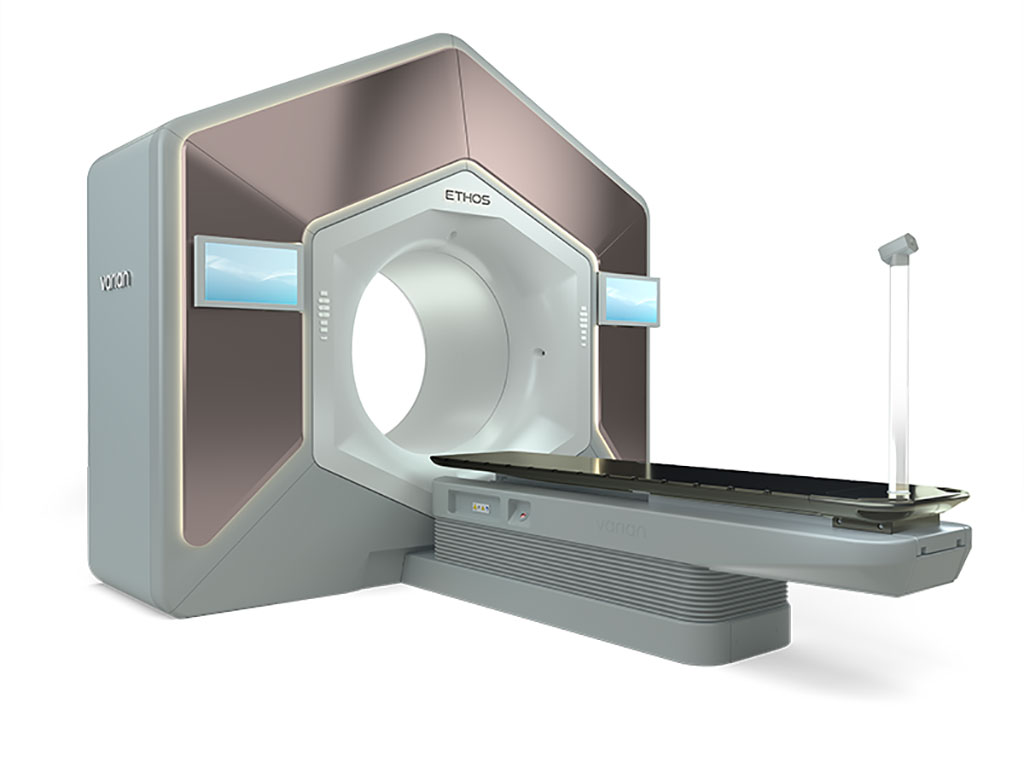 The oncology team first defines clinical intent from pre-defined templates, and the initial treatment plan is generated based on the physician's clinical objectives. RT is then adapted in response to changes in the patient's anatomy and the tumor's shape and position, on-couch and at the time of treatment. Each day, Ethos reconstructs delivered dose in relation to current anatomy, thus reducing the need for dose calculations by technical personnel, identifying when re-simulation may be required, and simplifying off-line adaption.
"Every patient deserves personalized cancer care. Ethos therapy was designed to launch a new era of personalized adaptive radiation therapy," said Chris Toth, president Varian oncology systems. "With Ethos, on-couch adaptive therapy is no longer an elusive aspiration that is too complex and time-consuming to be practical, and too exclusive for most clinics and patients."
"The speed, precision and accuracy of this new technology is reshaping how we fight cancer," said Robert Sinha, MD, director of the Center for Advanced Radiotherapy and Cyberknife Radiosurgery at El Camino Health (Mountain Health, CA, USA). "We've never had the ability with radiation treatment to look inside the body and see what's changing in real time, until now. And that capability is monumental when it comes to better treatment."
Ethos is best suited for cancers that commonly change during treatment, such as prostate, lung, and colorectal cancers, with the entire treatment process usually taking just 15 minutes from patient setup through treatment delivery.
Related Links:

Varian Medical Systems
Latest Nuclear Medicine News
Other channels