Accelerated MRI with AI Image Reconstruction Nearly Halves Scan Times (MI-MRI)
By MedImaging International staff writers
Posted on 20 Jan 2023
Artificial intelligence (AI) can reconstruct coarsely-sampled, rapid magnetic resonance imaging (MRI) scans into high-quality images with the same diagnostic value as those generated using traditional MRI, according to a new study. Reconstructing MRI scans with AI, which is four times faster than standard scans, has the potential to expand MRI access to more patients and lower appointment wait times, the study says.
The study is part of the fastMRI initiative established by NYU Langone Health (New York, NY, USA) and Meta AI Research (New York, NY, USA) (formerly Facebook) in 2018. This initiative, aimed at using AI to make MRI faster, led to the joint development of an AI model by Meta AI researchers and NYU Langone imaging scientists and radiologists. It also created the largest-ever publicly-available collection of raw MRI data, which has been used globally by scientists and engineers.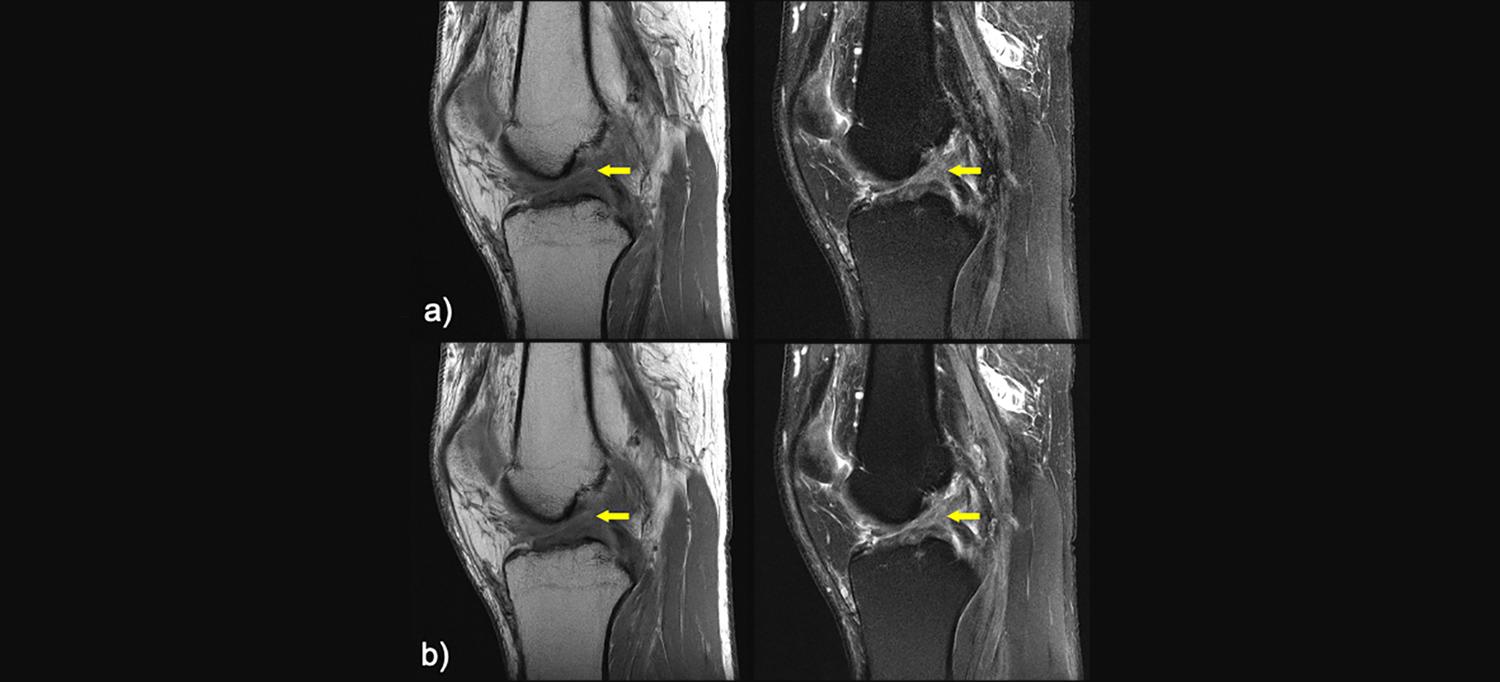 In an earlier "proof-of-principle" study, the NYU Langone team had simulated accelerated scans by removing about three-fourths of the raw data acquired by conventional, slow MRI scans. The fastMRI AI model then generated images that matched those created from the slower scans. In the new study, the researchers performed accelerated scans with only one-fourth of the total data and used the AI model to "fill in" the missing information, similar to the way the brain builds images by filling in missing visual information from local context and previous experiences. In both the studies, the team found that fastMRI scans were as accurate as traditional scans and offered better quality.
In the new study, a total of 170 participants received a diagnostic knee MRI using a conventional MRI protocol, followed by an accelerated AI protocol between January 2020 and February 2021. All the examinations were reviewed by six musculoskeletal radiologists, who searched for signs of meniscal or ligament tears and bone marrow or cartilage abnormalities. The radiologists evaluating the scans were not aware which images were reconstructed with AI. In order to limit the potential for recall bias, the evaluations of the standard images and AI-accelerated images were spaced at least four weeks apart. The radiologists judged the AI-reconstructed images as diagnostically equivalent to the conventional images for detecting tears or abnormalities. They also found that the overall image quality of the accelerated scans was significantly better than the conventional images.
FastMRI does not require special equipment, according to the researchers. Technicians can program standard MRI machines to gather less data than is usually required. The fastMRI initiative has made its data, models, and code available as an open-source project for other researchers and manufacturers of commercial MRI systems. An MRI examination that takes as much as 30 minutes can be completed in less than five minutes by using fastMRI, making examination time for MRI comparable to that for X-rays or CT scans. However, unlike these imaging techniques, MRI provides incredibly rich information, from enabling views of soft tissues from different perspectives to highlighting small cartilage abnormalities to locating tumors in the abdomen.
"Our new study translates the results from the earlier laboratory-based study and applies it to actual patients," said Michael P. Recht, MD, the Louis Marx Professor of Radiology and chair of the Department of Radiology at NYU Grossman School of Medicine. "FastMRI has the potential to dramatically change how we do MRI and increase accessibility of MRI to more patients."
"The price we have paid traditionally for all of that rich information is time," added Daniel K. Sodickson, MD, PhD, chief of innovation in the Department of Radiology and director of the Center for Advanced Imaging Innovation and Research. "If we can supercharge MRI to approach the speed of CT scans, we can make all of that important information available to everybody."