Lightweight MRI Scanner Packs a Heavyweight Punch
By MedImaging International staff writers
Posted on 20 Jul 2021
A new High-V magnetic resonance imaging (MRI) scanner combines 0.55 T field strength with deep learning technologies and advanced image processing.
The Siemens Healthineers (Erlangen, Germany) Magnetom Free.Max 80 cm MR scanner weighs in at three metric tons, with a height that is slightly less than two meters, allowing it to be installed in most average sized locations, and with minimal structural modifications. In addition, whereas MRI scanners typically require several hundred liters of helium and a quench pipe to cool the magnetic array, it uses less than one liter of helium, and does not require a quench pipe, reducing system lifecycle and infrastructure costs.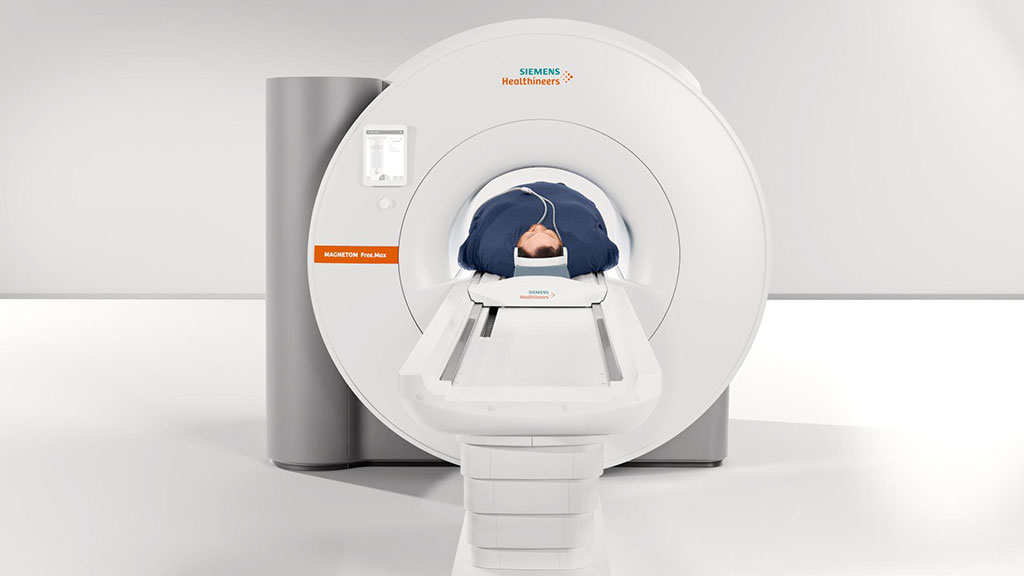 Siemens Healthineers has also enlarged the bore size of the Magnetom Free.Max to 80 cm, larger than that of a conventional scanner, allowing full body scans to be completed and making the MRI experience more comfortable for patients. The enlarged bore also considerably improves pulmonary imaging. The system is reinformed by artificial intelligence (AI) workflows in order deliver sharper, higher-resolution images. On example is Deep Resolve, an AI algorithm that uses neural networks to generate high-resolution images from a lower input signal.
Siemens Healthineers also introduced the myExam Companion AI-based user guidance system which enables routine examinations to be automated, eliminating repetitive tasks and allowing novices to obtain consistent and excellent image quality with each examination. And despite the high degree of automation, more experienced users can still fully configure Magnetom Free.Max for most complex scanning requirements. The Magnetom Free.Max is also fully connected for continuous and remote monitoring, shortening exam intervals and helping to quickly transmit system diagnosis.
"Siemens Healthineers is proud to offer the Magnetom Free.Max, which brings magnetic resonance to new clinical fields with innovative digital technology, new siting features, and image quality that was once realized only at higher field strengths," said Jane Kilkenny, vice president of MRI at Siemens Healthineers North America. "The scanner's comparatively low weight and size can open the door to MR utilization in orthopedic centers, emergency rooms, outpatient centers, and even intensive care units."