Portable MRI System Makes Imaging Accessible and Immediate
By MedImaging International staff writers
Posted on 25 Aug 2020
An innovative point-of-care (POC) MRI system wheels directly to the patient's bedside, plugs into a standard electrical wall outlet, and is controlled through a wireless tablet.
The Hyperfine Research (Guilford, CT, USA) Swoop portable MRI system is a low-field system that features standard permanent magnets that require no power or cooling systems, producing an image using radio waves and weak magnetic fields. The Swoop is controlled via a tablet device, using sequences and protocols selected from a playlist; as a result, it is 10X lower in weight than current fixed conventional MRI systems, costs a fraction of the price, is highly portable, and plugs directly into a standard electrical wall outlet, with 35X lower power consumption.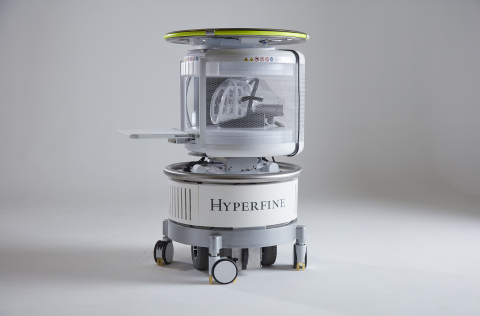 MRI scans are captured at the patient's bedside; once completed, images can be view directly on the tablet or on a smartphone, and can also be sent to the cloud for sharing and consultation, enabling critical decision-making in a range of clinical settings, including neuro intensive care units, emergency departments, pediatrics, ambulatory, outpatient surgery centers, and more. As a complementary system to the traditional MRI, new users can be trained on system operation, device navigation, and device safety in just 30 minutes, helping clinicians to streamline workflow.
"Six years ago, we had a crazy vision to create a new product category for imaging: an affordable point-of-care MRI system," said Jonathan Rothberg, PhD, founder and chairman of Hyperfine Research. "With this clearance from the FDA, we are launching an astonishing new diagnostic tool for patients and providers in our Swoop Portable MRI, and we are delivering on our mission to democratize healthcare across clinical settings and geographies."
MRI scanners can have ultraweak, weak, medium, strong, and superstrong magnetic fields, as measured in Tesla units. Highest-quality scans are usually taken with the aid of superconducting magnetic systems that generate very strong magnetic fields, providing the highest image resolution. But such high-field systems require liquid helium to keep the superconducting magnets cool, which demands high-power consumption, separate facilities, and improved shielding.
Related Links:

Hyperfine Research