MRI Analysis Can Predict Brain Tumor Prognosis
By MedImaging International staff writers
Posted on 09 Apr 2020
Merging magnetic resonance imaging (MRI) analysis and radiomics-based genomic research can help determine the relative life expectancy of glioblastoma victims, according to a new study.
The prognostic model developed by researchers at Case Western Reserve University (CWRU; Cleveland, OH, USA), the Cleveland Clinic (CC, OH, USA), and other institutions identifies pre-treatment MRI radiomics features, and connects those features to biological processes in the tumor using artificial intelligence (AI). For the study, the researchers enrolled 130 glioblastoma patients, extracting 2,850 radiomics features. They then identified 25 of these features as especially prognostic of a patient's progression-free survival.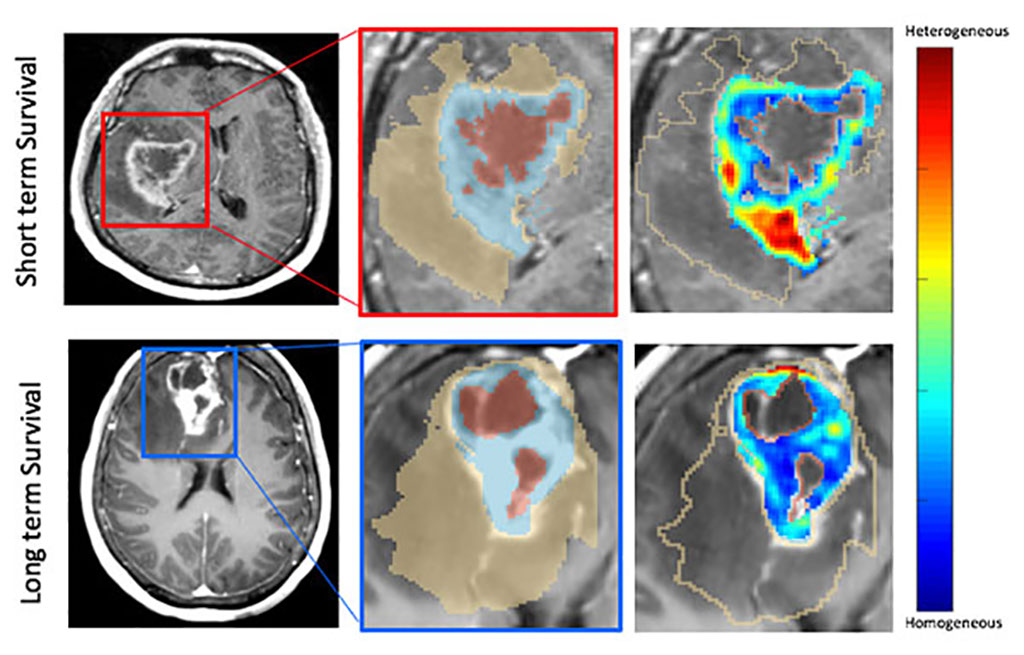 The features describe image properties such as wavy, ripple and spot-like patterns, the sphericity of the peri-tumoral edema, and tumor sub-compartments, such as a necrotic-core. Via known gene-expression information, they then elucidated which biological pathways were associated with those images. They then combined these features into a model to calculate a radiomic risk score (RRS). Gene ontology and single-sample gene set enrichment analysis were used to identify specific molecular signaling pathway networks that were associated with RRS features. The researchers then showed that the radiomics features correlate with certain gene expressions in the tumor.
The researchers showed that the genes identified control biological processes, such as the rate of cell division or the growth of new blood vessels to transport nutrients to the tumor. The model's prognostic ability was validated in an independent hold-out cohort of 73 patients, successfully establishing a direct connection between the radiomics features and the biological processes leading to disease progression. The researchers concluded that by determining the relative life expectancy of the glioblastoma victims, clinicians can identify candidates for experimental clinical drug trials. The study was published on March 24, 2020, in
Clinical Cancer Research.
"Our results demonstrated that image features associated with poor prognosis were also linked with pathways that contribute to chemo-resistance in glioblastoma. This could have huge implications in designing personalized treatment decisions in glioblastoma patients, down the road," said study co-author Manmeet Ahluwalia, MD, of the CC. "While we're just at the beginning, this is a big step, and someday it could mean that if you have glioblastoma, you could know whether you'll respond to chemotherapy well or to immunotherapy, based on image and gene profiles."
Radiomics is an extension of computer-aided diagnosis and refers to the comprehensive quantification of tumor phenotypes by extracting a large number of quantitative image features for data mining and precision medicine. In recent years radiomics has successfully extracted a variety of clinically relevant features, merging them into signatures, in order to estimate the probability of malignancy of identified breast cancer lesions.
Related Links:

Case Western Reserve University
Cleveland Clinic