Innovative Positioning Device Promises More Precise Cancer Treatment
By Medimaging International staff writers
Posted on 09 Oct 2017
Two new open-design radiotherapy-positioning devices that could significantly improve prone breast cancer treatment have been announced.
The devices could reduce radiation dose to healthy tissue during radiotherapy, improve patient comfort, and allowing reproducible positioning. While using the system, patients lie face down in the prone position, allowing breast tissue to fall away from the chest wall. Research has shown that prone positioning can reduce radiation exposure to the lungs, and the heart by up to 90%. Prone positioning can also provide more uniform dose delivery, and reduce respiratory motion, increasing treatment accuracy, compared with supine positioning.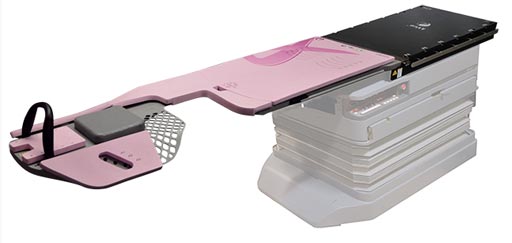 The Qfix (Avondale, PA, USA) kVue Access 360 G2 and Access Prone G2 positioning devices can achieve successful cosmetic outcomes in 80-90% of the cases, compared to outcomes of 60-70% using other approaches. The kVue Access 360 G2 is designed to allow treatment for left and right breasts, and features an expanded supraclavicular grid. The Access Prone G2 device is compatible with Computed Tomography (CT) and Magnetic Resonance (MR) imaging and can guide patients from simulation through treatment. The Access Prone G2 device has foam padding which increases patient comfort. In addition, low-attenuating removable inserts that can be used for either the right or left breast, feature low electron-generating technology, and minimize skin dose.
The system has a cantilever design for both non-coplanar and oblique access, and this could enable a higher dose per fraction. The beam path is mainly through the breast with very little couch-top interference, and scattering, and artifacts.
Related Links:
Qfix