Agfa Showcases Groundbreaking, Intelligent Solutions That Empower X-Ray Experts at RSNA 2022
By MedImaging International staff writers
Posted on 27 Nov 2022
Agfa HealthCare (Mortsel, Belgium) is participating in-person at RSNA 2022 to shine a light on how its groundbreaking, intelligent solutions 'Empower X-ray Experts', by providing smart, meaningful answers to radiology's real needs.
Visitors to Agfa's booth at RSNA 2022 can discover its ground-breaking DR 100s, including the latest additions that make it even easier, faster and safer to use. Other highlights include VALORY, delivering 'Excellence. Pure and simple.', with both ceiling-suspended and floor-mounted X-ray rooms; the intelligent and dynamic DR 800, now with digital subtraction angiography; the trailblazing SmartXR artificial intelligence portfolio; and the new Dura-line family of robust, reliable and cost-effective detectors.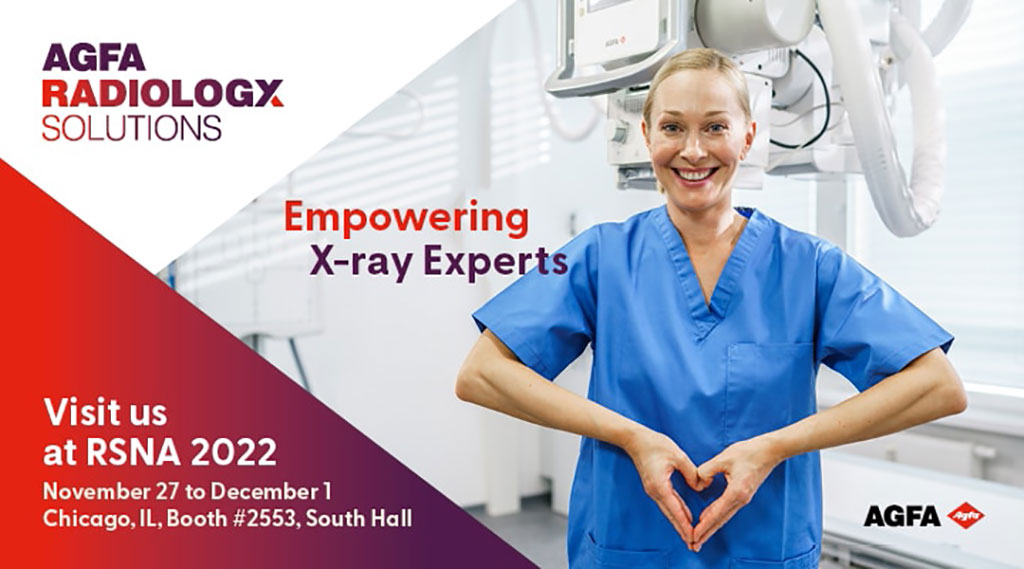 At RSNA 2022, Agfa is introducing 'That's life in flow' where it is showcasing how Enterprise Imaging creates an optimal work experience for radiologists. New functionalities and workflows let clinicians stay focused on what's most important: patient diagnosis and treatment. The right solutions can help radiology leadership add value and increase the radiologist's day-to-day performance and job satisfaction. At RSNA 2022, Agfa is sharing how the Enterprise Imaging platform delivers 'Life in flow' to meet radiologists' daily challenges through a highly focused, efficient, and customizable experience. In addition to the RSNA booth, Agfa is delivering Virtual Lectures on latest imaging innovations that will be available both to visitors and those unable to attend the physical event.
"More than ever, healthcare and radiology teams need to ensure that each member can do what they do best," said Jeroen Spruyt, Head of DR at Agfa. "This is why we are committed to making sure every hospital can implement intelligent tools for 'Empowering X-ray Experts'. Putting the right functionalities at their fingertips, our solutions aim to assist these experts to deliver enhanced patient care, by delivering high image quality, a smoother, more efficient workflow, and the lowest dose possible. We invite visitors to RSNA to stop by our booth, and discuss with us how we can make this happen."
"Delivering on scope, quality and time is easier when radiologists stay focused. We call it flow. When the radiologists are in the flow, distractions melt away, the technology feels like an extension of their thought process, and they are at the top of their craft," added Nathalie McCaughley, President of Agfa HealthCare. "Radiologists are working in an age of unprecedented medical innovation. But what's often hailed as progress ends up feeling like more information coming from more places. To get through their increasingly hectic day, they have to find their flow. We have put our own focus on innovations that solve radiologists' challenges and help them concentrate on what they do best – in a positive and efficient way that supports the delivery of care and enhances their productivity, without trading their well-being in the workplace."
Related Links:
Agfa HealthCare