Bayer Highlights Radiology Portfolio and Innovation in AI at RSNA 2022
By MedImaging International staff writers
Posted on 27 Nov 2022
Bayer (Leverkusen, Germany) is presenting new early clinical data for gadoquatrane, the company's novel macrocyclic gadolinium-based compound currently in Phase II development, at the Radiological Society of North America (RSNA) Annual Meeting taking place from November 27 to December 1 in Chicago, USA.
Bayer is moving ahead with the advancement of its comprehensive radiology portfolio with progress on the development pipeline of new contrast agents as well as further partnerships in its digital business. In addition, Bayer has announced three collaboration agreements for its digital platform Calantic Digital Solutions as well as an AI accelerator program, reflecting the company's commitment to driving innovations that benefit patients and their physicians, including leveraging the vast potential of artificial intelligence (AI).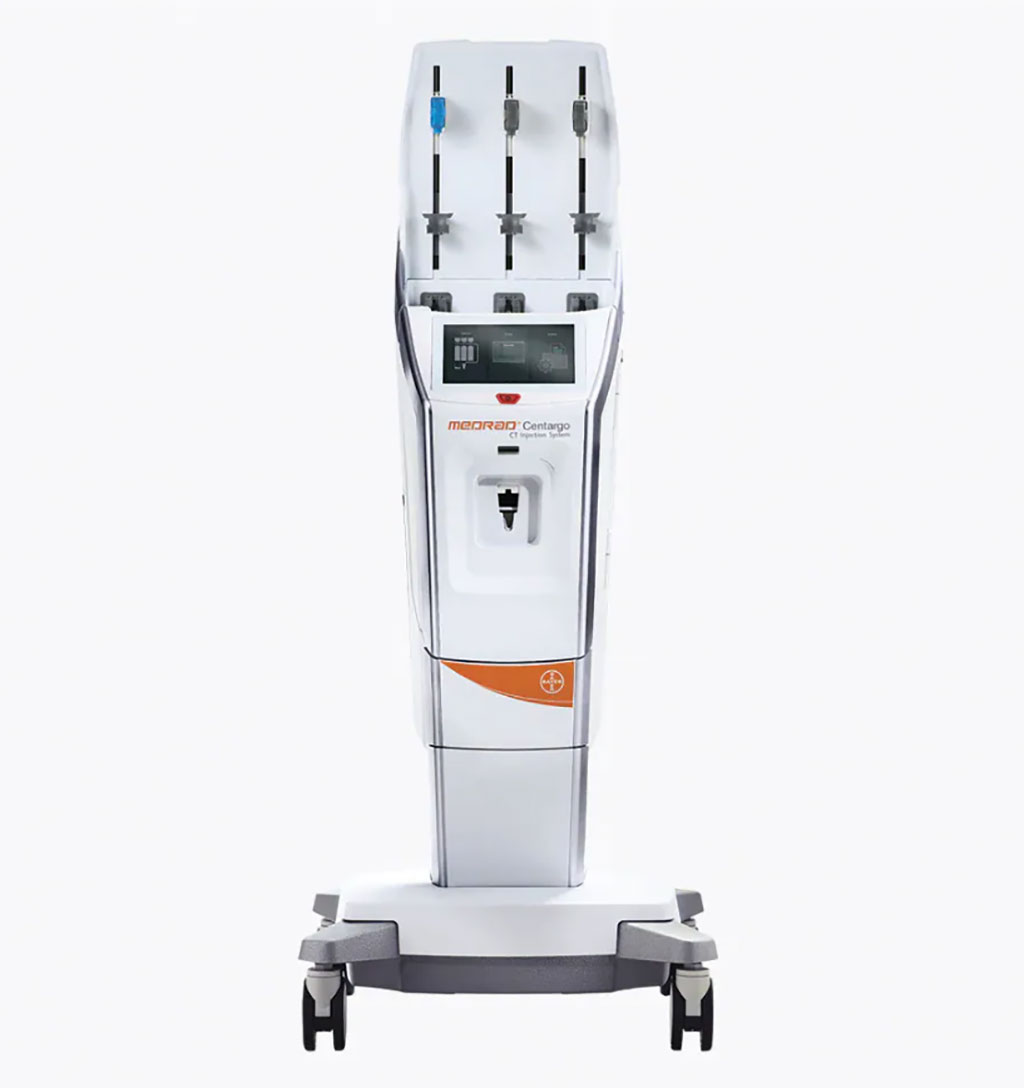 Bayer is making progress with its portfolio of contrast agents and injectors. The US submission of the MEDRAD Centargo CT Injection System, the latest addition to Bayer's computed tomography portfolio designed to simplify radiology workflows, is underway. In the area of contrast agents, gadoquatrane, Bayer's novel macrocyclic gadolinium-based compound in Phase II, is progressing in development. New early clinical data for gadoquatrane are being presented at this year's RSNA. Gadoquatrane features high stability as well as high relaxivity, which is a key property for use in contrast-enhanced magnetic resonance imaging, with the potential to enable a substantially lower gadolinium dose. The present study investigated its pharmacokinetics including excretion pathways, safety and tolerability in healthy volunteers.
On the occasion of RSNA 2022, Bayer also announced that it will partner with app developers Quantib, ClariPi, and EXINI Diagnostics to strategically expand the offering on its medical imaging platform Calantic Digital Solutions. The platform, which was launched recently, delivers access to applications, including those enabled by AI, for medical imaging. With these new collaboration agreements, Bayer is broadening the already available options for thoracic and neurological diseases on the platform by including tools which aim to aid in breast and prostate imaging. With cancer and cardiovascular diseases on the rise, the demand for medical imaging to detect diseases, guide treatment decisions, and aid in therapy planning is growing. AI comes with the value proposition to support diagnosis and increase the throughput of medical imaging examinations.
In addition, Bayer has recently launched Calantic SPARK, a new accelerator program for medical imaging app developers to further foster innovation in radiology AI. The program will initially focus on North America and Europe and is planned to be expanded to other regions including Asia-Pacific. Bayer offers a targeted program to accelerate market readiness for early- and late-stage projects and offerings, providing advice spanning medical, regulatory, reimbursement expertise, and market access. Tapping the thriving start-up ecosystem of AI in medical imaging, Calantic SPARK provides program participants with a potential pathway towards commercialization and distribution through Calantic Digital Solutions. Details about Calantic SPARK are being presented at Bayer's booth as well as the AI Showcase Theatre at the RSNA.
Related Links:
Bayer