KA Imaging Unveils World's First Integrated Mobile X-Ray System with Dual-Energy Capabilities at RSNA 2022
By MedImaging International staff writers
Posted on 26 Nov 2022
KA Imaging (Waterloo, ON, Canada) is introducing its first mobile X-ray system at the Radiological Society of North America (RSNA) 108th Scientific Assembly and Annual Meeting from November 27 to December 1. At RSNA 2022, KA Imaging is unveiling the new Reveal Mobi Lite, an integrated solution powered by patented SpectralDR technology, which makes it the world's first mobile X-ray system with dual-energy capabilities.
Powered by the company's patented SpectralDR technology, the Reveal Mobi Lite operates with the Reveal 35C detector, which is also sold as a retrofit solution. KA Imaging's SpectralDR technology enables dual-energy subtraction, providing bone and tissue differentiation with a single standard X-ray exposure. It acquires three images simultaneously (DR, bone and soft tissue dual-energy X-ray images). The technology reduces patient dose due to the industry leading DQE of the Reveal 35C detector, and uses identical clinical techniques associated with state-of-the-art mobile DR X-ray, without disrupting existing workflows. The subtracted images aid the visualization of a number of conditions, including lung nodules, pneumonia, pneumothorax, confirming tips of lines and tubes, foreign surgical objects, visualizing lateral spine and even coronary calcium.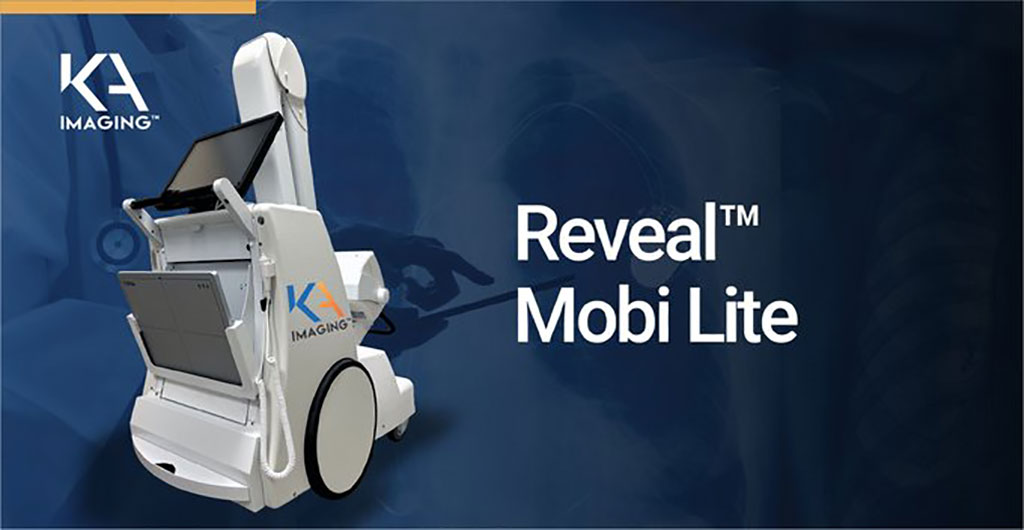 "Point-of-care X-ray has now changed forever because SpectralDR improves outcomes anywhere it is required," said Amol Karnick, President and CEO of KA Imaging. "Hospitals today face many challenges, with overburdened and understaffed imaging departments. Offering an easy-to-implement solution with better clinical and operational results is our way of helping."
"If a traditional digital radiograph is analogous to reading data contained on a printed page, dual-energy subtraction highlights the salient information, adding speed, accuracy and confidence for the clinical reader," added Karim S. Karim, CTO at KA Imaging.
Related Links:
KA Imaging