Fujifilm Unveils New Medical Imaging Advances at RSNA 2022
By MedImaging International staff writers
Posted on 26 Nov 2022
FUJIFILM Healthcare Americas Corporation (Valhalla, NY, USA) is showcasing its latest medical technology advancements and portfolio of medical imaging solutions at the 2022 Radiological Society of North America (RSNA) annual meeting, booth #1929, held November 27 - December 1 at McCormick Place in Chicago.
For the first time at RSNA, attendees will get to experience various new medical innovations from Fujifilm, such as its new FDR D-EVO III G80i, the world's lightest long length detector with the company's patented ISS and Hydro AG antibacterial coating. The detector is ideal for pediatric departments and hospitals that perform scoliosis, spine or leg procedures. Attendees can also witness Fujifilm's advancements in computed tomography (CT) with the introduction of SCENARIA View Focus Edition system – a new, premium scanner with an advanced Cardiac Motion Correction feature, called Cardio StillShot. Cardio StillShot feature helps clinicians capture clear images of the heart - even on the most challenging heart rhythms by using Advanced 4D Motion Estimation technology. The final images have dramatically improved effective temporal resolution down to as a little as 28 milliseconds, compared to 175 milliseconds without Cardio StillShot.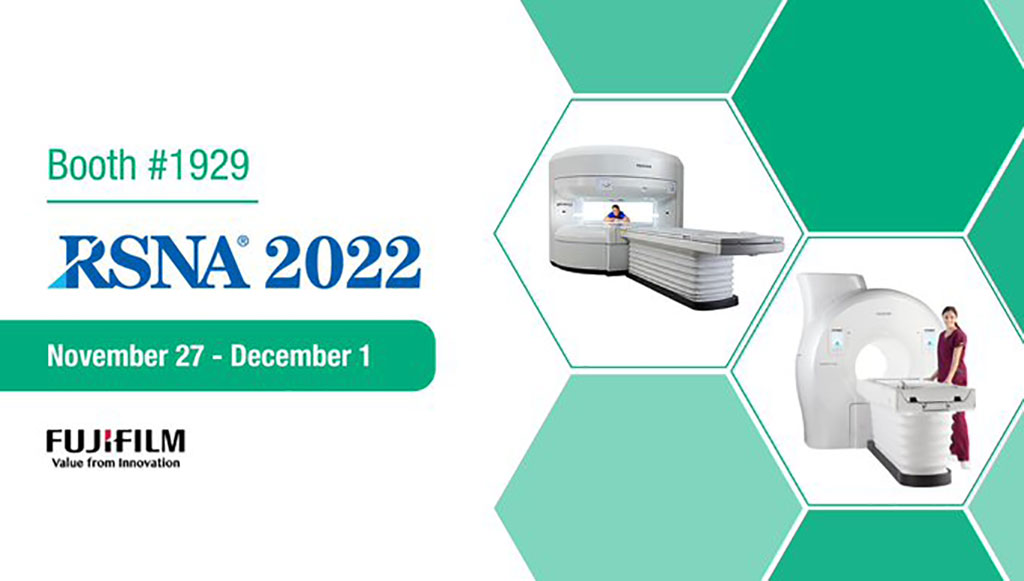 In the field of Women's Health, Fujifilm is presenting its ASPIRE Cristalle mammography system with Digital Breast Tomosynthesis (DBT). The patient can experience enhancements such as its patented Comfort Paddles and new Comfort Comp feature which are designed to make mammograms noticeably more comfortable. The recently introduced Comfort Comp feature reduces compression without notable change to compression breast thickness or glandular dose. Fujifilm also recently received 510(k) clearance for its contrast enhanced digital mammography (CEDM), an emerging modality that combines digital mammography with the administration of intravenous contrast material.
Fujifilm's diagnostic imaging experts will also give booth visitors an update on additional new medical technologies that are pending regulatory approval in the U.S., including the next-generation ECHELON Synergy MRI System. Its powerful architecture, smart single-touch and on gantry controls, and AI driven reconstruction, make this system suitable for a wide range of anatomy and scans while helping speed procedure times and enhance patient experiences. Visitors can also get an update on FDR Xair, the battery-powered, ultra-portable digital X-ray system from Fujifilm. This handheld lightweight X-ray solution has a built-in lithium polymer battery, allowing users to shoot up to 100 images (utilizing Fujifilm specified conditions) in environments where there is no electricity and be used in remote out-of-hospital settings, like disaster response, patient and nursing homes, and more.
"When healthcare professionals are trying to diagnose medical conditions, imaging can provide a more accurate picture of what is going on inside the patient's body. The detailed images from these scans show doctors where damage or abnormalities are, making it critical that they are using the best equipment," said Henry Izawa, president and chief executive officer of FUJIFILM Healthcare Americas Corporation. "We're looking forward to meeting with RSNA attendees to demonstrate how our cutting-edge solutions offer a powerful combination of high image quality and easy-to-use features, empowering clinicians to feel confident in their diagnosis and treatment plans for their patients."
Related Links:
FUJIFILM Healthcare Americas Corporation