Shimadzu Showcases Cutting-Edge Medical Imaging Systems at RSNA 2022
By MedImaging International staff writers
Posted on 26 Nov 2022
Shimadzu Medical Systems USA (Kyoto, Japan) is showcasing its cutting-edge medical imaging systems, including the SONIALVISION G4 LX (remote R/F), FLUOROspeed X1 (patient-side R/F), RADspeed Pro style (general X-ray room), MobileDaRt MX8 (mobile X-ray), and the new Trinias Opera F12s angiography system, at RSNA 2022 from Nov. 27-30 at McCormick Place in Chicago, IL. Visitors to Shimadzu's booth at RSNA 2022 can check out the company's advanced imaging equipment and unique applications that provide more clinical possibilities, higher productivity, and excellent solutions for patient and healthcare worker safety.
At RSNA 2022, Shimadzu is demonstrating the Trinias Opera F12s, its new state-of-the-art interventional X-ray system, which is the first of its kind to incorporate AI-based deep learning technology into the image processing engine of an angiography system. Shimadzu's new Trinias Opera offers more than 100 easy and intuitive functions that can be performed at the bedside with single-step actions. One example of a single-step action available on the system is the Femoral Approach Mode. The operator can press the Femoral Approach Mode button on the table control module, pan the table toward the patient's head, and the C arm will automatically retract, allowing space for the femoral puncture procedure. Once the operator pans the table toward the patient's feet, the C arm returns to the home position. Simple-to-use functions like this create an environment where the operator can concentrate on patient treatment and shorten the operation time.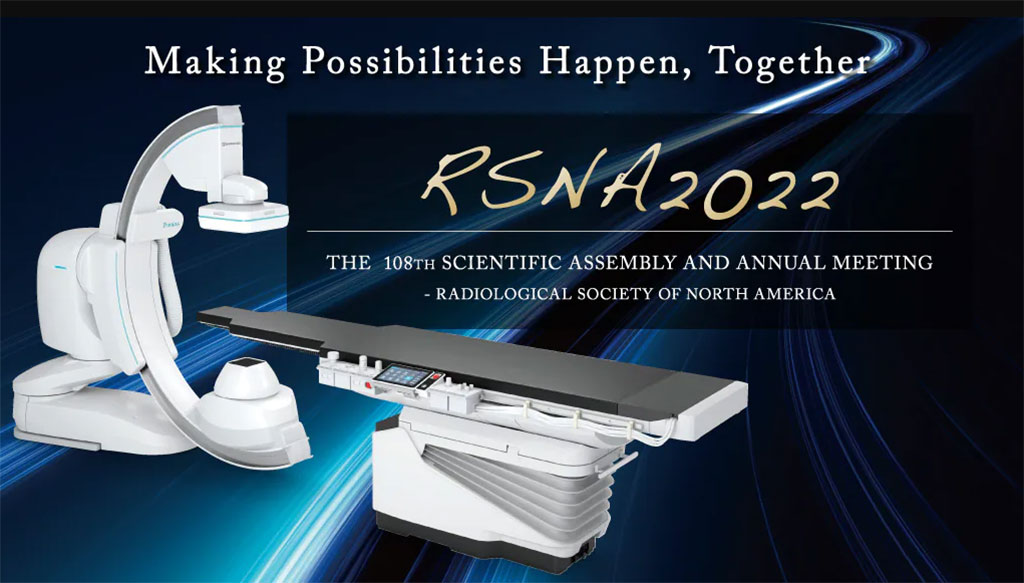 Shimadzu is also demonstrating the T-smart PRO powered by AI technology to support accurate, efficient tomosynthesis exams. Visitors to Shimadzu's booth at RSNA 2022 can see how the T-smart PRO feature on its SONIALVISION G4 LX system automatically sets image reconstruction parameters to reduce metal artifacts, which provides a streamlined workflow for X-ray image review. Visitors can also experience Shimadzu's RADspeed Pro with POWER GLIDE power-assist technology that helps reduce physical strains by making X-ray tube positioning extremely light and smooth. This can help avoid heavy lifting, pushing, pulling and other repetitive motions that often lead to radiologic technologists suffering work-related injuries.
At RSNA 2022, Shimadzu is demonstrating FLUOROspeed X1, its patient-side R/F system designed to consider all users in a diversity of situation, making it ideal for a variety of examinations such as: orthopedics, radiographic studies, barium studies, swallow studies, endoscopy, and much more. Shimadzu's state-of-the-art digital imaging provides excellent image quality while optimized X-ray dose level. The versatility of its system configurations makes daily clinical workflow faster, more precise and highly efficient. Also on display at RSNA 2022 is the MobileDaRt Evolution MX8 Version, a digital radiographic mobile X-ray system from Shimadzu. The award winning MobileDaRt Evolution has been further refined into the MX8 Version featuring a collapsible column, a flexible DR/FPD combination and power-assist functionality, thus providing ideal workflow and clinical functionality for ward rounds, ICU, NICU, emergency room (ER), or operating room (OR).
Related Links:
Shimadzu Medical Systems USA