AI-Outfitted Software Quickly Detects Acute Brain Hemorrhage on Unenhanced CT
By MedImaging International staff writers
Posted on 11 Nov 2022
A new version of an intracranial hemorrhage (ICH) triage and notification tool now reduces notification fatigue with a near perfect false positive rejection rate and allows medical teams to make faster decisions for improved hemorrhage management.
RapidAI (San Mateo, CA, USA) has received FDA 510(k) clearance for the latest release of Rapid ICH – its ICH triage and notification product with a sensitivity of 97% and specificity of 100%. The new release further strengthens the RapidAI hemorrhagic solution - technology that supports physicians' ability to address intracranial hemorrhagic management more accurately and comprehensively.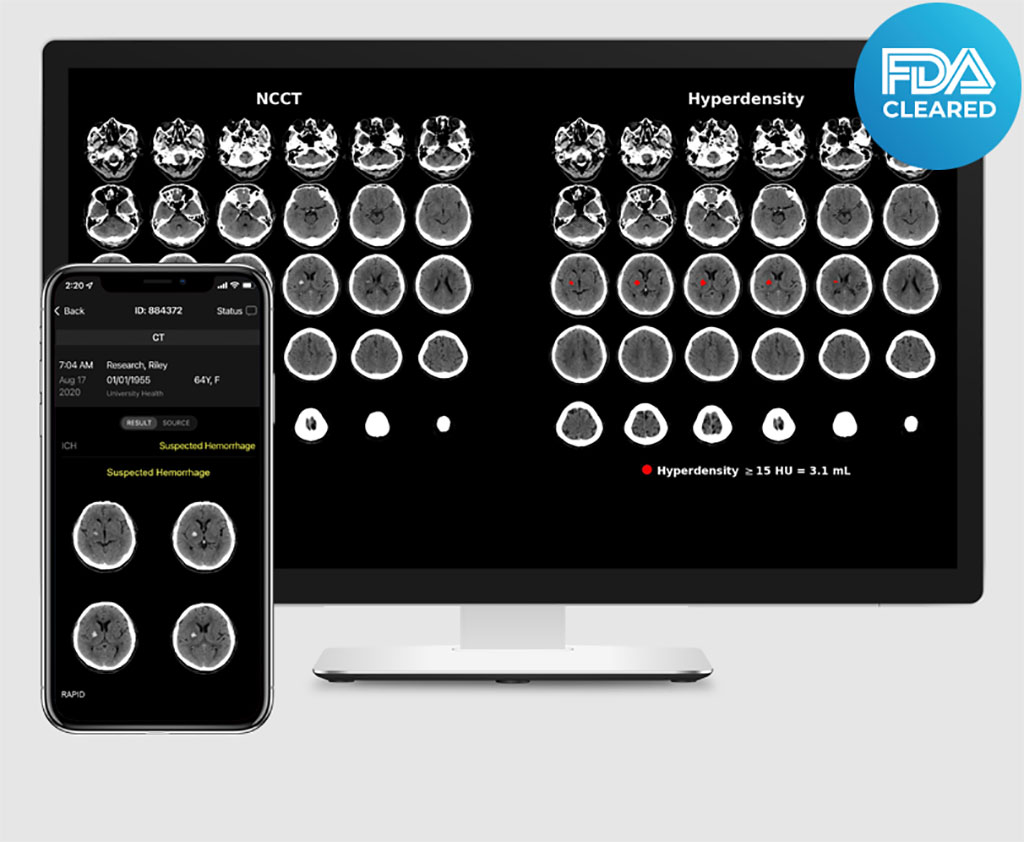 While Rapid ICH uses artificial intelligence to quickly analyze non-contrast CT (NCCT) scans and notify clinicians of possible hemorrhage, Rapid Hyperdensity then provides physicians with a more refined view by automatically quantifying and characterizing tissue to identify the location and volume of hyperdense regions. For hospitals and mobile stroke units on the front lines of patient assessment, this additional contextual data is critical to helping physicians make more informed triage and transfer decisions - getting patients to the right place for the right care more efficiently.
Rapid ICH is the only product to detect suspected ICH as small as 0.4ml in volume and has the ability to prioritizes cases within the radiology worklist. It streamlines decision making by automatically sending notifications of suspected ICH to PACS, email, and the Rapid mobile app, while drastically reducing the number of false positives, addressing concern of "notification fatigue" for physicians.
"With the sheer number of CT scans performed daily, even relatively low rates of false positive ICH notifications can be disruptive and contribute to notification fatigue," said Dr. David Fiorella, MD, PhD, Neuroradiologist at Stony Brook Medicine. "The latest release of Rapid ICH essentially eliminates false positives and gives physicians a high degree of confidence to make critical decisions about patients with acute brain hemorrhages. This degree of specificity is a remarkable achievement."
Related Links:
RapidAI 
Other channels