PET/CT Scans Showing Unusual Patterns Could Indicate Omicron, Warn Imaging Experts
By MedImaging International staff writers
Posted on 17 Jan 2022
Scientists have recently observed an unusual imaging pattern on FDG PET/CT or FDG PET/MR that may be due to COVID-19 infection.
This new array of findings by the COVID-19 Task Force at the Society of Nuclear Medicine and Molecular Imaging (SNMMI; Reston, VA, USA) is primarily centered in the upper aerodigestive tract and cervical lymph nodes, unlike the FDG PET/CT pattern seen with infections from previous strains of COVID-19, with principal involvement of the lungs. Specifically, the scientists observed prominent, symmetric FDG uptake throughout the nasopharynx, oropharynx and tonsils with or without associated FDG-avid cervical lymphadenopathy, particularly in the suprahyoid neck. Based on what is known about the Omicron variant, the scientists believe that this pattern, whenever correlated with COVID-19 infection, is a result of the presently dominant Omicron strain.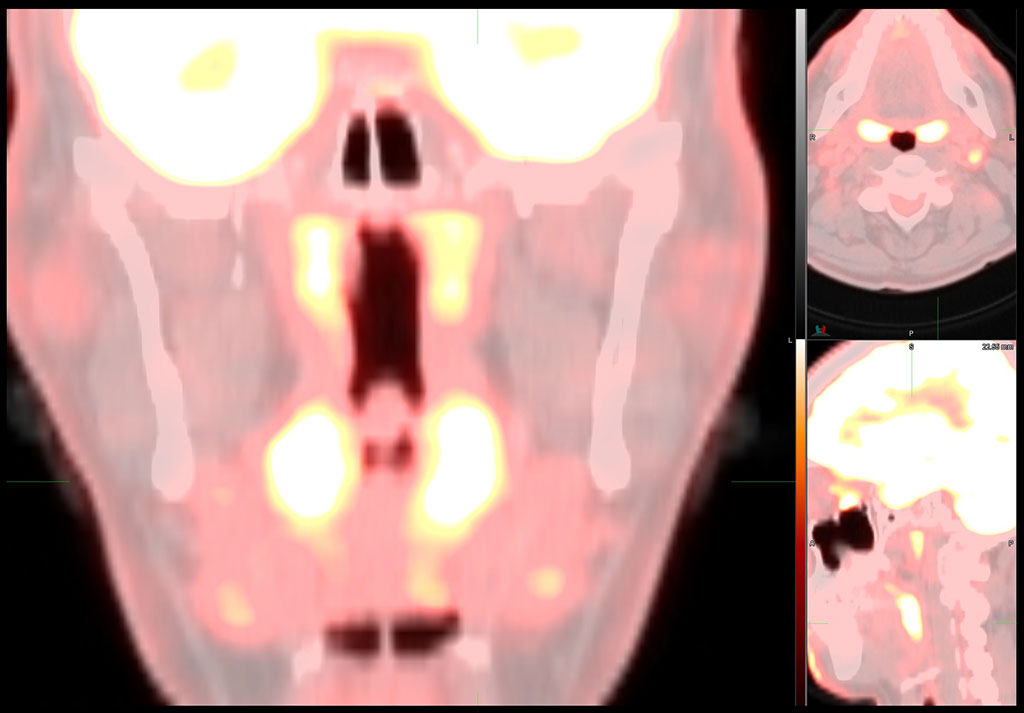 The Task Force has recommended that this pattern should be taken into consideration at the time of FDG PET/CT interpretations and the possibility of infection with Omicron variant of COVID-19 should be entertained in the differential diagnosis. Since this pattern can by no means be diagnostic of COVID-19 infection, the Task Force has recommended checking the patient records to see if there is a recent positive COVID-19 test. It has also suggested determining if the patient is at higher risk of COVID-19 infection based on current symptoms or due to recent exposure or travel. If so, a recommendation can be made to test for COVID-19 in the appropriate setting, according to the Task Force.
Additionally, the Task Force has suggested comparing with prior FDG PET/CT examinations and the patient's history to determine if this represents chronic inflammatory/reactive process or stable malignancy such as lymphoma. Various differential diagnostic possibilities should be considered if this pattern is new or if there is interval progression including, but not limited to, infection with COVID-19, other viruses such as Epstein-Barr virus, malignancy and bacterial infections. This pattern may also be seen in children and younger adults but should be interpreted cautiously in view of normal increased activity that can be physiologic. Correlation with history and symptoms and comparison to prior examinations is recommended by the Task Force.
Related Links:
SNMMI
Other channels