Study Reveals New Imaging Findings in Patients with Breakthrough COVID-19 Infections
By MedImaging International staff writers
Posted on 17 Dec 2021
A new study has found that the majority of patients with breakthrough COVID-19 illness had absent or mild imaging findings and a benign clinical course.
The study by researchers at the University of Maryland School of Medicine (Baltimore, MD, USA) aimed to characterize chest radiograph and CT imaging appearance in patients with breakthrough COVID-19 (defined as an illness occurring in patients that previously received a COVID-19 vaccination) in a hospital setting.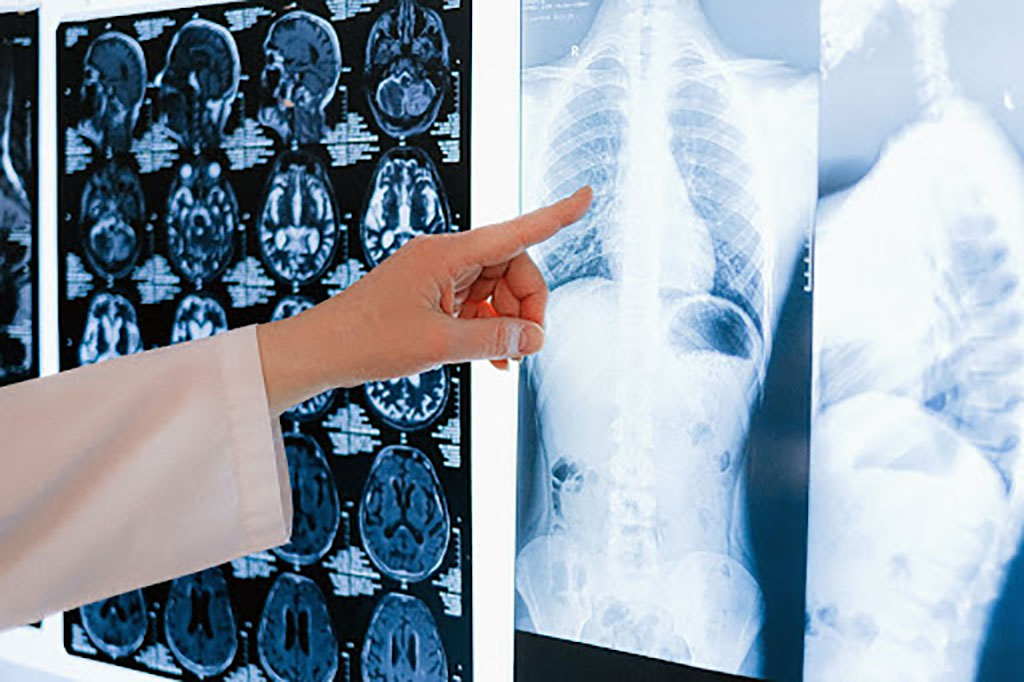 Despite the demonstrated effectiveness of the COVID-19 directed vaccines, notably messenger RNA vaccines, a proportion of fully vaccinated individuals still develop COVID-19 illness. These infections are being reported as "breakthrough" cases. It is well recognized that no vaccine is 100% effective and thus breakthrough illness in some individuals is expected. Patients who develop such COVID-19 breakthrough illness may be asymptomatic or symptomatic requiring outpatient or inpatient treatment, rarely leading to death. As the protective effects of the vaccine wane and new variants arise, the number of breakthrough cases will likely increase. While the clinical aspects of COVID-19 breakthrough have been described, there has been minimal attention devoted to its imaging manifestations.
In the new study, researchers reported the chest imaging findings in a series of individuals with breakthrough COVID-19 who required hospitalization. The study involved all patients admitted to the hospital between August 26 and September 8, 2021 with a positive SARS-CoV-2 reverse transcription polymerase chain reaction-confirmed infection who were fully vaccinated against COVID-19 were evaluated. Clinical, laboratory data, and outcomes were collected and assessed. All patients had chest imaging performed (either radiography, CT, or a combination of both). Chest radiographs and CTs were assessed and scored on admission and on follow up to determine the extent and type of pulmonary involvement.
The study found that most patients (57%) had a normal chest radiograph. The most common findings on abnormal chest radiographs were a combination of hazy opacities and consolidation. In those patients who had follow-up radiographs, 75% (three of four) demonstrated stable to decreased opacities. The most common imaging findings on a chest CT were ground glass opacities which were observed in 60% (three of five) of the patients. In those patients who had follow-up chest CT, all demonstrated improvement in parenchymal findings, with one patient demonstrating signs of post infectious lung disease and/or chronic lung disease. A majority (75%; six of eight) of the hospitalized patients with breakthrough COVID-19 received the Pfizer-BioNTech vaccine.
The majority of the patients (75%; six of eight) reported mild respiratory symptoms prior to presentation, and one patient presented with gastrointestinal and genitourinary symptoms at the time of admission. As of the end of the study, six of eight patients were discharged without residual respiratory symptoms. Although two patients required ICU admission, one was discharged with no residual respiratory symptoms on room air, and the second patient was transferred to a medical floor on room air and without residual respiratory symptoms.
Thus, the majority of the patients with COVID-19 breakthrough illness had absent or mild imaging findings and a benign clinical course. The results are in line with the clinical findings of COVID-19 breakthrough as reported in the literature, demonstrating that imaging findings in such patients are commonly mild. While larger studies are needed to establish imaging differences between breakthrough and unvaccinated populations, awareness of the variability of COVID-19 breakthrough imaging findings is critical. As the number of COVID-19 breakthrough cases is likely to increase, it will be important to continually document imaging findings to determine if the imaging patterns remain consistent with those observed in this study or whether they evolve, according to the researchers.
Related Links:
University of Maryland School of Medicine 
Other channels