Decontamination Solution Facilitates CT for Patients with Viral Infections
By MedImaging International staff writers
Posted on 27 May 2020
A deployable CT solution with rapid decontamination capabilities can help hospitals isolate COVID-19 patients and decontaminate the system for more effective care.
Based on the Canon Medical Systems (Tochigi, Japan) Aquilion Prime SP CT system in a modular or mobile footprint, the deployable system comes with a rapid decontamination tool to help isolate and decontaminate the CT for rapid, safe imaging. The decontamination unit uses automated ultraviolet C (UV-C) technology that significantly reduces bacteria, spores, and viruses and is effective against a variety of advanced viral infectious diseases. It incorporates multiple automated UV-C emitters that work together to provide decontamination of a room in minutes to improve workflow. It is available for existing fixed imaging suites as well.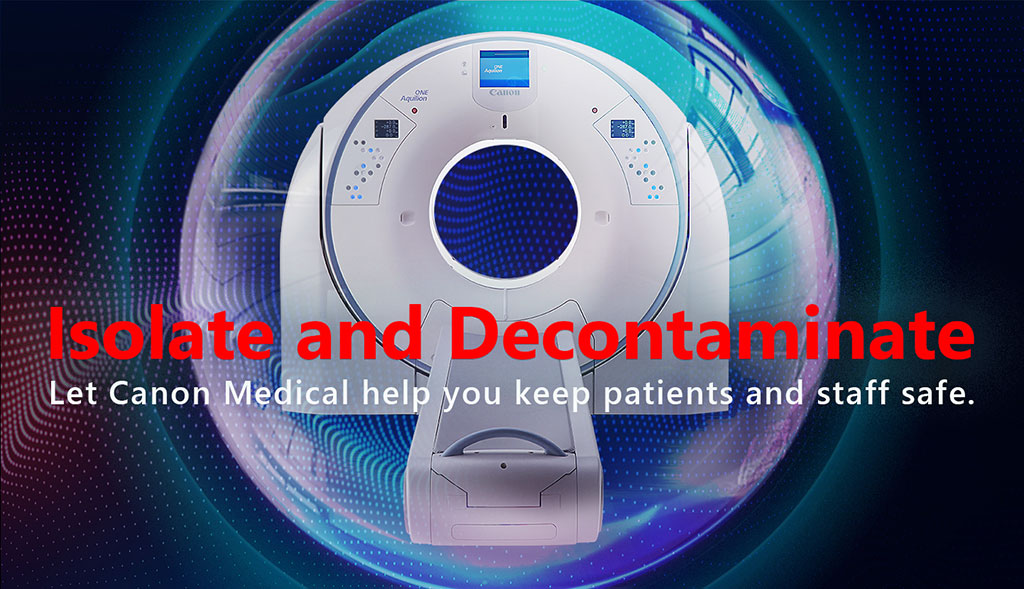 The Aquilion Prime SP CT system itself offers advanced imaging technology, with a balance between image quality and lower dose for every patient. The system can generate 160 unique slices per rotation with 0.35-second scanning, reducing time required to perform studies for compromised patients, and also increase throughput. With a 78-cm aperture gantry and a 300 kg patient-weight-capacity couch, the system is ideal for use in emergency settings. Aquilion Prime SP is also available with the Advanced Intelligent Clear-IQ Engine (AiCE) deep learning reconstruction (DLR) algorithm, enabling clinicians to enhance diagnostic confidence at low doses.
"Imaging infectious disease patients is not a new phenomenon for medical providers. But our customers are facing an unprecedented number of potentially contagious patients," said Erin Angel, managing director of the CT Business Unit at Canon Medical Systems USA. "Our deployable CT offerings with the addition of rapid UV-C decontamination will offer providers a unique solution to help improve their workflow and safety as they image infectious disease patients."
UV-C light in the 254 nm wavelength induces the formation of pyrimidine dimmers from thymine and cytosine; these dimers in turn cause disruptions in microbial DNA, making genetic replication impossible, destroying the organisms or rendering them unable to reproduce. The efficacy of the UV-C irradiation is a function of many different parameters, such as intensity, exposure time, lamp placement, and air movement patterns.
Other channels