Innovative Low-Field MRI Improves Image Quality
By MedImaging International staff writers
Posted on 14 Oct 2019
A high-performance, low magnetic-field magnetic resonance imaging (MRI) system vastly improves image quality, making medical imaging more affordable and accessible for patients.
Researchers at the U.S. National Institutes of Health (NIH; Bethesda, MD, USA) and Siemens Healthcare (Siemens; Erlangen, Germany) first modified a commercial MAGNETOM Aera 1.5T MRI system to operate at 0.55T, but maintaining high-performance hardware, shielded gradients (45 mT/m; 200 T/m/sec), and advanced imaging methods. Studies were then conducted to evaluate potential applications in MRI-guided cardiovascular catheterizations with metallic devices, diagnostic imaging in high-susceptibility regions, and efficient image acquisition strategies.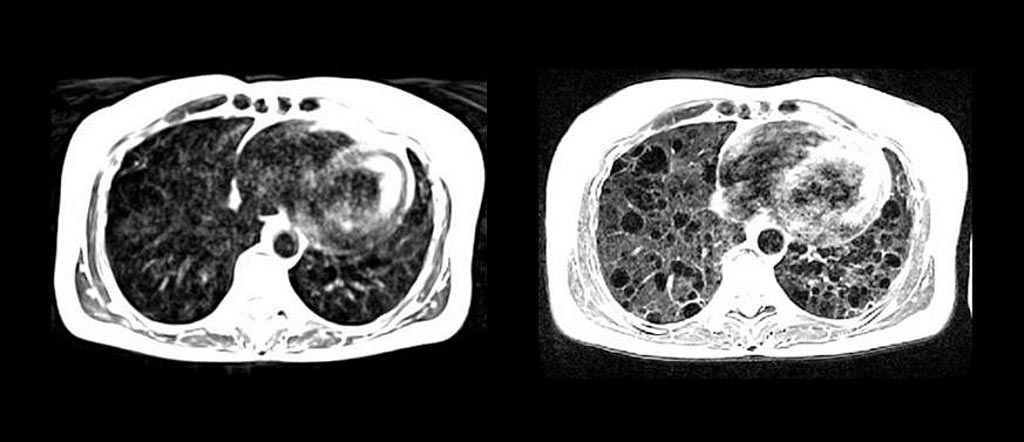 The researchers found that when comparing 0.55T images obtained to those obtained at 1.5T, lung cysts and surrounding tissues in patients with lymphangioleiomyomatosis (LAM) were seen more clearly. They also found that inhaled oxygen could increase the brightness of lung tissue more effectively when using the lower magnetic field strength, compared to the higher field strength, providing a unique view of the distribution of oxygen in the body. Similar advantages of low-field MRI were seen during catheterization procedures. The study was published on October 1, 2019, in Radiology.
"MRI of the lung is notoriously difficult and has been off-limits for years because air causes distortion in MRI images," said lead author Adrienne Campbell-Washburn, PhD, of the NIH. "A low-field MRI system equipped with contemporary imaging technology allows us to see the lungs very clearly. Plus, we can use inhaled oxygen as a contrast agent. Imaging the upper airway with this system may also offer valuable clinical information for both sleep and speech disorders."
MRI scanners can have ultra-weak, weak, medium, strong, and super-strong magnetic fields. The highest-quality pictures are usually taken by using superconducting magnetic systems generating very strong magnetic fields, which traditionally provide the highest image resolution.
Related Links:
U.S. National Institutes of Health