4K Surgical Imaging System Provides Exceptional Image Quality
By MedImaging International staff writers
Posted on 07 Oct 2019
A state-of-the-art 4K imaging visualization platform with end-to-end connectivity provides improved workflow integration to ambulatory and multi-specialty surgical centers.
The Smith+Nephew (London, United Kingdom) LENS 4K system features a camera control unit with an integrated light source, a camera head, image management options, and a tablet application, all in a single solution. The system has also been designed to minimize the complexity in equipment management and maximize operating room (OR) workflows by improving image and video capture, facilitating imaging file transfers to the electronic medical record (EMR) and to picture archiving and communication systems (PACS), and report creation for patient communication.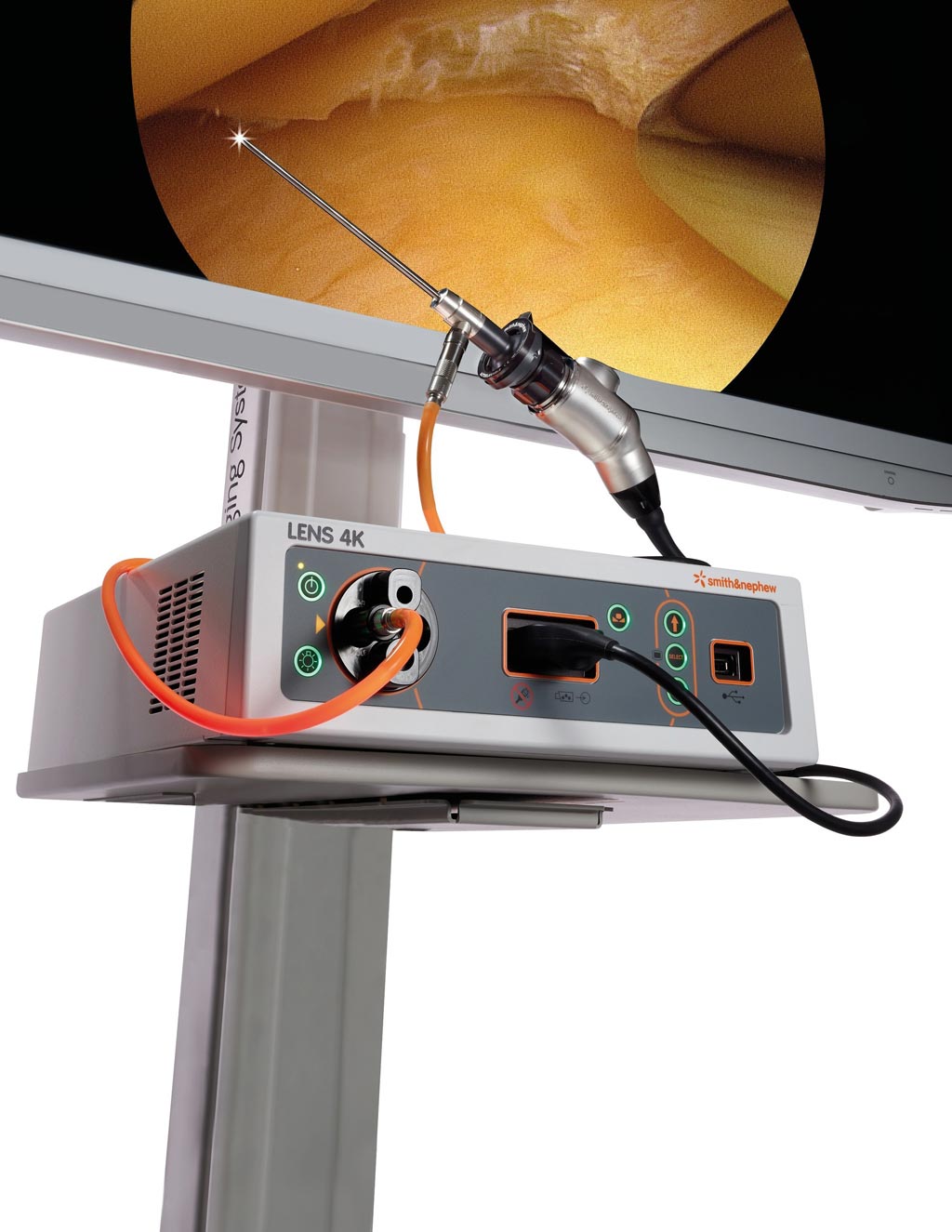 The system uses the latest native 4K 3CMOS Ultra High Definition (UHD) technology, combined with Smith+Nephew's proprietary image and light processing in order to create a blend of impressive color reproduction, image clarity, and depth of field. The LENS 4K system introduces an autoclavable camera head that is ergonomically shaped for balance and comfort in a surgeon's hand. Programmable buttons on the camera head allow surgeons to control common functions, and when used with the LENS iPad application, it also includes settings that may be controlled outside the surgical field.
"We are thrilled to introduce LENS 4K to a market that is demanding elite visual precision for surgeons performing arthroscopic procedures," said Scott Schaffner, senior VP of Smith+Nephew sports medicine marketing. "The LENS 4K image quality is extraordinary and combined with our integration technology to distribute surgical images and content, we are uniquely positioned to address the entire surgical workflow environment."
4K resolution actually refers to a horizontal resolution of 4,096 pixels. The use of width to characterize the overall resolution marks a switch from previous video standards such as 480i and 1080p, which categorize media according to its vertical dimension. Using that same convention, 4K vertical resolution is 2160 pixels. The increased number of pixels provides a sharper, more detailed image with four times the resolution of HD, offering enhanced clarity, higher contrast, and more accurate color reproduction.
Other channels