AI Improves Efficiency and Accuracy of Breast Cancer Imaging
By MedImaging International staff writers
Posted on 12 Aug 2019
Artificial intelligence (AI) can help shorten digital breast tomosynthesis (DBT) reading time while maintaining or improving accuracy, claims a new study.
Researchers at the University of Pennsylvania (UPENN: Philadelphia, PA, USA), iCAD (Nashua, NH, USA), and other institutions have developed a deep learning AI system that is capable of identifying suspicious soft-tissue and calcified lesions in DBT images. The system was trained on a large DBT data set, following which its performance was tested by having 24 radiologists, including 13 breast subspecialists, each read 260 DBT examinations with and without AI assistance. The examinations included 65 cancer cases.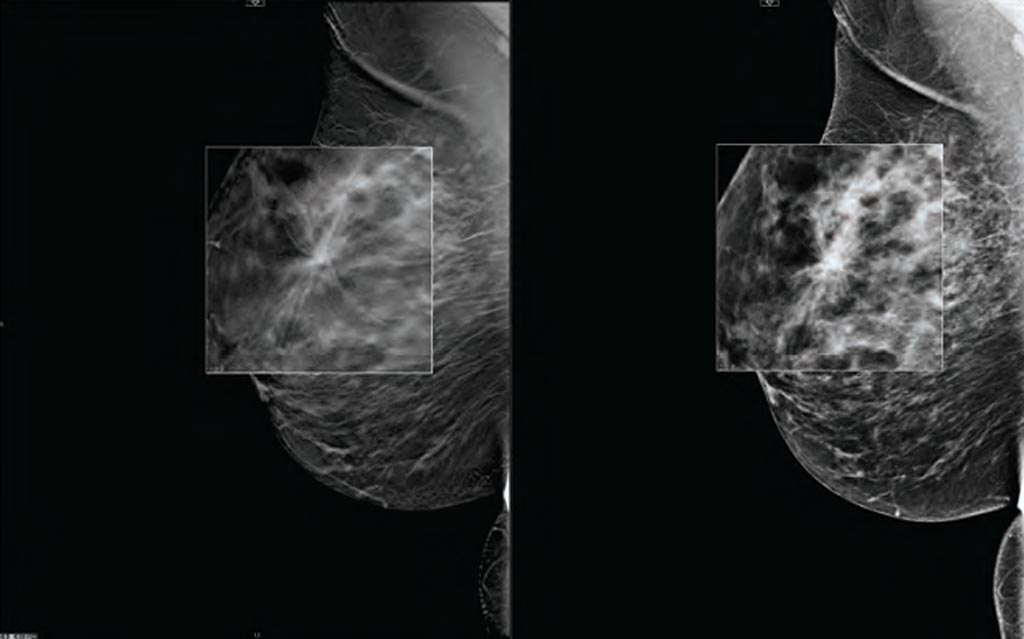 The results revealed that radiologist performance for the detection of malignant lesions increased from 0.795 without AI to 0.852 with AI, while reading time decreased by 52.7%, from 64.1 seconds without to 30.4 seconds with AI. Sensitivity increased from 77% without AI to 85% with AI, specificity increased from 62.7% without to 69.6% with AI, and recall rate for non-cancers decreased from 38% without to 30.9% with AI. The study was published on July 31, 2019, in Radiology: Artificial Intelligence.
"Overall, readers were able to increase their sensitivity by eight percent, lower their recall rate by seven percent, and cut their reading time in half when using AI concurrently while reading DBT cases," said lead author Professor Emily Conant, MD, chief of breast imaging at UPENN. "The concurrent use of AI with DBT increases cancer detection, and may bring reading times back to about the time it takes to read digital mammography alone."
DBT acquires multiple images over a limited angular range to produce a set of reconstructed images, which can then be viewed individually or sequentially in a cine loop, and in a 3D image of the breast, which can viewed in narrow slices, similar to CT scans. While in conventional 2D mammography overlapping tissues can mask suspicious areas, 3D images eliminate the overlap, making abnormalities easier to recognize. It is estimated that 3D DBT will replace conventional mammography within ten years.
Other channels