Novel Magnetic Metamaterial Boosts MRI Performance
By Medimaging International staff writers
Posted on 18 Jun 2019
A new magnetic metamaterial enables a marked boost in radio frequency (RF) field strength, producing clearer MRI images at double the speed.
Developed at Boston University (BU; MA, USA), the magnetic metamaterial is composed of an array of unit cells featuring metallic helices known as helical resonators. The three-centimeter-tall structures, created from three-dimensional (3D) printed plastic and coils of thin copper wire, can be grouped into a flexible array that is pliable enough to cover a person's kneecap, abdomen, head, or any part of the body in need of imaging. When the helices array is in position, the resonators interact with the magnetic field of the MRI scanner, boosting the signal-to-noise ratio (SNR).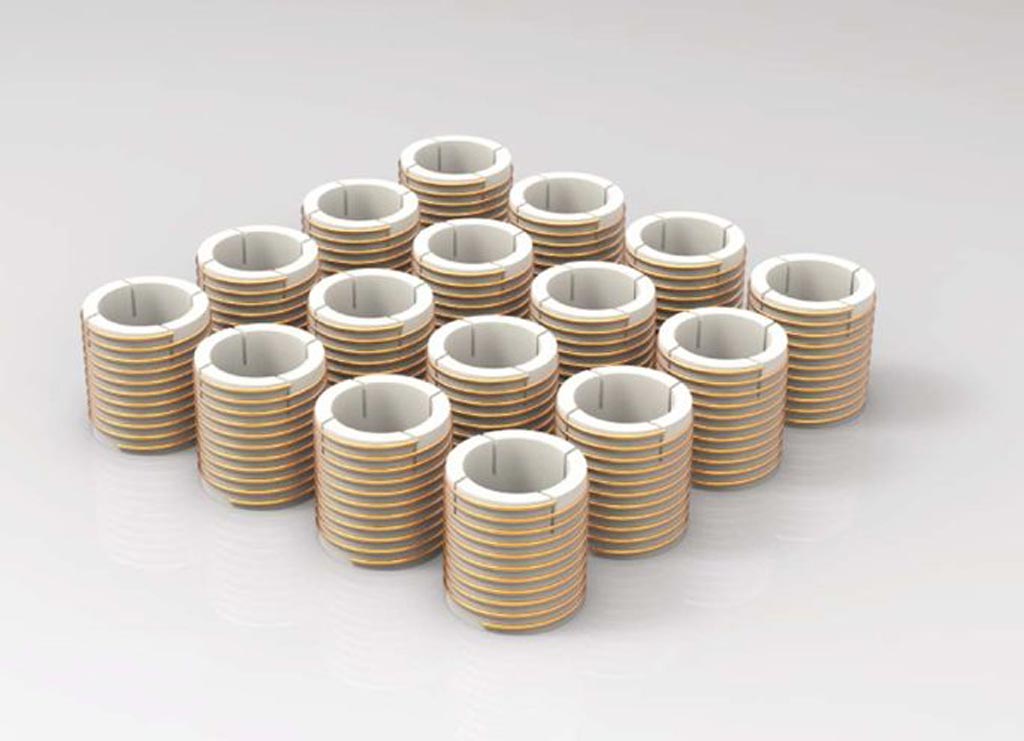 The magnetic field confinement also results in a marked degree of enhancement in the vicinity of the helices around a specific resonant mode. When applied to MRI, the resonant mode of the metamaterial may be excited by the RF magnetic fields employed during the MRI procedure, thus leading to a four-fold boost in field strength. The researchers suggest that the technology could be used to increase the imaging power of lower-strength MRI machines, opening the door for MRI technology to become widely available around the world. The study was published on March 26, 2019, in
Communications Physics
.
"This magnetic metamaterial creates a clearer image that may be produced at more than double the speed of a current MRI scan. Being able to simplify this advanced technology is very appealing," said co-senior author Professor Stephan Anderson, MD, vice chairman of research at the Boston Medical Center (BMC, MA, USA) radiology department. "If you are able to deliver something that can increase SNR by a significant margin, we can start to think about possibilities that didn't exist before, such as the possibility of having MRI near battlefields or in other remote locations."
MRI represents a powerful diagnostic tool in the armamentarium of modern healthcare that is widely applied across a spectrum of diseases, from stroke to cancer imaging and beyond. It can be used to generate images from a range of tissue properties without ionizing radiation, resulting in an inherently high degree of tissue contrast. Chief among the performance metrics of MRI systems is SNR, which may be leveraged to boost overall acquisition performance, from image resolution to the efficiency of image acquisition, and has been demonstrated to improve anatomic delineation and detection of pathology.
Related Links:

Boston University
Latest General/Advanced Imaging News
Other channels