Surgical Tractography Tool Automates White Matter Segmentation
By Medimaging International staff writers
Posted on 01 May 2019
An automated segmentation feature visualizes and highlights brain white matter bundles of interest instantly, allowing brain surgeons to identify safer approaches.
Part of the Synaptive Medical (Toronto; Canada) Modus Plan surgical planning software tool, The segmentation feature uses 3D visualization overlaid on an anatomical scan derived from preoperative imaging and volumetric anatomical and diffusion tensor imaging (DTI) renderings. The automated tract segmentation feature provides surgeons with the ability to minimize disruption of white matter, which is organized into bundles that may correspond to different brain functions, and whose particular location differs on a per-patient basis.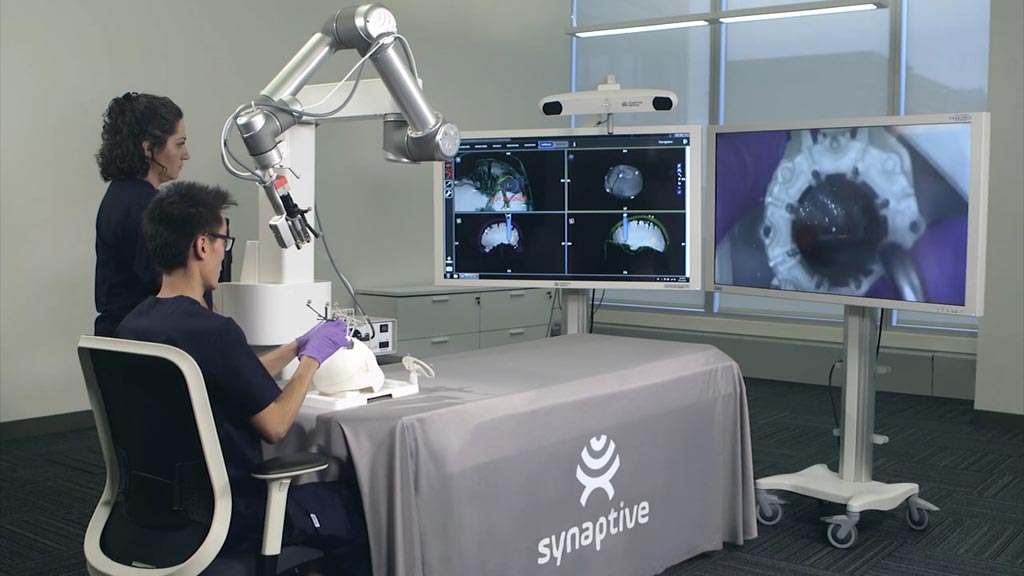 The directional information can be exploited at a higher level of structure to select and follow neural tracts through the brain, a process called tractography. Apart from delineating white matter brain tracts, tractography also provides continuous tracking of multiple tools throughout a procedure, for real-time location updates within the surgical cavity. Modus Plan also aligns with the next generation of Synaptive Medical products, including the Modus V robotic digital microscope, and will be compatible with cranial implementations of the Synaptive suite of neurological and orthopedic care solutions.
"Modus Plan's automated tractography technology already allows me to customize pre-operative plans for each of my patients and minimize the risk of complications," said neurosurgeon Sebastian Koga MD, of Ochsner Medical Center (Slidell, LA, USA). "Tract segmentation takes our approach one step further, creating an easy process to illuminate or hide bundles of interest as needed. This ability enhances my ability to plan delicate surgical approaches for tumors or other pathology."
"In developing the segmented white matter tract feature to our Modus Plan, Synaptive aims to equip surgeons with the most comprehensive view of each patient's neuroanatomy, so valuable energy spent in the planning phase may be reflected in patient outcomes," said Cameron Piron, president and chief strategy officer of Synaptive Medical. "Surgical technology should adapt to the surgeon, not the other way around."
The white matter of the brain contains the neuronal fibers that transmit information around the living brain. Historically, the vast majority of neuroscience research effort has been invested in understanding and studying gray matter and neurons, while white matter has received relatively little attention, largely due to the lack of effective research tools to study it, even though it comprises about half the volume of the brain.
Related Links:
Synaptive Medical

Ochsner Medical Center
Latest General/Advanced Imaging News
Other channels