Total-Body Scanner Unveils First Human Images
By Medimaging International staff writers
Posted on 04 Dec 2018
A groundbreaking combined positron emission tomography (PET) and x-ray computed tomography (CT) scanner can image the entire body in as little as one second.
The result of a collaboration between the University of California Davis (UCD; USA) and United Imaging Healthcare (UIH; Shanghai, China), the Explorer scanner can evaluate all body organs and tissues simultaneously. The scan can be performed up to 40 times faster than current technologies, or alternatively, with a radiation dose up to 40 times smaller. The reduced dosage opens up new avenues of research, such as repeated studies in a single individual, dramatically reduced radiation dose in pediatric studies, and any application where controlling cumulative radiation dose is important.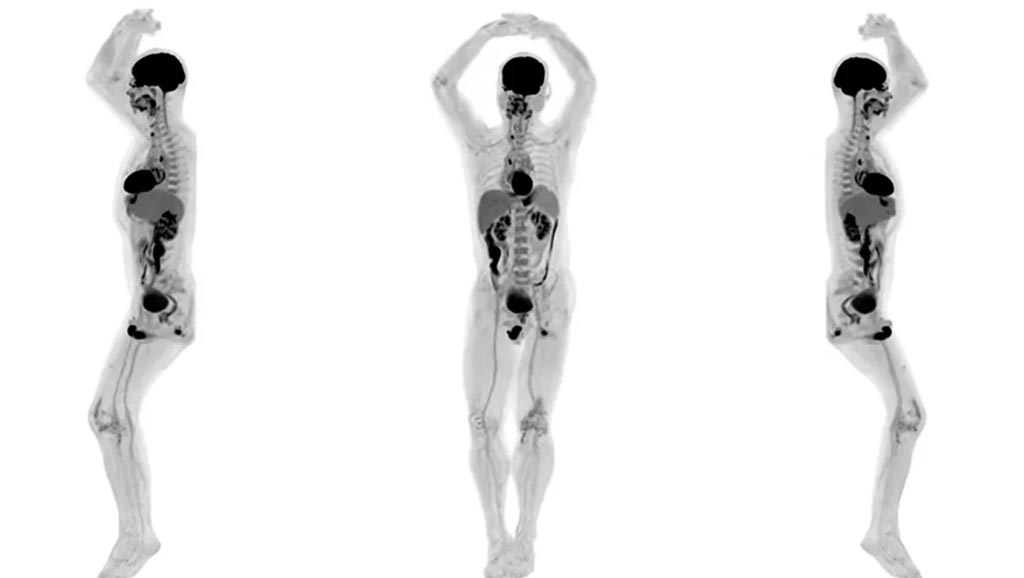 For example, Explorer could quantitatively measure blood flow, glucose uptake everywhere in the body at once, cancer spread beyond a single tumor site, inflammation, infection, immunological or metabolic disorders, and many other diseases. According to the developers, the tradeoff between image quality, acquisition time, and injected radiation dose varies for different applications, but in all cases, the scan will be better, faster, with less radiation dose, or some combination of these. The first scans of humans using the new device were shown at the Radiological Society of North America (RSNA) annual meeting, held during November 2018 in Chicago (IL, USA).
"The level of detail was astonishing, especially once we got the reconstruction method a bit more optimized. We could see features that you just don't see on regular PET scans," said Ramsey Badawi, MD, chief of nuclear medicine at UC Davis Health and vice-chair for research in the department of radiology. "The dynamic sequence showing the radiotracer moving around the body in three dimensions over time was, frankly, mind-blowing. There is no other device that can obtain data like this in humans, so this is truly novel."
"While I had imagined what the images would look like for years, nothing prepared me for the incredible detail we could see on that first scan," said Professor Simon Cherry, of the UC Davis department of biomedical engineering. "I don't think it will be long before we see at a number of Explorer systems around the world, but that depends on demonstrating the benefits of the system, both clinically and for research. Now, our focus turns to planning the studies that will demonstrate how Explorer will benefit our patients and contribute to our knowledge of the whole human body in health and disease."
Related Links:
University of California Davis
United Imaging Healthcare

Latest General/Advanced Imaging News
Other channels