Focused Ultrasound Scalpel Could Destroy Liver Tumors
By MedImaging International staff writers
Posted on 23 Mar 2017
A new technique that allows an ultrasound (US) beam to be refocused in synchronization with breathing could help treat liver tumors more effectively, while sparing surrounding healthy tissue.
The technique, developed by the Fraunhofer Institute for Medical Image Computing and SINTEF as part of the clinical translation of patient-specific planning and conducting of FUS treatment in moving organs (TRANS-FUSIMO) project, is based on real-time, predictive software that establishes liver position by magnetic resonance imaging (MRI) every tenth of a second, and calculates movement. The data is then sent to an US transducer equipped with more than 1,000 small transmitters that sits on the patient's stomach.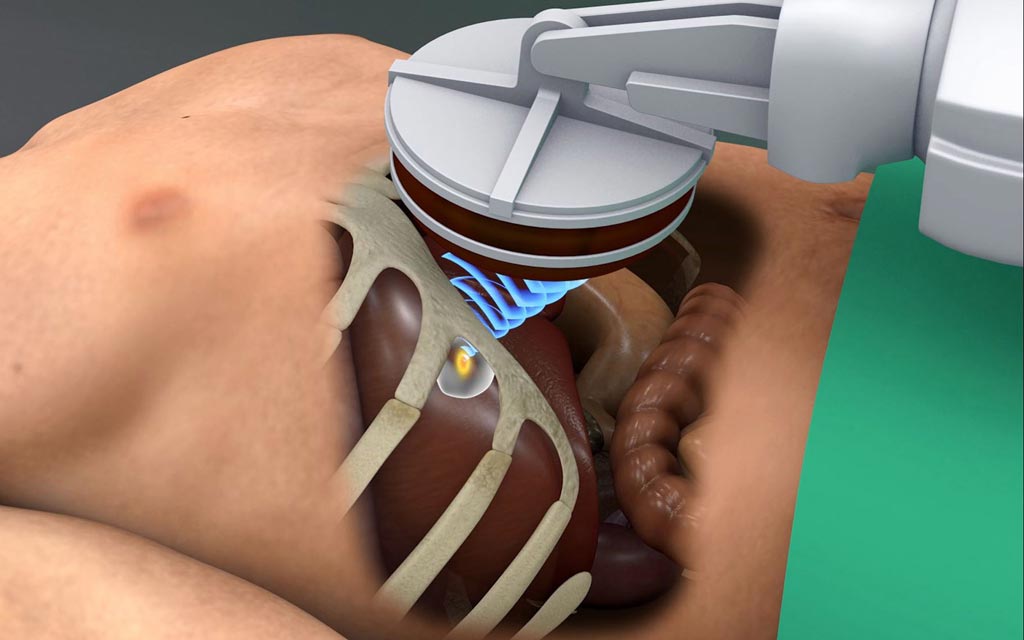 The transducer focuses the individual US transmission beams so that their waves converge precisely at a point as small as a grain of rice, resulting in a destructive effect at the focal point; the transmitters that face the ribs remain inactivated throughout the process. The MRI scanner controls the entire process, measuring the temperature in the liver and ensuring that the correct foci are sufficiently heated. The therapy is completely non-invasive and can be performed without anesthesia, and there are no wounds. A study describing preliminary results was presented at the annual European Radiology Congress (ECR), held during March 2017 in Vienna (Austria).
"Generating an image of the liver's position every tenth of a second is not fast enough to reliably direct the ultrasound beam. This is why we developed software that can see into the immediate future and calculate the next position of the treated region," said mathematician Sabrina Haase, project manager at MEVIS. "The program determines the path for the focused ultrasound waves to reach the liver tumor even when the patient moves while breathing. Developing the software was quite challenging: it must run both highly reliably and in real time."
"Patients with abdominal tumors must undergo multiple invasive interventions; MR-guided focused ultrasound can offer a genuine alternative to such interventions," said radiologist Professor Mario Bezzi, MD, of La Sapienza University, who will participate in the clinical part of the TRANS-FUSIMO project. "The new therapy control system developed in the TRANS-FUSIMO project will be extraordinarily helpful in the clinical routine by allowing tumors to be destroyed very precisely and to guide the entire procedure effectively."
High-intensity focused ultrasound (HIFU) technology is based on nonlinear mathematical optimization methods to analyze and simulate the propagation of sound in material. The information is then used to enhance the shape of an acoustic lens so that that US pressure is focused precisely on the location of the tissue to be ablated, while the surrounding tissue retains as little damage as possible.
Latest Ultrasound News
Other channels