Breakthrough Ultrasound Technology Solution Provides Early Insights into Fetal Health
By MedImaging International staff writers
Posted on 09 May 2023
Performing detailed exams with high-resolution can provide early insights into fetal health. By identifying fetal abnormalities earlier, clinicians can intervene sooner, plan for delivery, and potentially improve outcomes. Now, an ultra-premium ultrasound imaging system, that is both intuitive as well as customizable, increases exam speed and accuracy through its use of graphic-based beamformer technology and artificial intelligence (AI). The result is higher quality images and greater flexibility in workflow and imaging functions.
The Voluson Expert 22 ultrasound system from GE HealthCare (Chicago, IL, USA) features Lyric Architecture, which allows for more data and works in concert with specialized probe technology to unlock new imaging and processing power. This enables faster, sharper and clearer images and increased independence from body habitus (differing shape and size of the human body) and other difficult scanning conditions. By generating new levels of penetration, resolution, and frame rates to reveal fine anatomy in 2D/3D/4D with ease, the system delivers uniformity throughout the image with increased spatial and contrast resolution.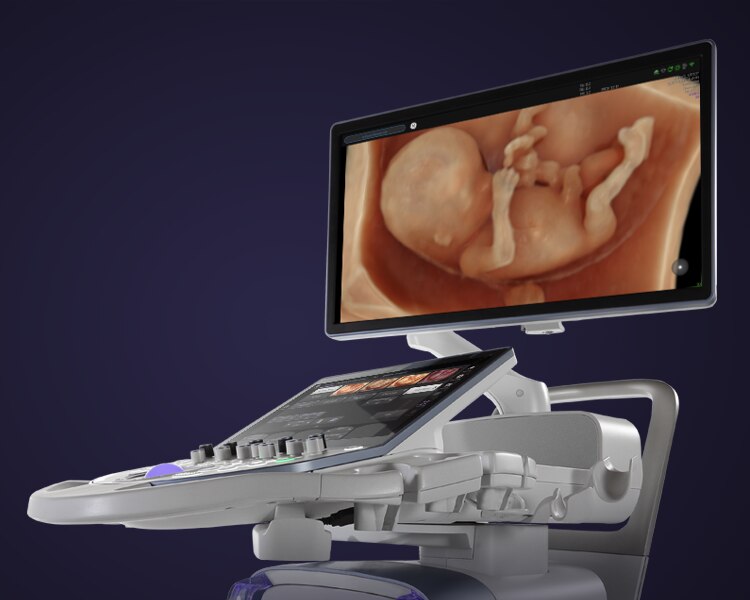 Clinicians can also make use of SonoLyst, a virtual on-board tool that uses AI to automatically help identify fetal anatomy seen on standard views while enhancing efficiency by adding annotations and measurements. For quality assurance, SonoLyst can also be used to compare the image or view acquired to standard criteria helping ensure exam quality and consistency needed due to the shortage of skilled labor. Additionally, the system boasts Respond, a workflow enhancer that uses probe activation sensors to automatically initialize probes and presets when removed from the probe holder. GE HealthCare has been awarded "Best New Ultrasound Technology Solution" by MedTech Breakthrough, recognizing the breakthrough innovation of the Voluson Expert 22 women's health ultrasound system.
"Voluson Ultrasound products have a long-standing reputation of providing state-of-the-art technology for women's health. We developed the Voluson Expert 22 from the ground-up to re-invent ultrasound, taking into account the current and future needs of clinicians providing precision diagnosis," said Gerald Seifriedsberger, General Manager, Women's Health Ultrasound, GE HealthCare. "We are therefore delighted to accept this award from MedTech Breakthrough, and pledge to continue to drive daily imaging efficiencies and innovate in women's health."
"Complex pregnancies demand advanced tools so clinicians can quickly and precisely diagnose or monitor a patient's condition, and clinicians need a smart, intuitive medical ultrasound imaging system that can help them overcome workforce and training challenges. The breakthrough Voluson Expert 22 delivers on this need," said James Johnson, managing director, MedTech Breakthrough. "With its unique features, clinicians can uncover critical answers sooner, discover key insights, and simplify complex cases for faster assessment, detection, and diagnosis. Congratulations to GE HealthCare on winning the 'Best New Ultrasound Technology Solution" award for 2023."
Other channels