Ultrasound Aspiration Needle Guides Lung Cancer Treatment
By MedImaging International staff writers
Posted on 04 Nov 2021
A new endobronchial ultrasound-guided transbronchial needle aspiration (EBUS-TBNA) needle effectively gathers tissue samples critical for non-small cell lung cancer (NSCLC) treatment.
The Olympus (Tokyo, Japan) ViziShot 2 FLEX 19G EBUS-TBNA needle features a needle tip design with spiral laser cuts along the sides of the needle surface provide greater flexibility and angulation capabilities to sample targets in difficult-to-reach locations. For pinpoint accuracy, the distal end is treated with spiral echogenic markings to optimize visualization of the needle tip on the ultrasound image. The enhanced visibility facilitates correct capsule-to-capsule technique to optimize sample collection.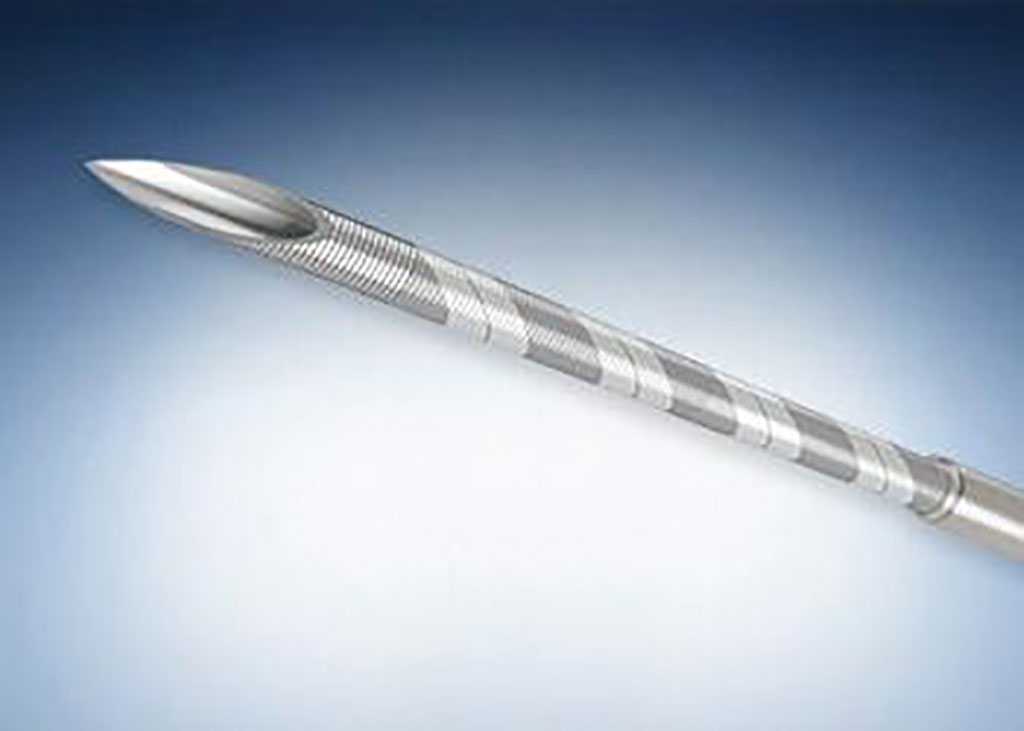 A proprietary double-locking safety feature helps avoid accidental patient and personnel injury, as well as damage to the EBUS scope. The large inner lumen enables substantial tissue collection, with a 72% increase in inner surface over the 21-G needle and 144% increase over the 22-G, increasing success rates for collection of important markers such as epidermal growth factor receptor (EGFR), anaplastic lymphoma kinase (ALK) and c-ros oncogene 1 (ROS-1). In immunotherapy treatment, it can also target inhibition of the cell death receptor (PD-1) or its ligand (PD-L1).
Results of a recent study showed that 58% of the specimens collected with the 19-G needle EBUS-TBNA contained more than 500 malignant cells, and 22% had 200-500 malignant cells. The success rates for marker testing stood at 90% for PD-L1 and EGFR, and 86% for ALK. There were no adverse effects on tissue analysis due to blood contamination, and no additional traumas were seen, when compared to smaller gauge needles. The study was published in the July 2021 edition of
Journal of Bronchology and Interventional Pulmonology.
"We are very pleased to see the results showing the 19-G has a high success rate in testing for molecular markers and immune checkpoint inhibitor targets," said Lynn Ray, vice president and general manager of the Global Respiratory Business Unit at Olympus. "Samples with a high number of tumor cells give the pathology team more to work with, which helps the oncology team make a timely diagnosis and gives them the information needed to provide personalized, targeted, lung cancer treatment."
EBUS-TBNA is a procedure used in the diagnosis and staging of lung cancer, allowing physicians to visualize diseased tissue, lymph nodes, or lesions beyond the walls of the airways. Samples from parts of the lymph node that require further investigation can be taken using a specialized needle. The procedure has proved a less invasive and cost-effective method to diagnose and stage lung cancer.
Related Links:

Olympus
Other channels