Ultrasound Guidance System Facilitates Vascular Access
By MedImaging International staff writers
Posted on 06 Aug 2021
A novel percutaneous access system combines a forward-viewing ultrasound probe and working portal to expedite central vascular access procedures.
The Crystalline Medical (Fremont, CA, USA) Vu-Path Ultrasound System is a miniaturized, forward-viewing ultrasound probe with an integrated interventional access channel for needles, guide wires, and other tools that allows skin-to-site central vascular access procedures to be performed at the bedside. Vu-Path provides a forward imaging orientation, which allows even the novice ultrasound operator to visualize structures that are directly in front of the probe, thus aiding seamless navigate in any direction.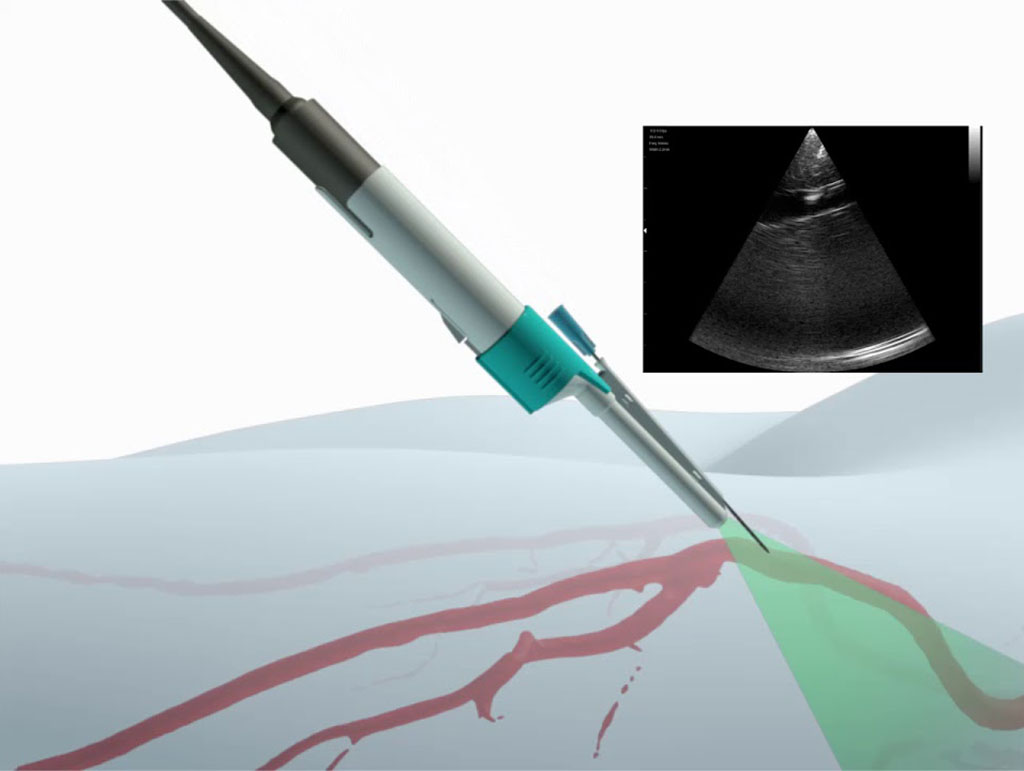 The ultrasound probe and the needle channel are integrated and in a fixed position, which means that the ultrasound probe goes wherever the needle goes, providing constant forward –looking needle visualization. The needle can also be removed and replaced with other interventional tools, such as guide wires or catheters. The proprietary high-frequency Vu-Path ultrasound probe also provides high resolution images of the structures deep within the body, which are displayed on the system monitor.
"Crystalline Medical believes that the Vu-Path Ultrasound Guidance System will lead to decreased costs to the healthcare system by allowing experienced and inexperienced ultrasound operators to successfully cannulate central lines the first time, every time," stated the company, "as well as by reducing unnecessary complications during central vascular access procedures, and providing a point-of-care solution that avoids using valuable surgical suite time and specialty physicians."
Needle guidance for the jugular, subclavian, or femoral vasculature can be difficult, especially for complicated patients. When aggravated by poor visualization, it often results in multiple attempts, which can be uncomfortable for the patient and time consuming for the operator. It may also lead to failure, which requires the patient to be referred to the surgical suite. Poor visualization during central vascular access procedures may also lead to the accidental puncture of nearby structures, such as the lung, bowel, or non-targeted vasculature.
Related Links:


Crystalline Medical
Latest Ultrasound News
Other channels