Real-Time Ultrasound AI Guides Nerve Block Procedures
By MedImaging International staff writers
Posted on 29 Apr 2021
A meld of ultrasound specific artificial intelligence (AI) and simulation software provides clinicians with continuous feedback during a peripheral nerve block (PNB).
The Intelligent Ultrasound Group (Cardiff, United Kingdom) ScanNav Anatomy: PNB software is designed to assist healthcare professionals who perform ultrasound-guided procedures on a less frequent basis in carrying out nine common peripheral nerve blocks, automatically identifying and highlighting nerves, arteries, and other anatomical structures crucial for PNB. Procedures supported include interscalene, superior trunk, supraclavicular, axillary, erector spinae plane, rectus sheath, suprainguinal fascia iliaca, adductor canal/sub-sartorial femoral triangle, and popliteal PNB.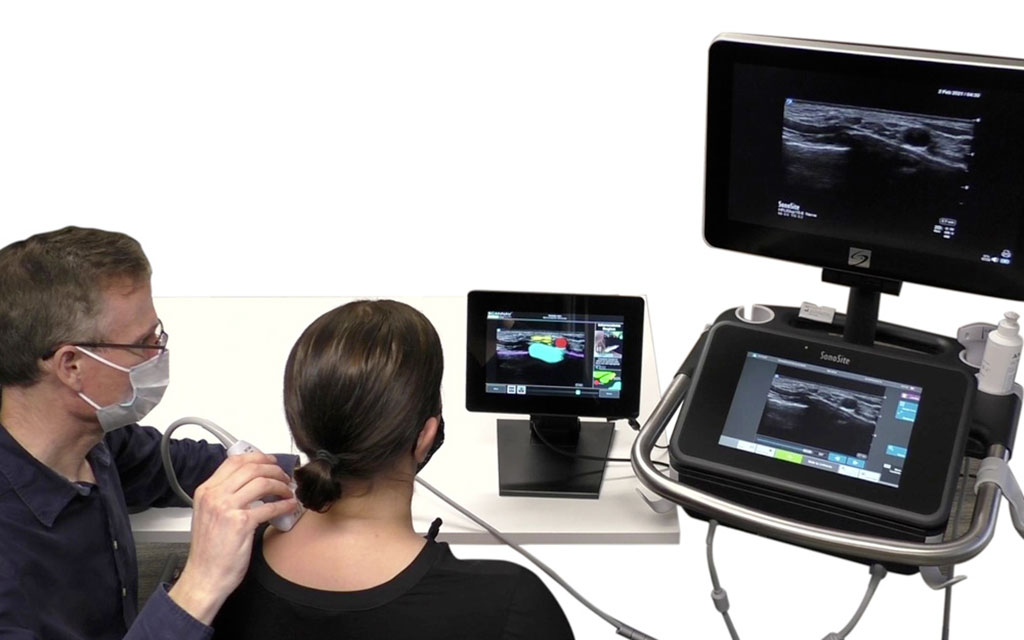 In addition, users can use the system's integrated three dimensional (3D) animations to refamiliarize themselves with blocks they carry out less frequently. The platform can also serve as a training simulator using a classroom-based version of the software, the ScanNav AnatomyGuide PNB Trainer. ScanNav PNB will be sold as a standalone product that sits on tabletop or mounts onto a portable cart that can be plugged into existing anesthesiology ultrasound machine with a HDMI or DVI second monitor port. The system can be cleaned with medical grade disinfectants, and the touchscreen can be operated while wearing gloves.
"Building on the success of ScanNav Assist, our first obstetric AI, ScanNav Anatomy PNB will launch into the anesthesiology ultrasound market and continues the Group's expansion into AI-based real-time clinical ultrasound image analysis," said Stuart Gall, CEO of Intelligent Ultrasound Group. "We are particularly pleased that many of the independent clinicians who used ScanNav PNB during product testing think that it would benefit them in their everyday clinical practice."
The PNB procedure involves injection of a local anesthetic close to a nerve or peripheral nerve bundle in order to inhibit the excitatory transmembrane action potential that transmits the nociceptive stimulus towards the central nervous system (CNS), modulating pain perception. Selection of the local anesthetic (such as lidocaine or bupivacaine) depends on the type of block, the physical condition of the patient, and pharmacological characteristics. PNBs have been in use since the 1880's, when a cocaine injection was first used to produce sensory block to the ulnar, musculocutaneous, supratrocheal, and infraorbital regions.
Related Links:

Intelligent Ultrasound Group