3D Ultrasound Upgrades AAA Surveillance Options
By MedImaging International staff writers
Posted on 10 Feb 2021
A novel ultrasound abdominal aortic aneurysm (AAA) model provides diagnostic confidence without exposing patients to high doses of radiation and nephrotoxic contrast agents.
The Royal Philips (Amsterdam, The Netherlands) Philips AAA Model integrates 3D ultrasound technologies and innovative software into a single solution that automatically segments and quantifies the size of the aneurysm sac to improve surveillance of known untreated (native) AAAs, as well as those that have undergone endovascular aneurysm repair (EVAR). The model provides several key measurements, including the maximum anterior-to-posterior (AP) diameter, partial volume of the AAA, and centerline.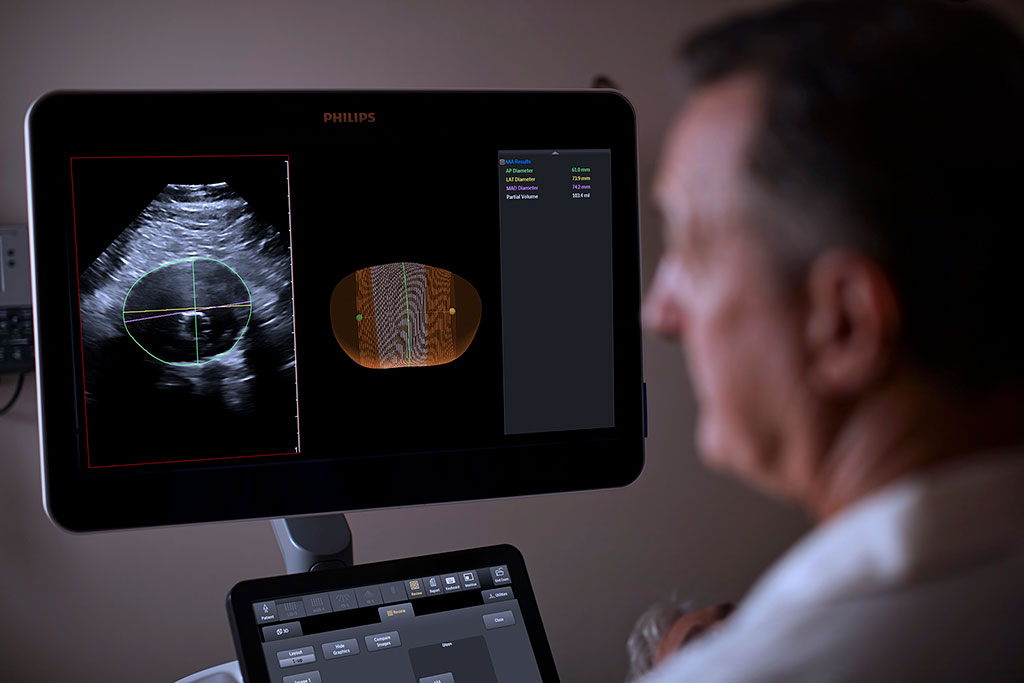 The maximal diameter of an AAA is ideally measured perpendicular to the centerline; Philips AAA Model provides it throughout the volume of the 3D acquisition. And knowing the partial volume is beneficial, as it has been observed that more than one-third of small AAAs considered to be stable based on diameter alone were actually growing in volume. According to Philips, this suggests that measuring partial volume has the potential to supplant diameter as the most important single parameter in the diagnosis and surveillance of AAAs.
"Regular surveillance of abdominal aortic aneurysm patients is essential, but today's standard of care has downsides," said Bich Le, general manager of Ultrasound at Royal Philips. "The Philips Abdominal Aortic Aneurysm Model seamlessly integrates leading Philips technologies, including Philips Premium Ultrasound System (EPIQ Elite), Philips Array Transducer (X6-1 xMATRIX), and innovative software into a single solution, to help improve the experience and outcomes for clinicians and patients alike."
Typically, AAAs are identified incidentally during abdominal imaging exams but, in some cases, remain undetected until rupture. A ruptured AAA has an 80% mortality rate, emphasizing the importance of routine surveillance. The current standard of care for AAAs includes computed tomography angiography (CTA) and standard ultrasound scans.